The dean who guided Chapman University's science programs into a period of record growth has been selected to head up the University's new Fowler School of Engineering, slated to open in fall 2020.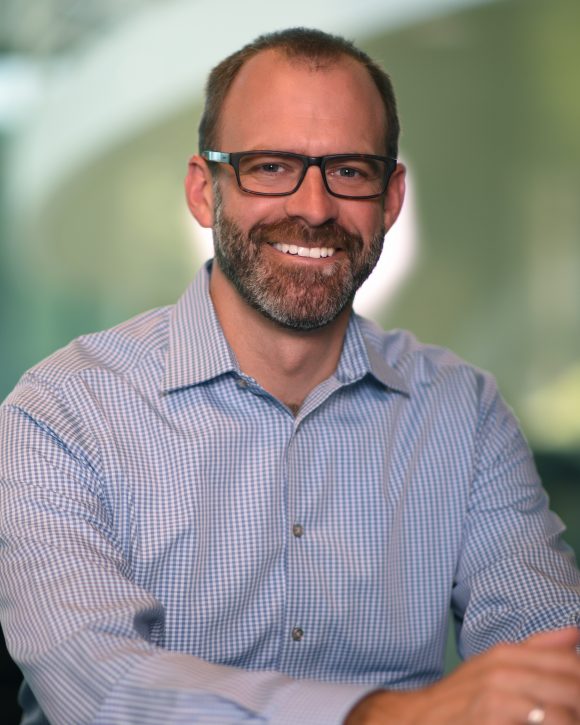 Andrew Lyon, Ph.D., presently dean of the Schmid College of Science and Technology, will officially transition into the new role in January. As Schmid's dean since 2014, Lyon was instrumental in elevating the college's stature, said Chapman Provost Glenn M. Pfeiffer, Ph.D.
"Andrew has led the Schmid faculty during an unprecedented period of growth and significantly raised the profile of the college," Pfeiffer said. "Along with VP of Research Tom Piechota, Ph.D., he has been an important contributor to the planning process for future engineering programs.  His appointment as the Fowler dean will ensure a strong and successful launch of the new school and help attract outstanding faculty and students."
Lyon, a physical chemist by training and independent researcher in the field of bioengineering, says engineering's multifaceted role in solving the world's biggest problems attracted him to the position. Whether it's designing food supply chains or harnessing data, engineers will be at the forefront of it all, Lyon says.
Engineering the Future
"If you look at the late 1800s and early 1900s, engineering was the training you would get that would allow you to build bridges, locomotive engines, farm equipment and things like that. But the modern view of engineers is really very much more broad," he says. "We have massive global challenges to address. For example, how do you engineer methods to distribute assistance to areas stricken by natural disaster? There are engineering components to that, but there are socioeconomic and political aspects, too. Nobody's working in a vacuum."
Throughout his career, which included several years at Georgia Institute of Technology, Lyon says he has gravitated toward "the interface of physics and chemistry." As an independent researcher, he has been involved in developing bioengineering tools and helped bring products to market.
"I've always worked on research projects that had really pragmatic, practical applications. … It's important to me to see our work go on to real practical or clinical impact," he says.
Computer Engineering
The school's first two undergraduate programs will be computer engineering and electrical engineering. A master's degree program in computer science will open in 2022. All will be housed in the newly opened Keck Center for Science and Engineering, a 140,000-square-foot facility covering 2.25 acres.
The computer science focus is both practical and logical, Lyon says.  It's already a strong program within Schmid College, and robust employment opportunities await graduates in Orange County and elsewhere. But the new dean adds that computer engineering and data analytics are fundamental to problem-solving.
"Understanding how to move data, use it and process it is going to drive much of the economy of the future. Data has become a commodity. You need to figure out what the most nuanced and sophisticated ways there are to use that data in order to make intelligent decisions," he says.
Building in Diversity
Other priorities in the coming months will be faculty and student recruitment. Lyon says he is planning recruiting visits near and far in an effort to build as diverse and inclusive a school as possible.
"Science and engineering disciplines need to do a much better job of recognizing that all of these challenges we have to solve can only benefit from as diverse a collection of backgrounds and viewpoints as we can bring together," he says. "By bringing together really diverse groups of students, faculty and staff, we'll have a competitive edge over a lot of universities."