Aaron Wolken '04 was a small child growing up in the Ozark Mountains of Missouri when his great-grandmother Beatrice offered him his first job as an artist. She told him she would give him a piano lesson for each drawing he made for her.
He considered the offer but decided the piano would be too difficult to learn.
"Looking back, I see how important it is to not be afraid of hard work and to seize the opportunities life presents us," Wolken said.
So when the opportunity to make art for a living presented itself later, he didn't hesitate.
As a Chapman University student, Wolken focused mainly on filmmaking as his means of artistic expression, but he also found opportunities to hone his studio art skills. He didn't have money for art supplies, so he used the cardboard from the care packages his family sent him to create charcoal "murals."
After college, Wolken returned to Missouri, where his brother, Adam, had taken a job at an art studio. Eager to begin his career, Aaron joined Adam in working on freelance art projects. The Wolkens learned mural-painting and eventually were commissioned by big-name clients such as Bass Pro Shops, which is headquartered in Springfield, Mo., the Wolkens' hometown. When the company's founder, Johnny Morris, developed his vision for the Wonders of Wildlife National Museum and Aquarium, Aaron and Adam Wolken were asked to create the wildlife galleries.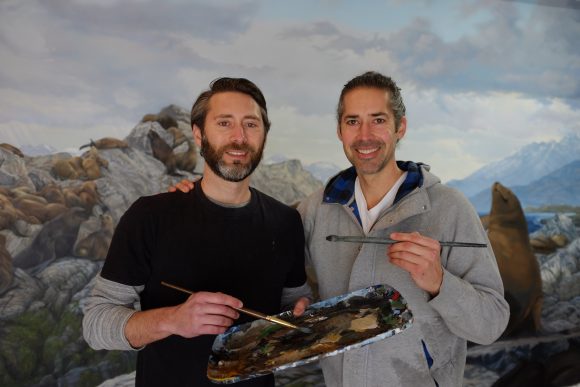 "It was the opportunity of a lifetime," Aaron said of co-curating a significant portion of the 340,000-square-foot museum, a project that took 13 years to complete. The museum opened last fall in Springfield and was voted the nation's best new attraction in a poll by USA Today.
The museum's wildlife galleries boast immersive dioramas that feature murals painted by Aaron and Adam, surrounding viewers with sights, sounds and smells of some of the planet's most extreme wildlife habitats.
The Wolken brothers did initial concept work to push the vision.
"It was exciting to be so involved, constantly making a lot of creative decisions and (piecing) together a whole image," Aaron said.
The brothers drew inspiration from their youthful travels in the scenic Ozarks, but they also journeyed to more exotic wilderness settings in places like Alaska, where they started developing layouts for the museum based on their photos.
"As the patrons go through this museum and see the many pieces of art Aaron (and Adam) created, they are transported to the locations so beautifully depicted in the murals," said Joe Buatte, director of Imagery Presentation at Bass Pro Shops.
Aaron said that he and Adam focused on creating drama in the murals–for instance, depicting a rushing herd of animals against a setting sun. In Africa Hall, the diorama features a central vantage point as wildebeests pursue elephants. But visitors are meant to feel as if they're moving through the experience, so sub-scenes were created in which elephants seem to move toward the central vantage point.
Aaron and Adam even hired a computer artist who does CGI for Hollywood films to add additional realism to the scenes. In one Arctic diorama, wolves corner a herd of muskoxen under a night sky of northern lights made more brilliant by fiber-optic stars.
Now that the museum is open and drawing appreciative crowds, Aaron enjoys watching viewers take it all in – especially children for whom the experience clearly goes far beyond paint on a wall.
"I have never considered myself an artist simply because I paint murals for a living," Aaron said. "To me, art is a way of viewing the world and interacting with it."
Take a look at some of Wolken brothers' murals in the Wonders of Wildlife National Museum and Aquarium below:
This story appeared in the spring 2018 issue of Chapman Magazine.