Until late February, California's vast homelessness crisis was on display along the Santa Ana River Trail. A sprawling encampment of more than 700 people became both a panorama of human suffering and an eyesore to more prosperous passersby, a blight on the increasingly mythical California Dream.
The riverbed camp is gone now, but the problem sometimes simply changes locations. That is why Chapman University's Wendy Seiden is hard at work trying to break the cycle of homelessness. A professor in the Dale E. Fowler School of Law and co-director of the law school's Bette and Wylie Aitken Family Protection Clinic, Seiden leads an ad hoc task force that matches domestic violence survivors from the riverbed with legal aid, shelter and related services.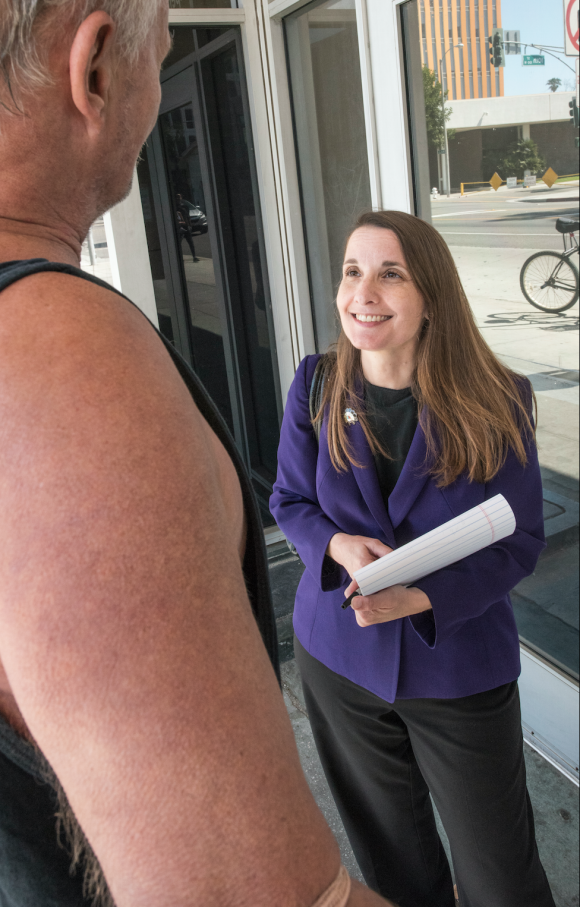 The changes began after the complicated tangle between the riverbed community and local authorities was heard in court by U.S. District Court Judge David O. Carter. Seven homeless people and their advocates had sued Orange County and three local cities, alleging the county's attempts to clear the encampment violated their civil rights.
Carter's unconventional approach included touring the riverbed in blue jeans and calling on experts such as Seiden at a Feb. 13 hearing in Santa Ana.
"He told us the same thing he told everybody at that hearing, which was, 'I don't want to hear about the problem; I know about the problem. I want to hear about the solutions,'" said Seiden, who was accompanied by Judy Rose, chief program officer at Human Options, a nonprofit that provides shelter and services for those affected by domestic violence.
"He really peppered us with questions, ending with 'Can you get me volunteers?'" Seiden said. "At the time we didn't even know what the volunteers were for."
Carter had a plan. First, he granted a temporary restraining order barring the arrest of those who refused to leave. Then he pressed further for a negotiated settlement approved by the Orange County Board of Supervisors that provided 30-day hotel stays and food vouchers for homeless people leaving the trail.
Seiden's coalition of volunteers joined others on the riverbed as the migration unfolded, carrying intake forms to assess needs, make referrals and try to get people help.
"If I can say one thing, it's that the women I spoke with – and the men, though I spoke mostly with women – they really wanted help," Seiden said. "They wanted to get off the riverbed. And they wanted services, even more than getting off the riverbed."
The idea "that they refuse services, that they like being out there – we saw just the opposite," Seiden said.
Working outside of a tent called "Camp Pink," Seiden put out a call for help through her role as secretary of the Orange County Family Violence Council, gathering volunteers from groups such as the Legal Aid Society of Orange County, the Women's Transitional Living Center and the Domestic Violence Clinic of the UC Irvine School of Law.
The effort grew from there. It now includes Chapman's David Pincus, Ph.D., an associate professor of psychology, and Cal State Fullerton psychology professor Mindy Mechanic, Ph.D., along with shelters like Laura's House and Human Options and groups offering therapeutic help such as Jewish Family and Children's Service of Long Beach and Orange County. Referrals come from all directions, including the plaintiff's attorneys, county officials and Housing is a Human Right OC, a nonprofit whose work Seiden calls "amazing."
Many of the women Seiden met at first needed help coping with the stress of a sudden move and worries about whether they could take a pet or all their belongings.
"A lot of them had physical disabilities," she said. "A lot of them had anxiety, PTSD or other mental health issues that stemmed from the domestic violence."
Others needed legal aid on matters such as protective orders, child welfare, immigration issues or victim witness assistance. These are many of the same issues Seiden and her students work on in the Aitken Family Protection Clinic, which serves about 150 family violence survivors each year and took on additional cases from the riverbed.
More than 80 percent of homeless women with children have experienced domestic violence, according to multiple studies.
Domestic violence was the immediate cause of homelessness for an estimated 22 to 57 percent of all homeless women, various studies found.
A 2013 study found that 70 percent of the homeless reported being physically or sexually assaulted by a family member or someone they knew.
Though the public perceives drug use and mental health problems as the overwhelming causes of homelessness – some 14,000 needles were collected in the riverbed cleanup – Seiden points to the underestimated impact of domestic violence.
Leaving an abusive relationship can rapidly lead to living in a car or on the street, Seiden said. And although she said substance abuse was not the primary issue for the homeless with whom she has worked closely, the root causes of addiction and other mental health problems often include complex trauma, violence and abuse.
"Think how stressful moving is for anybody, then think about worrying about where you're going to sleep the next night, worrying about getting raped, worrying about getting attacked. It's a trauma-ridden lifestyle, which is why nobody asks for it," Seiden said.
Even moving to a motel brought difficulty for some.
"One woman was placed in the same hotel as her abuser and didn't know it," said Seiden, who watched as other transitions unfolded, the changes often visible.
"One woman I met on the riverbed, I saw her again after she had gone to a motel that had bedbugs and was not safe, and she looked haggard," Seiden said. "Then I saw her a couple of days later and she was in a motel that was clean and she looked gorgeous."
The 30-day stays have long since run out, and the problem persists: There is not enough shelter in Orange County or California for those who need it.
In June, Gov. Jerry Brown and top lawmakers reached a deal for $600 million in new funding to address the homelessness crisis. Orange County separately has pledged to spend $90 million, and the Board of Supervisors approved a $1.6 million contract to move 60 of the most vulnerable people dislodged from alongside the riverbed and the Santa Ana Civic Center into permanent housing.
They are but a drop in the bucket of the 130,000 or more homeless in California, a tiny part of an immense problem still in search of a solution.
"Housing, housing, housing," Seiden said. "Housing and services. You can't have one without the other. Housing opportunities need to be long-term for services to be effective. We can't solve this problem with 30-day or even six-month stays. People need 18 to 24 months for related services to be implemented and effective."
Display image at top/U.S. District Court Judge David O. Carter tours the Santa Ana River Trail encampment with experts he enlisted to help find shelter and services for the people living in tents along the trail. (Photo/Mark Rightmire/The Orange County Register)
This story appeared in the spring 2018 issue of Chapman Magazine.