Kris De Pedro studies bullying in schools, and when he's asked what he thinks about student activists performing acts of solidarity to support marginalized classmates, he naturally turns to the research.
In short, such actions by classmates are helpful, says the Chapman University associate professor. He cites his own studies and others that liken a supportive school environment to a booster shot of resilience for children and adolescents marginalized because of racial, cultural or sexual identity.
"It's a huge issue in the LGBTQ community, among other communities," says De Pedro, who uses data from the California Healthy Kids Survey to measure the impact of bullying on LGBTQ students in schools. "It's definitely a way of generating awareness."
But the educational scientist also shares a story from his graduate school days, when he first participated in Day of Silence, an annual student-led event sponsored by the Gay, Lesbian & Straight Education Network (GLSEN). This year's Day of Silence is Friday, April 27.
On that spring day years ago, as he stood in solidarity with other students, their mouths sealed with duct tape to symbolize the silencing of LGBTQ people, high school memories flooded his mind.
"I thought of instances where I stayed silent when I witnessed forms of homophobia or bullying happening in school. I went to high school in the '90s. I went to an all-boys school, and I saw it all the time," De Pedro says. "I didn't even know what to say in those situations, or if I had the power to do it. So I think that sometimes we silence ourselves. And sometimes I participated because I was afraid of what the bullies would do."
And yet, De Pedro would eventually identify as a gay man, a part of his identity he couldn't articulate until he was an adult. These days, De Pedro's research is focused on trying to understand the influence of bullying, but his own experience doesn't entirely inform his work. He also studies school climate as it relates to a variety of student populations. In 2016, the White House honored De Pedro for his research into school success and military children, who also face unique stressors.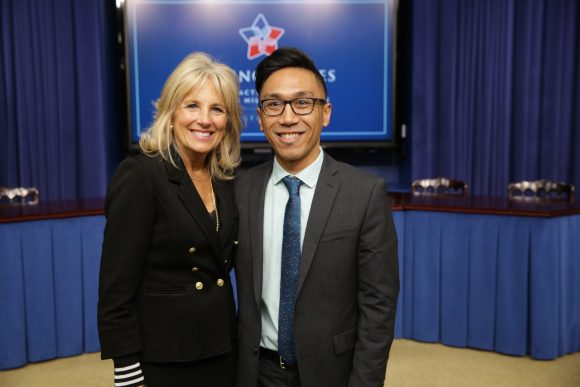 The research contributes to educators' understanding of the role campus climate plays in school success.
"We know in the research that these consistent and persistent forms of bullying – physical and non-physical – can actually have very adverse effects on mental health and well-being and even educational aspirations. We researchers who do research on LGBTQ call it sexual minority stress or gender minority stress," he says.
Elevated levels of substance abuse and frequent suicidal thoughts often result from such continuing stress, the researcher says. In his study of the California data, the rate of suicidal thoughts among all students was about 15 to 20 percent, while for LGBTQ youth it was 40 to 50 percent.
De Pedro was surprised that his research also revealed that LGBTQ students of color report fewer tensions than what their white counterparts reported. It's possible that students of color learned how to navigate adversity from their communities and families and developed more resiliency, but no one knows for sure, he says. It's a question he hopes to pursue in future research
Meanwhile, he is encouraged that the research already finds evidence that healthy school climates flourish when there's programming support and the involvement of administrators, teachers and friends, he says.
So does he plan to participate in another Day of Silence? Nope, he says, because this particular event is for the kids.
"As a form of social activism, I love that it's student-led," he says. "Because in the schools, when you think about strategies for change, especially with these particular issues, students are going to look to other students to lead."