Dozens of researchers from across the world joined Chapman University faculty and students for an Anniversary Conference celebrating the work of National Medal of Science winner and Chapman Professor of Theoretical Physics Yakir Aharonov, Ph.D.
Attendees enjoyed 15 speakers, poster presentations and a panel discussion during the two-day event on campus. The group surveyed the development of weak values and explored the current debates about their foundational significance and practical applications. A weak value is a quantity related to a shift of a measuring device's pointer when there is pre- and post-selection.
The concept of a weak value was first formulated in 1988 by Aharonov, Albert and Vaidman in their Physical Review Letters paper "How the result of a measurement of a component of a spin-1/2 particle can turn out to be 100."
Aharonov opened the conference by addressing weak values and weak measurement in quantum mechanics and later spoke on how to derive superoscillations and quantum walks from weak values. Each talk was interactive, with him drawing formulas projected onto a large screen, while asking for audience input and questions.
During the conference, Chapman President Daniele Struppa announced a partnership between Chapman's Institute for Quantum Studies and the Perimeter Institute for Theoretical Physics to facilitate joint research, collaboration, and visiting positions.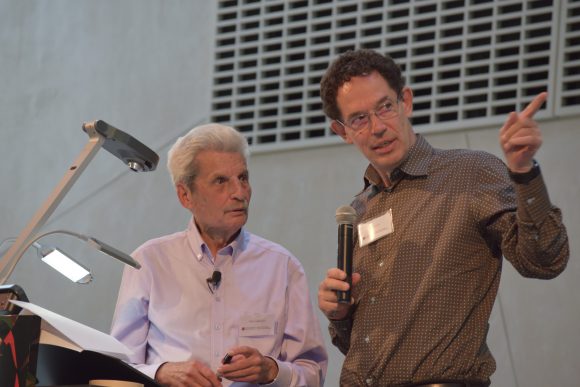 This partnership combines two leading institutes dedicated to theoretical physics. Perimeter is the world's largest independent center devoted to theoretical physics research, training, and outreach.
Aharonov serves as distinguished professor with the Perimeter Institute in Ontario, Canada, where he meets and works with an international roster of renowned fellow members such as Stephen Hawking, Leonard Susskind and Juan Ignacio Cirac.
Aharonov has also received the prestigious Wolf Prize for co-discovering the Aharonov-Bohm Effect with his doctoral advisor, one of the cornerstones of modern physics.
Perimeter Director Neil Turok was also a keynote speaker during the conference.