With Super Bowl Sunday just days away, football fanatics and casual fans alike are preparing to host parties and cheer for their favorite team as the New England Patriots and Philadelphia Eagles face off in Minneapolis. More than 110 million Americans are expected to tune in, but who will win is not the only question people are asking this year…. will players on either team take a knee in protest?
Throughout the season, NFL players from different teams have chosen to silently protest social injustice and inequality by sitting or "taking a knee" during the national anthem instead of standing. These demonstrations have been widely covered by the media, causing mixed reactions.
Chapman University Assistant Professor of Psychology, David Frederick, Ph.D, conducted new research this week studying people's attitudes toward the NFL protests. Seven of his undergraduate students assisted in the study, including Joanna Dare, Andrea Fernandez, Xana Galvin, Monica Gonugunta, Nashaya Ross, Christopher Utz, and Haleemah Zulali.
The group enlisted nearly 1,200 participants that completed an online survey showing a photo of players kneeling during the national anthem. Survey participants were then asked a series of questions about their opinions regarding these players and the issue.
The results show a dramatic difference between party lines. Those identifying as Democrat were much more likely to support (88 percent), defend (92 percent) and believe these players' acts of protest are patriotic (73 percent).
Additionally, results show that Republicans disapprove (79 percent) of players sitting or kneeling during the national anthem. The timing of protests was critical for the Republican group that expressed they would have no issue if players took a knee after the game concluded (60 percent). The majority of Democrats (86 percent) had no issue with protests taking place during the national anthem.
Results also show that Republicans would like to see the players disciplined for their actions, including being booed (44 percent), being fired (38 percent), penalized (56 percent) and "leagues should require their players to stand during the national anthem" (60 percent). Two percent of Democrats believe players should be fired for their actions.
"As a social psychologist who studies prejudice, I was interested in the diversity of reasons people have for opposing the players protests," Frederick said. "In some cases, the negative attitudes towards the players is motivated by flat out racism, but there is more to the story. Many of our participants approved of players protesting if they did so after the game or at a press conference, rather than during the national anthem. Some people view the national anthem and flag as a symbol of their country and identity, and the protests as a sign of unpatriotic disrespect to them and to the country as a whole."
Many people, however, felt differently about about the protests. According to Frederick, "Others viewed that same act of kneeling in protest with pride and as a patriotic gesture, and supported the players for challenging racism and bringing attention to these issues with their protests."
Survey participants were asked to include reasons they approve or disapprove of the protests. Some of these perspectives include:
"I am okay with this form of protest because it was peaceful and highlighted a need for attention."
"I am totally against the kneeling of players during the national anthem. It is totally disrespectful to the flag, this country and the people who fought and died for this country. I will no longer watch football."
"I believe they should kneel either before or after but not during."
Frederick noted that historically, there is a well-known difference between Republicans and Democrats when questioned by researchers on issues involving ethnic minorities and inequality. His new research shows the two groups perceive the problems differently. For instance, 93 percent of democrats believe police brutality against Blacks is a major problem, compared to 41 percent of republicans that agree with this statement.
Democrats were more likely to believe the protests are related to police brutality (94 percent), compared to 44 percent of Republicans who think the primary goal of taking a knee is to protest against President Donald Trump.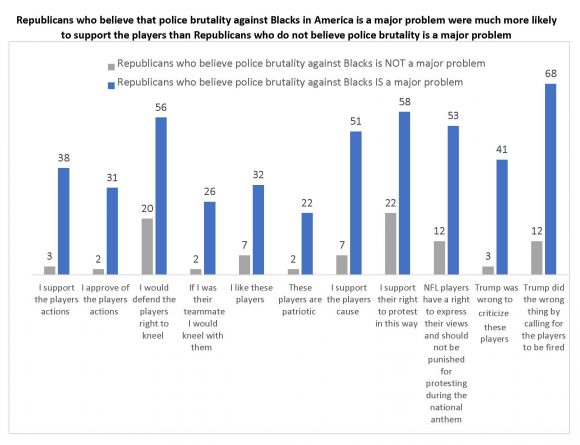 Display image at top/Washington Redskins teammates during the national anthem before a game against the Oakland Raiders in September 2017. (Source: Wikimedia Commons)