Student applications are climbing, faculty research is growing and new buildings are rising.
Those were just a few of the key highlights Chapman University President Daniele Struppa shared during his annual State of the University Address on Friday, Feb. 23. Now it's time to focus on telling those stories, said Struppa, who also announced a new University-wide brand identity.
"We know the University very well. We feel it. We talk with our students and we know we are doing a very good job. But we know that we can always improve," he said. Citing recent market research, he added, "People know that Chapman is a very good school, but they don't really know why. … People sense that we are a great institution, but what we need to do is show them that."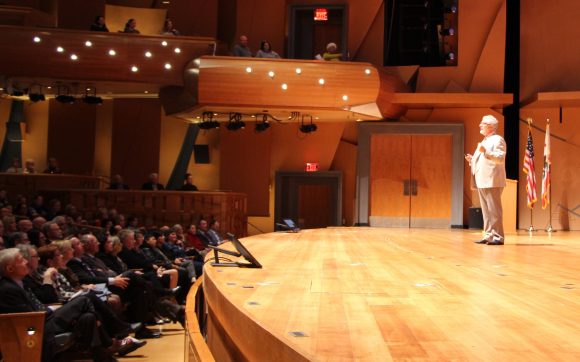 The challenge is to share those stories with a renewed commitment united around the idea that Chapman students, alumni, faculty and staff can do "Anything Imaginable."
As important as the message, Struppa said, is the inspiration behind it – the promise to deliver the Chapman Experience, a place and a culture that prepare students to pursue big ideas, create meaningful lives and realize their greatest potential.
"When we tell our story with consistency and excitement, it reinforces what we call the Chapman Experience," he said.
Struppa delivered his presentation before a capacity crowd of students, faculty, staff and parents in Musco Center for the Arts, with more watching through a live Facebook streaming. See the full presentation at the Experience Chapman web page.
Numbers support Chapman's growing reputation for quality and point to the University's success in delivering the Chapman Experience, Struppa said. Among the highlights:
Applications to Chapman rose in 2017 to more than 15,000 and are projected to rise slightly in 2018, even as many colleges and universities nationwide face flattening applicant and enrollment numbers.
Net assets grew $81.5 million last year, pushing Chapman's total resources to $935.4 million.
Faculty research activity has doubled in the last five years, with grants rising $6.5 million in fiscal year 2016.
The University rose to No. 5 in its category in the latest US. News & World Report "Best Colleges" rankings. It's the highest-ever ranking earned by Chapman in the category of Regional Universities West.
The new Career and Professional Development program helped place students in more than 1,000 internships.
Strategic priorities for the coming year include building out the Fowler School of Engineering, recruiting among diverse and underrepresented student populations, expanding the research agenda, expanding the Rinker Campus in Irvine and modernizing existing Orange campus facilities.
To realize those goals, a $500 million capital campaign is planned, he said.
"All of this will only be possible with the help of everyone in this room and beyond, of course. I challenge you to join me, our trustees and our senior staff in making this possible," he said. "We believe that at Chapman 'Anything Imaginable' can be done."
Display image at top/Following the State of the University Address, the campus community enjoyed festivities and had the opportunity to win "Anything Imaginable" T-shirts.