Some Chapman University students take on the Doti-Struppa Rock Wall to test their physical abilities, while others see it as a social setting. For Cristina Martinez '19, the wall has offered a chance to scale a number of challenges.
Martinez says that the wall helped her cope with homesickness during her freshman year, as well as overcome her fear of heights.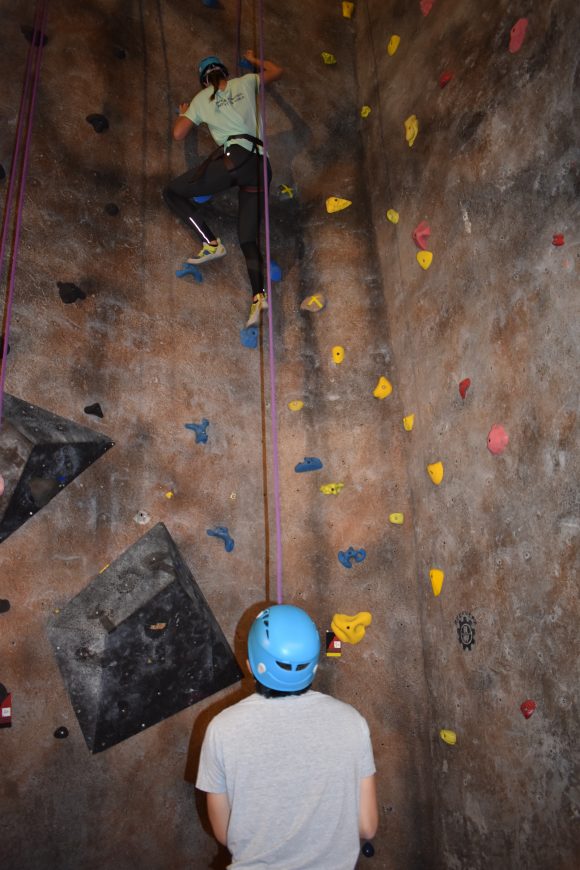 "When it was actually time for me to climb for the first time, I didn't make it much farther than 15 feet before panicking and coming back down," she says. "After about two years of bouldering, I set a goal to reach the top of the wall before one of the staff members I had befriended graduated. The week before finals, I asked someone to belay me and not let me come down until I reached the top. In a ball of sweat, chalk and tears, I finally made it."
Martinez credits her experiences with the wall in the Sandhu Residence and Conference Center for helping her become more confident as a person and as a scholar. She says she could not have reached her goals without the rock wall staff.
"I quickly felt comfortable there. Depending on what time you go, it can be a party or just a peaceful time to relax and test your limits," she says.
These days, rock wall staff members are hard at work, helping climbers of all levels achieve their goals. After being closed for a semester to allow for improvements, the wall reopened Feb. 19 with new climbing holds, new routes and new equipment, from harnesses to shoes. It even has LED lights for special Thursday night climbs.
"We reassessed our operations and customer service and completed a 20-hour training with a rock climbing expert," said Michael Keyser, assistant director for the Chapman Fitness Center and Student Union. "I think guests will notice an improvement in their experience. We aim to provide a welcoming and professional facility that remains fun and community-oriented."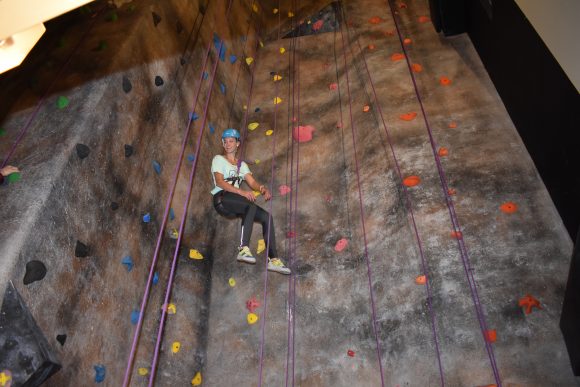 The 51-foot wall first opened in 2009 and is touted as the tallest university rock wall in Southern California. It's named for Chapman President Daniele Struppa and President Emeritus Jim Doti, both avid climbers. Doti has conquered five of the world's "seven summits" — the highest points on the seven continents — while Struppa has climbed in the Andes, Himalayas and Alps. While climbing on Cotopaxi in Ecuador, Struppa  proposed to his wife, School of Communication Dean Lisa Sparks.
Though staff members are unaware of any marriage proposals at Chapman's rock wall, the facilities serve as a high-profile meeting place for students. More than 150 people, including Struppa, visited the rock wall on the day it reopened.
"Twenty-four people signed up for rock wall lessons, and we gave away over 80 T-shirts in under 20 minutes. It feels like the rock wall made a big splash," says Keyser.
Staff members hope to welcome more than 500 students during the spring semester, and they plan to make more improvements over the next six months to a year.
"We'd like to expand the bouldering space to allow for guests to safely top-rope climb and boulder at the same time," Keyser says.
Justine Winans '19, a guest relations coordinator for Chapman recreation operations, says the wall is an important part of the Chapman experience.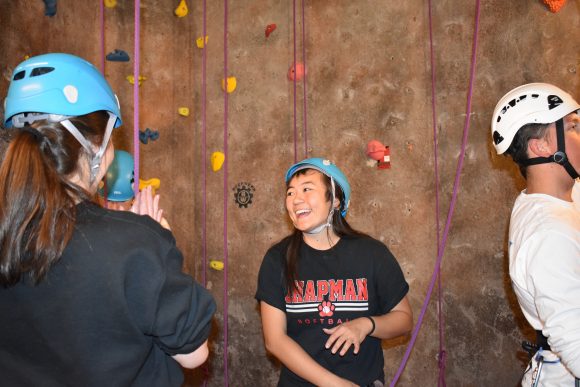 "Aside from being a great full-body workout that promotes physical health and wellness, the rock wall provides routes of increasing difficulties, allowing students to set goals and really chart their growth in a visual way. This promotes goal-setting, perseverance and confidence for all of our climbers," Winans says.
Billy Tipp '18, who serves as recreation programming guest relations coordinator, emphasizes the familial nature of the rock wall and its staff.
"The space is more than just a workout facility. It is a community," he says.
Learn more at the Doti-Struppa Rock Wall website.
Display image at top: Sam Reinhart '19 coaches Kylie Callahan '21 while she climbs the rock wall.
Photos by Catie Kovelman '19