The January weather at the annual Sundance Film Festival in Park City, Utah, is famously chilly. But for Chapman University alumni, this year's festival scene was sizzling hot.
Alumni filmmakers from the university's Dodge College of Film and Media Arts set a new record of excellence at Sundance 2018 by unveiling critically acclaimed films and winning top awards, including the U.S. Documentary Grand Jury Prize for Kailash, directed by Derek Doneen '09.
Dodge College Excellence
"The premieres of the films by alum directors Carlos López Estrada (Blindspotting, a narrative feature) and Derek Doneen (Kailish, a feature documentary) have set a benchmark for Chapman," said Bob Bassett, dean of Dodge College, which was ranked No. 6 by The Hollywood Reporter among American film schools.  "I am so very proud of these alums and the accomplishments of all of our graduates."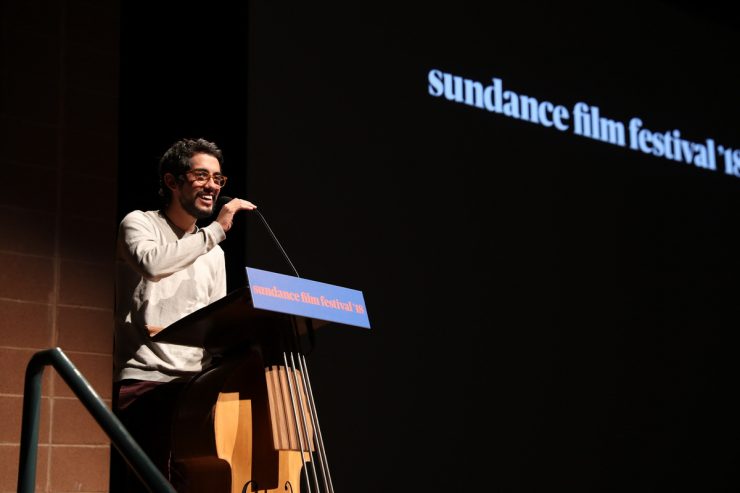 Chapman alumni are not newcomers to the legendary festival founded in 1985. In 2014, Justin Simien won the U.S. Dramatic Special Jury Award for Breakthrough Talent in recognition of Dear White People. The critically praised satirical feature film chronicles the experiences of four black students at an Ivy League-inspired college. It has been adapted into a Netflix television series, now in its second season.
Over the past decade, the Sundance screening roster has included a long list of Chapman alumni, from writers and producers to sound designers and cinematographers, whose films have gained entry into the exclusive festival. Out of nearly 14,000 submissions last year, only about 200 feature-length and short films were chosen for Sundance screening.
"Sundance Film Festival is a benchmark for filmmakers in terms of destinations for exhibiting their films, and it really is the hardest film festival to get into numbers and quality-wise. Everyone is trying to get into Sundance," said Kevin Harman, festival and industry relations specialist at Dodge College.
With some 40 University alumni in attendance, Chapman's industry connections were a presence, too. Rubbing shoulders with the pros this year were 24 students who experienced the festival first-hand through the Sundance Film Festival Workshop, a Dodge College Interterm travel course.
"Watching these young people move on and make their mark as their careers develop speaks highly not only of their own talent and hard work, but also of the mentoring they received from the faculty and staff at Dodge College," Bassett said.
2018 Sundance Success Stories
Kailash explores the work of Nobel Peace Prize winner Kailash Satyarthi, an Indian children's rights activist who battles child labor and exploitation. Derek Doneen '09 told "Deadline Hollywood" he was unfamiliar with Satyarthi's work before Oscar-winning documentarian Davis Guggenheim (An Inconvenient Truth) invited him to direct. "I was immediately stricken by how inspiring (Kailash) is, the movement he's built on a global level and thought we had to tell his story," he said.
Blindspotting is a drama where the scars of police brutality, race relations and violent crime are still raw in the lives of neighborhood friends living in a gentrifying Oakland, Calif. Huffington Post included it on its list of breakout hits to expect this year. Directed by Carlos López Estrada '12 and starring Tony Award-winning Daveed Diggs (Hamilton), the movie was acquired by Lionsgate during the festival. A wide release is expected.
Dinner Party, a virtual reality thriller produced by Rachel Skidmore '10, premiered in the New Frontier exhibition at Sundance. Dinner Party was a project from Skybound, where Skidmore is director of media development. The short film is a dramatization of the first reported UFO abduction in the United States. New Frontier is an initiative of the Sundance Institute that highlights experimental new media using new technologies. Dodge College recently added a minor in virtual reality and augmented reality.
Meanwhile, at the alternative Slamdance Film Festival that runs the same week in Park City, an alumni feature won two top prizes. Directed by Trevor Stevens '15, Rock Steady Row won the Narrative Feature Grand Jury Prize and the Audience Award for Best Narrative Feature. Numerous students and recent alumni make up the cast and crew of this movie about a college freshman who finds himself in the middle of two warring fraternities as he tries to reclaim his stolen bike.
Featured image at top: Chapman University alumnus Derek Doneen '09 and producer Susan Anthony accept the U.S. Documentary Competition Grand Jury Prize for Kailash, directed by Doneen. Photo courtesy of Sundance Institute/photo by Brandon Cruz.