To an MBA, writing a business plan without an Excel spreadsheet might seem like trying to make soup without a pot.
As a Peace Corps volunteer in northern Peru, Paula Mattison (MBA'15) was teaching high school students how to write business plans with even less.
"The unfortunate thing is that many of them do not have basic calculators to do math such as figuring out their margin of utility or break-even point," she wrote last summer in a series of emails to Thomas Turk, Ph.D., professor of management and interim dean of Chapman University's Argyros School of Business and Economics.
Then Mattison took a chance: "It might be a lot to ask but I figured what's the harm in asking, right?"
Turk responded the same day: "Just let me know how many calculators you need, what type and where to send them. We would be happy to help."
So it was that 100 calculators made their way from Chapman to Contumazá, Peru, where Mattison will complete two years of service in the Cuerpo de Paz in June.
A Kennedy Legacy
Established by President John F. Kennedy in 1961, the Peace Corps has sent more than 230,000 American volunteers around the world. At Chapman, former Peace Corps volunteers include Charlene Baldwin, dean of the Leatherby Libraries, who served from 1966-68 in Lalupon, Nigeria, where among other efforts she converted the town jail into the town library.
Mattison's efforts in Peru are similarly focused on her area of expertise, business.
She paired with a local educational group to train teachers to continue teaching the business plan course, instructing them eight hours a day for four days.
"It's great teaching children, but the important part is that the teachers can learn as well so they can continue empowering students when a volunteer is no longer present," Mattison wrote in an email interview because communication options and her access to the internet are limited.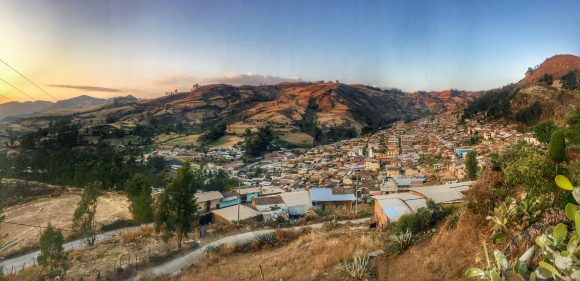 Mattison also paired with a local nonprofit that was seeking to reduce malnutrition by helping create productive organizations. To help that effort, she taught entrepreneurship and business creation workshops in Guzmango, an outlying district about two hours by bus from her base in Contumazá.
"The group of people that were in these workshops came by foot if needed, sometimes walking two to three hours, just to attend our workshops," she wrote. "Resources like a projector and computer weren't possible to come by in this rural area so I was charged with facilitating these workshops with just paper, pen, and activities. We completed lessons on market study and identification, personal budgets, cost analysis, break-even point, and pricing."
The group finished with a pitch to create a community bank, a project slowed by the rainy season that Mattison hopes to continue before she returns to the U.S.
The Local Restaurant
Another project was an outgrowth of her daily life, which includes regular visits to the main restaurant in town, Pollería Leo, which specializes in rotisserie chicken. Eventually, the owner asked for her help.
"Half the job in Peace Corps is putting in the time to build trust with the people in the community for them to welcome your help," Mattison wrote. She has been meeting with the owner and his wife at least once a week, working to organize their business and personal finances – all without a computer.
"When I first started meeting with them in June 2017, they did not have a single written document to track how much they were selling, what it was costing, and how much they were making," Mattison wrote. "As of February 2018, we have developed a handwritten method for them to keep track of daily sales that include quantity of plates sold and how much money they sold for. We have also come up with a handwritten method to track daily costs to then turn them into a monthly cost model to do a profit analysis every month."
A Cultural Exchange
The Peace Corps experience is not only about what volunteers teach. It is also about what they learn.
"There is a lot we as volunteers must adapt to during service but two-thirds of our work is to have an exchange of cultures between the United States and our host country," Mattison wrote. For her, one of the bigger adjustments has been what is known as la hora peruana.
"When someone says 12 p.m., it never means 12 p.m.," she wrote. "It could mean 3 p.m. or it could mean, 'Yeah right, I won't even be there.'
"Whenever I ask why, people always say that is just how the people are, that they don't believe anyone will show up so then they in turn don't. It is a self-perpetuating cycle. I have a hypothesis that a lot of this happens because the transport here is not reliable due to roads not being fully constructed and walking sometimes being the main mode of transportation. If there is a mudslide that blocks the road, the bus won't be able to get to you for hours."
People also rely on shared rides, and a car that goes between two locations waits to leave until it is full.
"One day you could get between two locations in 30 minutes, and the next day it could take 4 hours," Mattison wrote.
Other lessons will return home with her in the form of Spanish sayings. Among them: Paciencia con proyectos, calidad es mejor de cantidad (Patience with projects, quality is better than quantity) and Hay una solución para todo (There is a solution for everything).
"I did not come here to change the country, I came here to change people and those changes are long term," Mattison wrote. "To change a person is to change their behavior, their habits, and sometimes it can take even more than two years to accomplish. For me, this was the biggest challenge to overcome in my service and one I strongly advise future volunteers to try to come to terms with before they serve. The sad truth is that I have gained so much more from being here than my community has. They aren't kidding when they say it's the toughest job you'll ever love."
Mattison joined the Peace Corps because of her love of travel and her desire to help others in a sustainable way. She says she would like to continue working with nonprofit organizations for the next five years or so, and "Who knows from there?"
"Perhaps I'll make my way over to the corporate side one day, but for now my heart is still with serving other people and causes that are bigger than myself."
Display image at top/Paula Mattison (front row, second from left) with Peruvian schoolchildren during her two-year Peace Corps mission. (Photo/Courtesy of Paula Mattison)