For the next two weeks, Kelli Stavast '02 has a glamorous job as an NBC broadcaster at the Winter Olympics. Think of her before you complain about the temperature in your cubicle or your car.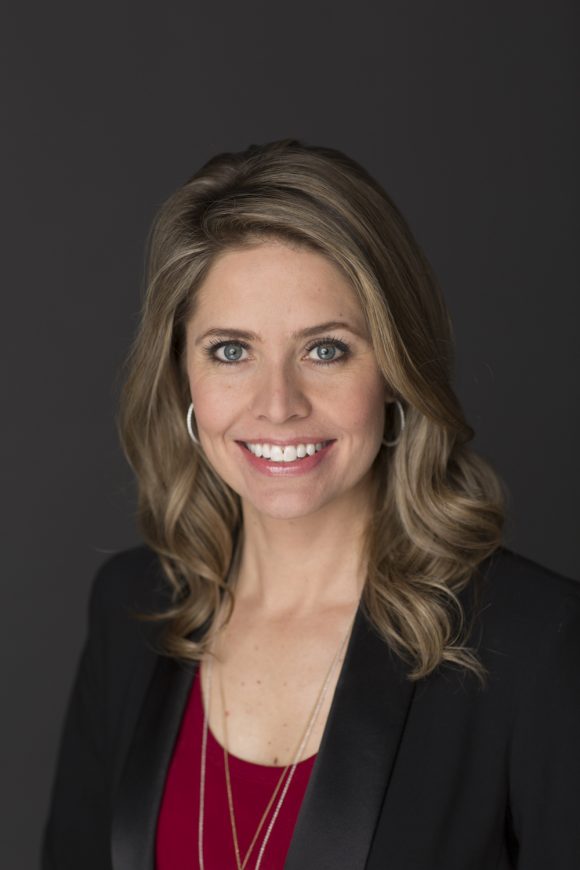 Stavast's assignment is freestyle skiing. She is not in a rink or a booth. Part of her role is essentially sideline reporter, out in the elements, and she has to be cogent and not visibly shivering. A couple of prep assignments at U.S. ski venues helped her understand what she could face in Pyeongchang, South Korea.
"I went to go do an interview — and it was on tape, so I could start over — but it was like my lips were too cold to talk. I couldn't form words," said Stavast, an alumna of Chapman University's Dodge College of Film and Media Arts.
NBC crews were issued winter gear on arrival, but Stavast is making sure she has layers underneath.
"They're providing us with heated vests. I've got some heated socks that I ordered from Europe. I've brought everything I can think of to try to make sure I'll be warm."
Hands-On Training
Stavast's true preparation for her assignment wasn't for the cold, of course, and it began at Chapman University. It has taken her to such unexpected places as pit row for NASCAR races and Rio de Janeiro, where she covered diving for NBC at the 2016 Summer Olympics.
"Part of the reason I chose Chapman over other schools like Syracuse and Missouri, a couple of other big journalism schools I had been accepted to, is that Day One my freshman year, I was doing broadcast journalism," said Stavast, praising the design of the Dodge College of Film and Media Arts program in broadcast journalism and documentary. "You find out really fast if you're actually cut out for it. I loved that we were thrown into the fire immediately. Just the program itself, learning every aspect — producing, editing, writing — I had all my bases covered, which helped me get my first job, as a sports anchor for an NBC affiliate in Grand Junction, Colorado.
"All that really helped me in that job, because I was a one-man band. I had to do it all and I was lucky that I knew how to white-balance a camera, just to make sure that the colors are correct when you're taping your own stand-ups — which is what I had to do, because I didn't have a camera guy."
Stavast knew she wanted to do sideline reporting instead of studio work, so she soon returned to Southern California.
"I started taking any job I could find. I covered tennis, boxing, high school football, college football, baseball, I mean truly anything, and making pennies doing it," she said. "But I took everything that came my way."
One of the breaks that ultimately led her to Pyeongchang came after Dodge College broadcast journalism instructor Pete Weitzner called and encouraged her to interview for a job with Jim Baldwin, a Chapman benefactor who had purchased an off-road racing series and was looking for a sideline reporter.
Stavast said she "knew nothing about motorsports" but took the job and was determined to learn. The motorsports expertise she developed led NBC to add her to its NASCAR coverage team and ultimately to sign her to a multiyear contract. Stavast's ability to rapidly become an expert in whatever she was assigned to led to the diving assignment in Rio and now to freestyle skiing.
"That was actually one of my best skills as a student, cramming, so it's really coming in handy," she said with a laugh.
Olympic Challenge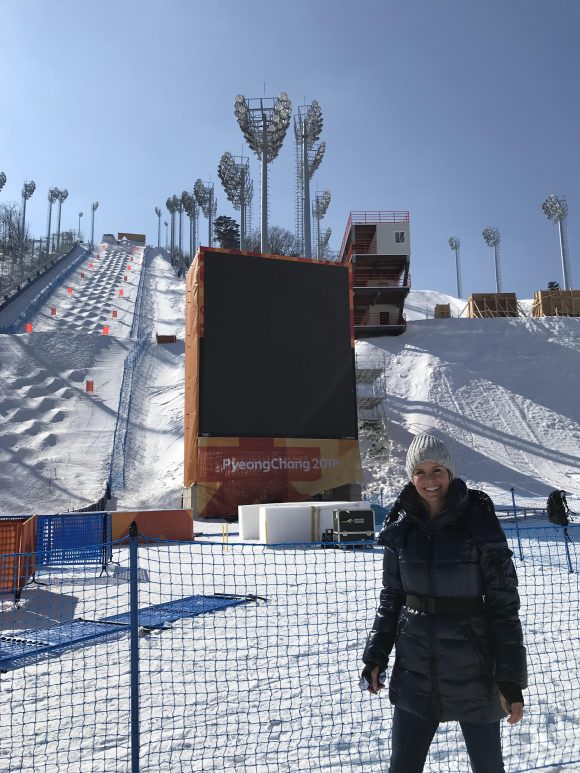 Many Olympic sports only become mainstream for a brief window every four years, so intense preparation and study before and during the Games is essential.
"I've only ever covered two moguls events and two aerials events, but there are three other events that I'll be working that I've literally never seen live, I've never met an athlete," Stavast said before leaving for South Korea. "So that's part of the reason we go out there a week early."
She'll be covering a sport that carries risk for athletes, in a part of the world that has been the focus of global tension.
"I feel no more uncomfortable traveling to South Korea and being miles from the DMZ than I do at a concert these days," Stavast said, noting NBC crews receive a security briefing and that North Korean athletes are competing alongside South Koreans.
As for the dangers inherent in extreme sports, "what's typical across all sports, certainly motorsports, is there's danger at any given moment," she said. "So we just follow the rules that we never speculate. You're never trying to guess how someone's doing, what their condition is, what happened. You can only report the things you see and know to be fact."
Stavast's career has included "a huge learning curve" to become an expert in an array of sports that don't include balls, but she has thrived.
"Obviously to get the call ahead of the Rio Games to be part of the Olympic coverage was a huge honor and a dream come true. To be part of the Olympics is an extraordinary deal," she said. "If I had set out as a little girl, definitely the NFL, which I have yet to cover, was a dream, but the Olympics were right there. I get to check that box."
Display image at top/NBC broadcaster Kelli Stavast in front of an image of the Olympic mascot in Pyeongchang. (Photo/Courtesy of Kelli Stavast)