Chapman University and Orange County School of the Arts (OCSA) have joined forces officially in a collaboration signed this month. The agreement has the two schools focusing on enhancing opportunities for their students in curriculum areas including but not limited to film production, performing arts, and the humanities. Both schools – one a private university and the other a secondary public charter school for grades seven through 12, are located in Orange County, CA.
"Chapman University has long had a commitment to the arts," said Daniele Struppa, Ph.D., president of Chapman University. "And now we are poised to help cultivate a new generation of local talent with a variety of artistic passions. It's a perfect match for students whose creative aptitudes and dedication to their crafts reside in artistic endeavors like filmmaking, writing and design. And, Chapman's Musco Center for the Arts – just two years old – is a beacon for those in the performing arts to come and thrive in a top university venue."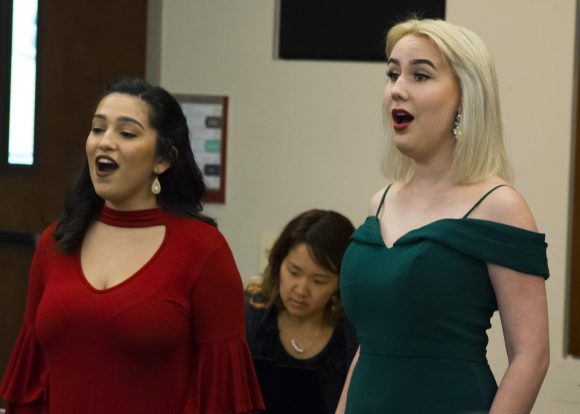 Specifically, the collaboration will grow the areas of innovative curriculum for OCSA students, opportunities for Chapman student teachers, scholarships for OCSA students, joint master classes, joint research projects, joint performance opportunities, and joint applications for grant funding.
"Orange County School of the Arts is committed to providing bright and talented students with unparalleled preparation for higher education through our innovative dual arts and academic program," said Ralph S. Opacic, Ed.D., OCSA founder and executive director. "By collaborating with Chapman, we are able to further serve our talented artist scholars by providing them with access to Chapman's distinguished faculty, state-of-the-art facilities and college-level curriculum. We look forward to this partnership opening doors to even more opportunities for OCSA students, Chapman students and the greater Orange County community."
Founded in 1987, OCSA serves middle and high school students with talents in the performing, visual, literary and culinary arts. Chapman University was founded in 1851 and has historically been thought of as a liberal arts school, although the university has made strides in the health sciences in the past five years. Since its inception, OCSA has had more than 100 graduates go on to attend Chapman University. And there are currently 40 Chapman alumni teaching and working at OCSA.
Paul Musco – who sits on the boards of both schools – and his wife Marybelle, are known in Orange County for being benefactors to the arts, and were instrumental in encouraging this partnership. Musco, who attended the signing ceremony said, "Bringing these two schools together is a natural alliance. Seeing what they are both accomplishing in the fine arts and what they are striving to accomplish makes this a composition that will serve the students and ultimately the future of the art and creative communities for generations to come."
The signing of the collaboration took place February 1 at Chapman University. Students from both schools performed: a jazz combo and vocal performance from OCSA, a vocal performance from Chapman, and a classical voice duet by Chapman and OCSA students.