Chapman University is one of just five Western Region schools honored by U.S. News & World Report for "Best Undergraduate Teaching." To celebrate such distinction, we offer Teach Me This, a series of quick lessons on timely topics.

Maybe the season of peace eluded you, lost amid the parties and the Amazon boxes.
January could be the ideal time to explore a mindfulness practice.
Gail Stearns, Ph.D., dean of Chapman University's Wallace All Faiths Chapel and associate professor of religious studies, is offering faculty, staff and students a guided opportunity to experience mindfulness meditation in a series of six one-hour sessions on Mondays at noon from Jan. 29 to March 5 in the Wilkinson Founders Chapel.
Stearns also will teach Religious Studies 329, a one-credit course on mindfulness, in spring 2018 after introducing the class last fall. (For questions on either, email stearns@chapman.edu.)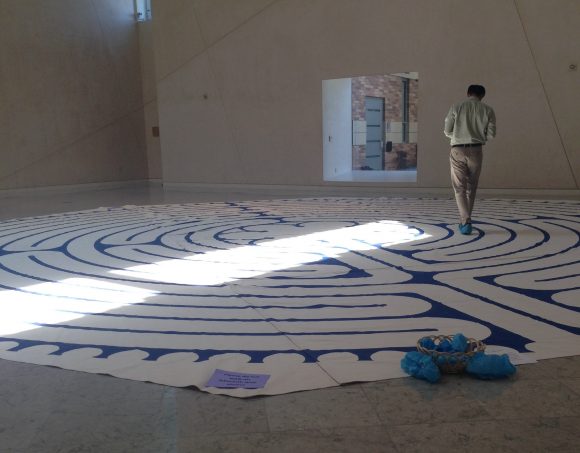 Yet what is mindfulness, a word so ever-present these days?
"It's a huge craze, and people are using that term in many different ways right now," Stearns said.
It is not so much about emptying the mind but centering it.
"I can give formal definitions, but mindfulness is learning to live in the present with curiosity and intention, rather than being focused on the future or the past," Stearns said.
While the term may be trending as people seek to counter the chronic distraction of being tethered to technology, mindfulness is not new.
"People have been practicing mindfulness and meditation — and I would include a number of techniques that haven't been called mindfulness — for 2,000 to 4,000 years," Stearns said.
"There are meditations and prayers within different traditions that help people to learn to be very present, to be very connected with everything around them, not to focus only on the past or the future, but to be present and also understand their connectivity. For religious people, sometimes that means connection with the divine. For others, it's connection with all of life."
Scientific backing
What is new and evolving, Stearns said, is scientific recognition of the effectiveness of these practices.
"Scientists are studying the brain, and what they're learning is that these practices completely change the way your brain works," she said.
The University of Massachusetts Medical School, for example, has embraced mindfulness with its Center for Mindfulness in Medicine, Health Care and Society and a Mindfulness in Medicine website. Researchers at many other universities are identifying the effectiveness of mindfulness not only on healing but on soothing the tensions of contemporary life.
"People now believe science," Stearns said. "A thousand years ago, they accepted the belief in religion that meditation connects and centers them. Now, we don't necessarily take the word of religion, but interestingly, when we want to know if meditation works, guess who we study? We study monks, who have been practicing for years. What makes it so interesting to people now is this: Science says it works."
How to begin
Among the free online resources Stearns recommends are Chapman's Mindfulness Meditation with Sound Healing on the iTunes U app (for iPhone/iPad only) and UCLA's Mindful Awareness Research Center. Those sites offer guided meditations from 3 to 25 minutes.
Stearns also works with the concepts of "anchors" that help center us in the present, bringing attention to our breath, sounds, sights, or the touch of our feet on the ground as we walk.
"If you would like to begin 'training your brain' to be aware of the present, you might try doing any of these on a daily basis," she suggests.
Breathe. Take five deep breaths, focusing on each in-breath and out-breath; repeat breathing normally for as long as you like.
Listen. Stop and let yourself hear any sounds you can identify in this moment.
Walk. Walk and really feel the touch of your feet on the ground.
Eat. Get some of your favorite food and put away all your notes, mobile devices, etc. Take a bite and savor. Take another and another.
Look. As you walk, really look around you and notice your surroundings.
Do a body scan. Use a free guided body scan such as this one.
Over time, a mindfulness practice can produce calmer reactions and more compassion, Stearns said. After teaching the one-credit course for the first time last fall, she said, she met with the students and asked, "What did this do for you? Did it do anything?"
"Some of them said, 'I found that I actually react far less dramatically. I step back a little bit. I think about the fact that the reaction is really only in my thoughts, it's not reality. I ask myself whether I even need to act on it.' Some of them said that they stop and think more before they speak. They listen more. What they've learned to do is just observe their own thoughts."
If you have a suggestion you'd like us to consider for "Teach Me This," we'd love to hear it. Please email ideas to bonker@chapman.edu.
Display image at top/Gail Stearns, Ph.D., dean of Chapman University's Wallace All Faiths Chapel, is also an associate professor of religious studies.