The sixth-grade assignment was to write a letter to her future self, so Ellie Wilson dreamed big. She would travel with friends to Sydney, Australia. Marry a cute guy from her favorite band, One Direction. And attend Chapman University with the benefit of a scholarship.
A lot can change in six years, though. Australia isn't on her must-go list and One Direction broke up.
But that part about Chapman and the scholarship? Downright visionary. This week Wilson received her early action acceptance letter from Chapman. And that wasn't all. Also in the mail just one day prior was that childhood letter, saved and posted to Wilson by her elementary school teacher, who makes a project out of returning those assignments to students as they approach high school graduation.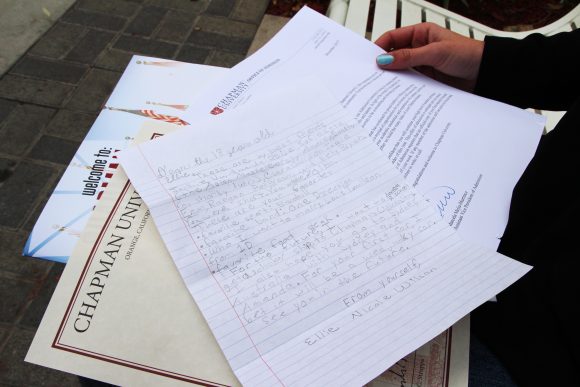 "I think the takeaway is that even if you're little and you don't know how things are going to happen, you can start building dreams and making goals. You can sometimes trust yourself even at the youngest ages," says Wilson, who will join Chapman's class of '22 this fall as a Dean's Scholar.
How did Chapman first catch her attention? The serendipity of a lost keychain, as it turns out. In third grade, she was at her brother's baseball practice killing time in the bleachers by doodling in her journal. She discovered under the bleachers a scuffed up plastic keychain bearing the university logo. It had no keys and no owner, so it became childhood treasure.
She also had the benefit of watching the University grow in recent years. As a Villa Park, Calif., resident, her family often drove by and visited campus.
"It's grown and is so beautiful. It has just really interested me how a small university grew," she says.
Not unlike a certain sixth grader who dreamed big, set a goal and made it happen.