Chapman University has closed escrow on an expansive apartment building near Anaheim's GardenWalk with plans to convert it to student housing. Called Chapman Grand, the residence hall will serve up to 900 students when it opens in fall 2018.
The former Katella Grand apartment complex in Anaheim's Platinum Triangle district includes studio, one-, two- and three-bedroom apartments in various configurations and with a variety of recreational amenities.
"This newest residence hall signals substantial progress on one of our highest institutional priorities – addressing demand for additional, excellent student housing," said Harold Hewitt, executive vice president and chief operating officer.
Moreover, acquiring the complex bolsters the University's housing inventory more quickly than would new construction, said Jack Raubolt, vice president for community relations.
"Chapman Grand provides an opportunity for Chapman to offer additional housing for students two years earlier than originally expected," Raubolt said. "With the purchase of the property, we also gain a net increase of 200 beds above what a Panther Village expansion would have provided."
Among the amenities at Chapman Grand are a state-of-art fitness center, a rock-climbing wall, study rooms and a large outdoor pool area. Each apartment is equipped with a full kitchen and laundry facilities. The University will provide shuttle transportation to and from campus.
Chapman is financing the project by issuing $150 million in taxable and tax-exempt municipal revenue bonds. Moody's Investor Services recently evaluated Chapman's financial strength and determined that its credit rating will remain A2 with a stable outlook following the new bond issue.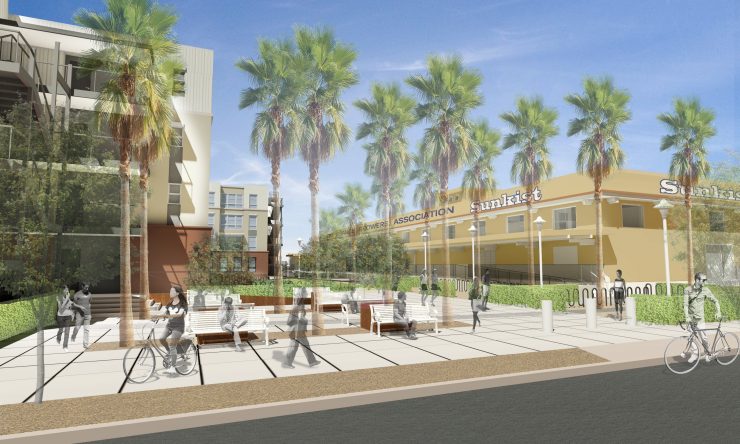 Prompted by community concerns about the effects of student rentals in the City of Orange, Chapman has stepped up efforts to expand University-owned housing in recent years. In 2013, it purchased and remodeled a hotel-suites complex on West Chapman Avenue to create Panther Village. The University plans to add an expanded parking lot there in 2018.
In addition, construction will begin soon on the Villa Park Orchards Residential Village, on the west side of Old Towne Orange, near Crean Hall and Dodge College. An architecturally sensitive design reflects the historic character of the site and repurposes the original Villa Park Orchards Association Packing House. When it opens in fall 2019, the village will lodge 402 students.
Beginning Saturday, Jan. 6, the Saturday Orange Home Grown Farmers & Artisans Market will move from its packing house home to accommodate construction. The market will relocate across the street at Chapman's Becket Building, 303 W. Palm Ave., and encompass the portion of Palm Avenue between Lemon and Cypress streets.
Display image at top/University resident advisors check out the pool and patio during tours of Chapman Grand. (Photo/Dennis Arp)