She didn't expect the tears and nostalgia. After all, it had been nearly 40 years since Susan Reyburn Lemieux '77 had visited Chapman University. Driving back to campus this fall, she imagined things would be quite different now. Hardly recognizable.
Then Lemieux saw iconic Memorial Hall, the 96-year-old building overlooking the historic core of campus.
"It was really emotional. So much of the university has changed, but when I saw that majestic building and its pillars, it just reduced me to tears to see that," she said.
Connecting with cancer research
The reason for her return amplified the poignancy. Lemieux is a pancreatic cancer survivor and volunteers with the Pancreatic Cancer Action Network (PanCAN). When Chapman professors and cancer researchers Marco Bisoffi and Melissa Rowland-Goldsmith sought a group of pancreatic cancer survivors to meet with their Cancer of Biology class, one of the PanCAN organizers coincidentally invited Lemieux to participate.
She and her fellow PanCAN volunteers eventually visited campus twice, first to share their personal stories, and again this month to hear the students' distill the latest pancreatic cancer research into presentations for a lay audience.
"Cancer biology is not just about cells"
The presentations capped off a series of assignments designed to help students gain a holistic view of cancer. In addition to meeting cancer patients, students also spent time with a leading researcher and surgeon, and volunteered with the Hirshberg Foundation for Pancreatic Cancer Research Anti-Cancer Challenge.
"What we like most about this set of activities is that our students are meeting with both survivors as well as a leading researcher and physician. In addition, they are volunteering within this cancer community to help raise money for a cancer organization," Goldsmith said. "Ultimately, they will see that cancer biology is not just about cells, but it is about the person who has the cancerous cells."
As a survivor and an alumna, it was a profound experience to hear the students' work, Lemieuz said. Pancreatic cancer has hit her family hard. Five months after her husband died from the disease, she received her own diagnosis and underwent surgery and chemotherapy.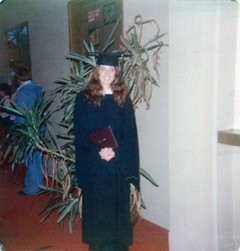 "It's nice to see the students committed to learning more about molecular biology and pancreatic cancer, because it is not a well-understood cancer. It's a very deadly cancer that has very poor outcomes," she said. "It's a real treat to be able to see students work at that level."
Heartfelt homecoming
The daughter of missionaries, Lemieux transferred to Chapman from overseas. She studied social work and made an impact in the field until recently, when she returned to Southern California to be near her daughter. Having Chapman in her life again has been a serendipitous pleasure and a reminder of what made her fall in love with it as a young woman far from home, she said.
"I'd lived in Beirut for a number of years, and it was hard for me to come from that environment and make friends and be understood. Chapman really took me under its wing," she said. "Of course, it's had a facelift, but it's still the same Chapman University. I love it here. It was a good experience for me."
Display image at top/Susan Reyburn Lemieux '77 revisits Memorial Hall.