A Holocaust survivor and World War II hero who went on to become a Hollywood actor and an important part of Chapman's Holocaust education programs for almost 15 years, Curt Lowens passed away May 8. He was 91.
"I truly think Curt loved every moment on the Chapman campus, and nothing gave him more pleasure than to be around young people and to see that his story fascinated them," said Marilyn Harran, Ph.D., director of the Rodgers Center for Holocaust Education. "I think it was for that reason that Curt entrusted us with his extraordinary collection of documents and materials from his pre-war youth through his wartime years as a rescuer in hiding in the Netherlands and on to his service with the British Army as a translator in the last months of the war."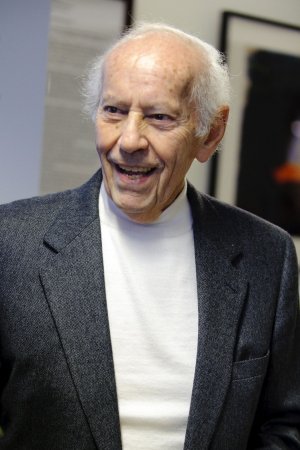 Lowens often spoke at Chapman's commemorations of Kristallnacht, or "Night of the Broken Glass," marking the November 1938 violence when synagogues were burned and thousands of Jewish shops were looted throughout Germany.
Lowens recalled seeing smoke rising from the Berlin synagogue where he was to have his bar mitzvah. "But the pictures of "jude" (Jew) scribbled on the glass and smashed, the looting, the mob, the screaming, was something I shall never forget," he told a Chapman audience.
While in hiding in Holland, Lowens helped save some 150 Jewish children and also rescued two American pilots who had been shot down, earning a commendation from Gen. Dwight D. Eisenhower.
After immigrating to the United States, Lowens became an actor, appearing in more than 100 films and TV shows, sometimes portraying Nazi characters.
Harran recalled Lowens as someone "always able to find something in which to rejoice even in the most difficult of circumstances."
"He lit up any room he entered with his smile," she said.
This story appeared in the fall 2017 issue of Chapman Magazine.