Netflix releases the second season of the runaway hit Stranger Things just prior to Halloween, and fans of the spooky series created by Chapman University alumni Matt and Ross Duffer '07 likely have their binge fests planned.
Meet the Duffer Brothers
But here's an extra treat Stranger Things fans will want to add to their calendars that week: Chapman will present its 2017 Alumni Achievement in the Arts Award to the Duffer brothers during the Chapman Celebrates Gala Night Saturday, Nov. 4, in Musco Center for the Arts. The event includes an opportunity to attend a private reception with the brothers and an elegant black tie dinner following the show.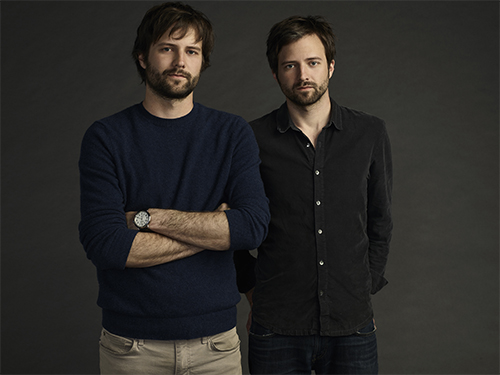 The annual award honors Chapman alumni who have made extraordinary contributions to the arts, and is presented during performances of the glittering Broadway-style musical revue that features students from Chapman's College of Performing Arts.
The award also recognizes the Duffers' swift rise as creative leaders in the fast-growing business of streaming media and video-on-demand entertainment, a path launched at Chapman's Dodge College of Film and Media Arts. They say their best lessons at Dodge College was this – think big, but start small.
"A lot of people come into film school and want to – and we made the same mistake – they want to make a masterpiece right away. And it's like, just focus and try to tell a story," Ross Duffer says.
From Chapman to 'Stranger Things'
Today there's nothing small about the success the twins have made with the storytelling skills they honed at Chapman. Stranger Things earned 18 Emmy nominations, critical acclaim that ranged from The Wall Street Journal to Rolling Stone and the adoration of fans who made the tale one of the most-watched television series of 2016. The New Yorker called it "astoundingly efficient storytelling, eight hours pass in a blink."
Of course, in reality creative results take a little longer to deliver. The brothers say their film education and the connections they made at Chapman prepared them well to meet those challenges.
"When you move into Dodge it's this beautiful community of film nerds and they're all into the same stuff that you're into. … That's what's key — being in a group of really, really smart kids who love the same things we did," Matt says.
Undergraduate courses immersed them in the hard work of rewriting, skills essential to the trial and error process of writing and filmmaking, they say.
Thankfully, the brothers kept at Stranger Things. The plot revolves around a town turned on a tilt when a boy named Will disappears, a weird little girl named Eleven arrives and a paranormal mystery unfolds. Add in a pack of preteen pals determined to rescue their buddy, Winona Ryder as a rattled but determined mom and Matthew Modine as a weird scientist and … things happen.
The result is a 1980s-themed nostalgia trip down creepy-movie lane that conjures up memories of flicks like Goonies and ET. With that formula, the tale managed to capture multiple audiences, from preteens to Generation X.
Which was just what the Duffers wanted.
"Our argument and pitch to Netflix was that it works on two levels. You can have 12-year-olds watching the show and they're going to relate to these kids and they're going to feel like they're having an adventure just like we felt when we were their age watching Goonies. And it's also going to work for people our age and older who grew up on these films," Matt says.
Visionaries of new television
Coupled with that creative vision is a keen understanding of the new frontier of television in a digital world. Harris pollsters say that 67 percent of millennials in the U.S. regularly watch television via home-streaming, that cyber waterway that pumps ever-ready entertainment into our homes.
That's doesn't mean writers should write what they imagine will fit the market, the Duffers say.
"Ignore all the noise," Matt says. "Write what you want. If you truly love something, someone else out there will love it too."
But realize that those new platforms are reshaping episodic programming, which doesn't heed the old dictates of traditional television seasons and episodic plots built around commercial breaks.
"TV now is more novelistic," says Ross. "It allows you to ask, 'How many hours do we need to tell this story?'"
Apparently, Netflix is confident the Duffer brothers know the answer. Season two of Stranger Things releases on October 27 with nine episodes, a little leap from the eight of season one. So, buy extra Halloween candy and settle in. It looks like we're in for a frightfully strange and entertaining time.
 For Chapman Celebrates ticket information, please contact Tami R. Thompson at tthompso@chapman.edu
 Display image at top/Courtesy of Netflix