The student scientists were barely into week one of a two-year program that will challenge them to dive into research in a number of fields ranging from molecular biology and earth systems to physics and computational science.
Then there was this unexpected assignment. It came from a New York Times bestselling author who gave them one especially tough task. Learn to talk about your work so that average people can understand why it matters, said Rebecca Skloot, the author of The Immortal Life of Henrietta Lacks and a new Chapman University Presidential Fellow in Creative Science Writing.
Rebecca Skloot on Science Communication
"Remember that you're speaking a different language as a scientist than most of the public. It's really important. I often say that if you go to the hospital and you don't speak English, they're going to go get the translator," Skloot said. "But if you go in and say I don't speak science, they're not going to go get the science interpreter. And they probably should."
Skloot delivered her advice to the inaugural cohort of first-year students in the Grand Challenges Initiative (GCI), a student-driven program in Schmid College of Science and Technology. Just as its name suggests, the program challenges students to partner with classmates and focus on some of society's biggest problems – cancer, microbial drug resistance and obesity, to name just a few.
Following a pizza dinner and screening of the HBO film based on her book, Skloot stayed for a Q&A with students that went well into the evening at Sandhu Conference Center. It was just one of several talks the Presidential Fellow gave during the first days of the semester. The author also spoke to creative writing and journalism classes and is scheduled to return later in the semester.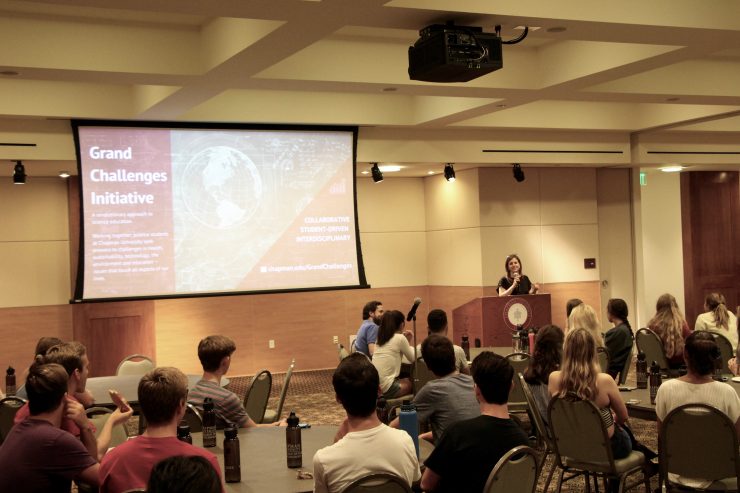 As a writer with an undergraduate science background and a graduate degree in creative writing, she is well-equipped to tell the story of contemporary science. But scientists can and should do their part, too, she said. Whether they're researchers or clinicians, all need to be communicators, too, mindful of the people who need to understand their work as patients, taxpayers and members of the human race, Skloot said.
Ethics and Science Research
Her bestselling book recounts the story of one family still struggling with a breach of confidence and privacy that might have been helped through communication. Henrietta Lacks was a poor black woman whose cancer cells were taken without her knowledge in 1951. Lacks' cell line – slightly anonymized with the label HeLa – became one of the most important tools in medicine. But the legacy has a dark side, too. Companies profited from the discoveries, but the revolutionary drugs, therapies and treatments they produced were not always available or affordable to all who needed them because of problems of health care access, Skloot said.
"Some people will say, 'Well, everyone should donate because everyone benefits.' But not everybody does benefit equally in this country," she said. "So I think there are multiple controversies."
Connecting With Students
Skloot's message also resonated well earlier in the day when she spoke with students in the upper-division course Cancer of Biology, taught by Professors Melissa Rowland-Goldsmith and Marco Bisoffi. Skloot's book was required summer reading in anticipation of the author's visit, although the students were unaware of the surprise guest until she walked into the room.
"We think of science as being objective, but it obviously has a past that isn't objective," said biochemistry major Elizabeth Iantosca '18. "And it's good to bring that to the forefront."
Display photo at top: A stylized image of Henrietta Lacks is displayed during Rebecca Skloot's visit with students in Biology of Cancer.