The hurricanes keep coming, along with heartbreaking images of lives, homes and communities destroyed.
So it's understandable that well-meaning people feel compelled to launch a clothing drive, collect shoes or zoom down to the flooded communities to help the people who've lost everything in the storms.
But don't do it.
At least not yet, say Chapman University faculty who teach and study the best practices of disaster relief and assistance. Relief organizations and government agencies along the Gulf Coast of the United States and in the Caribbean have their hands full with immediate health and safety issues, says Chris Hutchison, Ph.D., assistant dean of students, who co-teaches the course Leadership in the Eye of the Storm.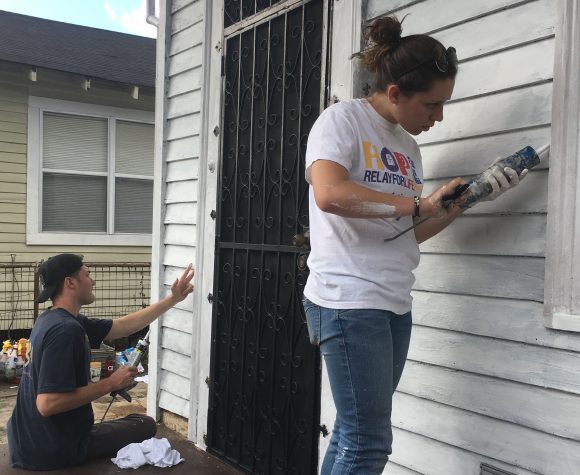 "It takes a tremendous amount of energy from those agencies to prepare volunteers. If we overwhelm them with volunteers from various other states, they're going to have to spend resources to get us prepared for safety issues. That's going to take time and money away from that they need to do," Hutchison says.
Be a help, not a hindrance
The best way to help? For now, donate money, as you are able, to well-vetted emergency relief agencies that have the know-how, equipment and trained volunteers ready to go, says Justin Koppelman, Ph.D., associate director of Civic Engagement Initiatives, who co-teaches the leadership course.
"They know the area. They have multiple personal and professional networks in the area that we wouldn't have," Koppelman says.
Hutchison and Koppelman speak from unique experience. In the aftermath of 2005's deadly Hurricane Katrina, they developed the Leadership in the Eye of the Storm class as an Interterm travel course that incorporates service learning into its curriculum.
Leadership lessons and disaster relief
The course is offered through the Attallah College of Educational Studies and is available to undergraduates as Leadership 485 and graduate students as Education 585. The field work and service portion of the course has been spent in New Orleans and surrounding communities.
But the concepts studied apply to any disaster. Key among them is how to gauge community needs during and following a disaster and harness that to the heartfelt energy of people who want to help. Because no one wants to squelch an outpouring of generosity, Hutchison says.
"The trick that I think we always try to navigate, and this comes from learning and teaching in disaster areas, is making sure we're doing what we can to keep that energy up and active, because it's wonderful," Hutchison says.
Soon enough the call for hands-on help will come – and probably keep coming. For example, the rebuilding of New Orleans continues, Koppelman says. Each spring a long list of tasks awaits the Chapman community service teams that collaborate with Rebuilding Together New Orleans.
The Chapman Family responds

Several Chapman groups are leading support efforts for the Gulf Coast and Caribbean. Learn how you can join in at the Hurricane Relief web page hosted by Civic Engagement.
People who work on such efforts also need to be ready to shift their energies, because needs change as recovery moves from short-term to ongoing concerns, he says. He points to New Orleans as a complex case study still in progress.
"So many people ended up being dispersed by Katrina," he says. "Now people are making decisions about the rebuilding of New Orleans. In the longer term it's important to work to make sure their voices, their interests and their needs are reflected."