The buzz of commerce filled the Leatherby Center Launch Labs at Chapman University this month as more than a dozen pop-up businesses opened shop.
The sound had a slightly higher pitch: Most of the entrepreneurs were 8-to-11-year-old girls.
With shops and mini-restaurants such as the Unicorn Café, Dazzle Salon, Passion 4 Fashion, Slime Time and the Life Changing Store, they offered their goods and services as part of a four-week camp, the Youth Empowerment and Self Sufficiency (YESS) Entrepreneurship Academy presented by Girls Inc. and Chapman's Argyros School of Business and Economics.
After a dry run with family, friends and shoppers from local Boys & Girls Clubs, the girls were ready for their $100-a-head ticketed fundraiser Thursday, July 27. But U.S. Dollars were no good inside the village the girls playfully named Boom Chicken Soup. The only accepted currency? Mozzarella Chopstick Bucks, the Monopoly-style money the girls created.
"They are just so creative and so invested," said Kelli McIntosh, elementary program coordinator for Girls Inc. of Orange County.
"I think that's the cool part about this program. Apart from the educational pieces, so much of it is about girls' decision-making and really giving them a lot of decision-making opportunities. So they have so much ownership."
Among the 41 girls who created 14 businesses were Victoria and Olivia, proprietors of Chef's Corner, specializing in grilled chicken tacos.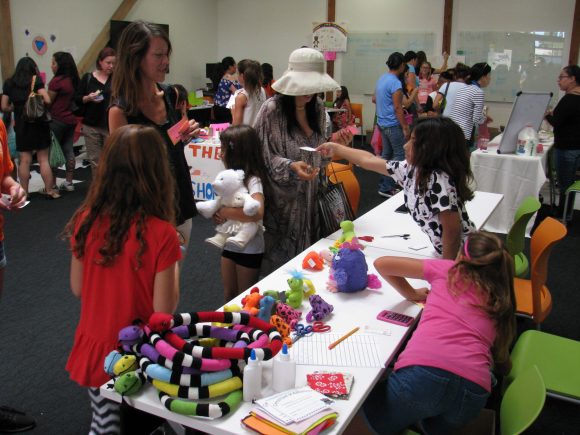 "We've made $25 and it's not even lunchtime yet," Olivia quickly calculated, looking at her stack of play money and subtracting their start-up expenses.
An aspiring chef, Olivia said she had grand visions for a wider menu, but realized the logistics of adding pizza and other items could be overwhelming and would raise overhead costs.
"You really don't have room for all that stuff," she said, adding that she and her partner priced their menu items strategically, nodding at a nearby shop. "They're selling lemonade for 15 (cents)," she said. "Ours is 10 (cents)."
The campers were assisted by recent Chapman graduates associated with siëo, the new startup consultancy based out of Chapman's Student Incubator, and a current Chapman student, Laura Chavez '20, was employed by Girls Inc. for the summer.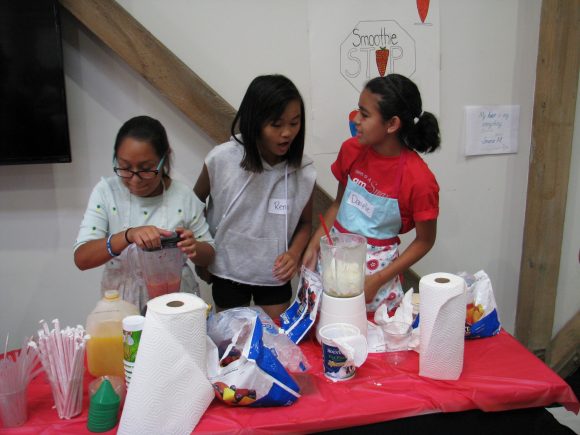 As shoppers milled about in the warehouse-style space, young entrepreneurs approached with business cards or free samples. Among the most creative shops were Ashley's Positive Notes, selling smooth rocks painted with inspirational slogans, and the Life Changing Store, which sold trinkets and raffle tickets for a special experience – a Skype session with a famous person such as a television personality or Instagram star.
"They think they're coming up with ideas — which they are," McIntosh said. "But they are more subtly learning a lot of decision-making skills and being able to own their own ideas and put them into action."
Display image at top/Cashier Atiana handles a sale with partner Christine at the Smoothie Stop.