Seated side by side in their sandwich shop on the corner of Glassell Street and Walnut Avenue, Mathew Riscalla '16 and his father Daniel have an easy give and take.
Their Subway Café, a new interpretation of the usual Subway franchise, has USB outlets, a digital jukebox, reclaimed wood and a trendy color scheme, all designed to entice students to hang out and enjoy a menu that includes specialty coffee drinks and pastries baked fresh on site in addition to the classic Subway sandwiches and salads.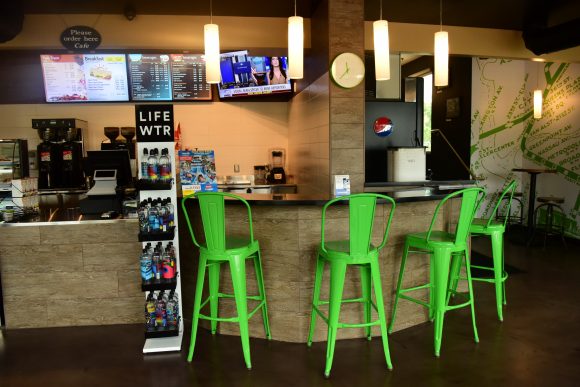 Mathew graduated from Chapman University's Argyros School of Business and Economics last year with an interest in entrepreneurship and his head full of ideas. Now he has his hands full of day-to-day restaurant operation tasks, helping manage the shop with his mother, Michelle. The location is one of five Subways that Daniel Riscalla owns with business partner Roger Canaan, the father of Chapman graduates Raphaelle Canaan '17 and Antoine Canaan '17, who also have worked in the family business.
It was Mathew who told his father about the opportunity he saw in the closed location of the Chapman Coffee House at 505 N. Glassell. A little more than a year ago, the shop reopened as the Subway Café with a unique design aimed to appeal to college students. Riscalla and Canaan operate three traditional Subways and one additional Subway Café, a more traditionally decorated restaurant at the St. Joseph Hospital Outpatient Pavilion.
Instead of focusing on theory, Mathew's work now centers on more practical matters such as employee hiring and training and meticulous food safety practices in the restaurant's spotless and well organized food preparation and storage areas.
"School is deeper information about business, more the parts of the business like financing," Mathew said. "This is operations, customer experience, keeping them happy and coming back, which will help future sales."
The Riscallas occasionally have had a musician play to add to the ambience, and also envision opportunities for Chapman students to showcase their art or poetry or try their hand at standup comedy in the shop.
A second room with a capacity of about 30 can be reserved for parties or private events. In addition to offering free sandwich delivery, the Subway Café also can cater events, providing not only sandwiches but such options as deli trays, salad platters or pastry trays.
"This has been growing as word spreads out and students learn more about it," Daniel said.
Mathew hopes to return to Chapman for an MBA after he has a couple of years of work experience.
"My dream is to own my own coffee shop, sort of a mom-and-pop that grows and becomes a franchise," he said.
His father knows Mathew will be better prepared to make that happen now that he has gotten his hands dirty learning how to keep a restaurant clean and running smoothly.
"I think he discovered a whole new side to this business since he's been involved," he said.
Display image at top/Daniel Riscalla, left, and son Mathew Riscalla '16 planned the restaurant design to appeal to Chapman students.