Music producer  and Chapman University alumnus Henry Allen '11 was coming off one terrific year. He released his debut EP and earned production  and writing credits on Major Lazer's chart-topping  Cold Water and The Weeknd's Starboy. Then there was his work on a little something called "All Night" for Beyoncé's Grammy-winning album Lemonade.
But on Grammy night, when it was time to trot down that red carpet, Allen – who goes by King Henry in the music world – slipped away with friends and unceremoniously found another door into Staples Center for the awards show.
"I was nervous. I didn't actually do the red carpet because I didn't think I was cool enough," Allen says with a quiet laugh.
Maybe it's hard to be nonchalant  when you're busy burning up with red-hot success. Allen shared the producing and writing credits on "All Night," which earned him a Grammy nomination for Album of the Year in connection with Lemonade. The album won Best Urban Contemporary Album, an award that doesn't put one of the coveted gilded gramophones into the hands of all co-producers,  but is, frankly, still pretty darn cool.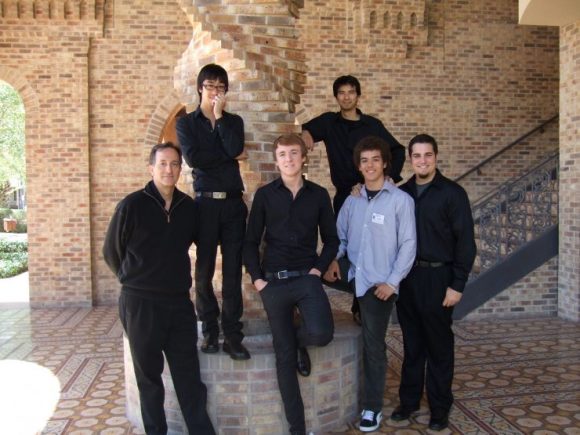 "We hoped for Album of the Year, never even imagined a nomination in the first place," says Allen, who graduated from the College of Performing Arts (CoPA), where he was part of several award-winning classical guitar ensembles.
In addition to the Grammy experience, Allen's own Duke City imprint released his EP Don't Stay Away, which was also released internationally on Black Butter Records. Don't Stay Away incorporates a video homage to his native New Mexico, produced by fellow Chapman alumni Dillon Moore '14, Dan Streit '15 and Tanner Hall '15. The song has been streamed more than 2 million times on multiple platforms.
The April 2016 release of the Beyoncé album "was the start of the momentum," he says. But the seed of it all was planted at Chapman, he notes in crediting his success to his rigorous training in musical foundations and classical guitar.
"Just understanding  music at all different levels has given me an advantage to come up with different sounds, basically different approaches," he says. "I understand  how music works."
And those multilayered skills were honed
to precision thanks to training under the tutelage of Jeff Cogan, associate professor and director of guitar studies and music technology at Chapman.
Cogan prodded  Allen to practice for hours a day, "even though all I wanted to do was hang out with my friends and make weird electronic music," the musician says.
"It all panned out into what I'm doing now." Now Allen is on to the next thing, which
includes more storytelling pieces like Don't Stay Away. He's also producing for the elec- tronic music trio Major Lazer and developing ventures he's not quite ready to talk about.
"It's been crazy, but in an awesome way. There's so much going on and so many good projects," he says.
Sounds like before long Allen just might have to reconsider his side-door entrances at award events.
Display photo at top/King Henry (Henry Allen '11) credits his classical guitar training in Chapman's College of Performing Arts for his chart-topping success writing and producing for Beyoncé, The Weeknd and Major Lazer. "Just understanding music at all different levels has given me an advantage to come up with different sounds," Allen says.