When you think of an industry meet-and-greet event, you probably conjure up images of pressed suits, nervously guarded business cards and carefully thought-out pitches. Sweaty handshakes and sparse—or at least less-than-stellar—food.
Sounds horrible.
So, scrap that. Instead, picture a breezy, coastal-rustic party patio in Santa Monica buzzing with the overtones of hundreds of excited conversations. Everyone is relaxed and enjoying themselves, stopping for selfies and hugs. That was the scene at Chapman's 5th Annual Alumni Entertainment Industry Mixer.
Infused with camaraderie and Panther Pride, the Mixer at five years in has become the event in Los Angeles for Panthers to connect and reconnect with each other. The annual event goes beyond the business card exchange and quick handshake – it allows alumni and students to build real relationships with each other, brainstorm new ideas and seek out potential.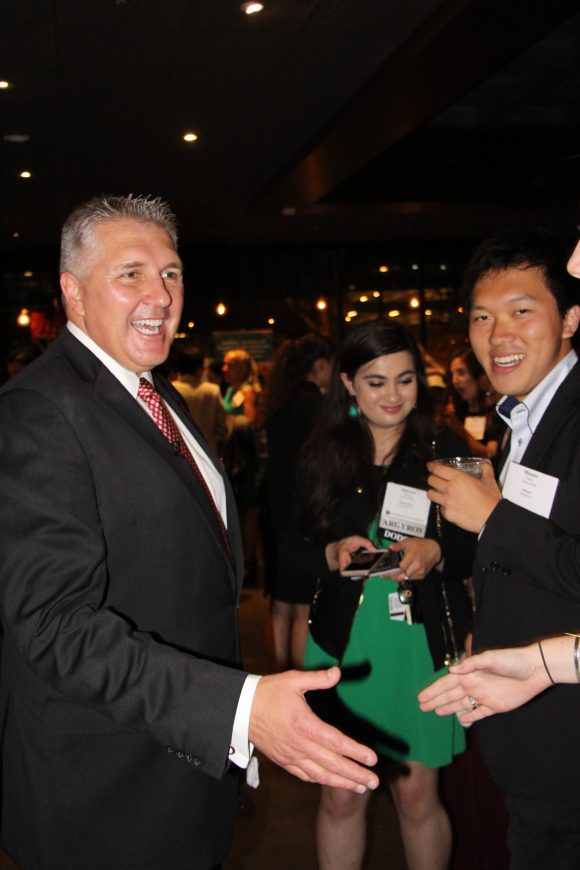 "Our alma mater has a meaningful impact in this industry. I couldn't be more proud of it. Whether it be creative, whether it be finance, whether it be law, whether it be the business sides, whether it's the film production – we have representation all throughout this industry from Chapman alumni … I want to continue to see that growing," said event host Akin Ceylan, BSBA business management '90.
Ceylan is a member of the Chapman University Board of Trustees, member of the Argyros School Board of Counselors, Alumni Association president, and COO of Home Entertainment and Global Content Delivery for Lionsgate. This year, for the first time, the mixer brought together alumni from all 10 of Chapman's schools and colleges.
During his informal speech, as Ceylan looked across the room, he proudly proclaimed to his fellow alumni, "At the end of the day, your success is our success."
Ceylan embodies the Chapman Connection—he truly cares about his fellow Panthers, hosting this event for the third consecutive year to give an entire contingency of alumni and students the chance to meet and form deeper connections with one another.
"One of the most impressive connections is Akin. He is such a friend of Chapman," said Giulio Ongaro, dean of the College of Performing Arts. "It is so obvious that he loves the university. To me, as a dean, when you see someone who loves Chapman as much as you love it is really such a good feeling."
See the Akin Ceylan '90's speech  at 5th Annual Alumni Entertainment Industry Mixer in the video below.
The Annual Alumni Entertainment Industry Mixer is only growing: soaring past last year's record 300-plus attendees with a room bursting with nearly 500 Panthers, Lionsgate headquarters in Santa Monica was brimming with interdisciplinary Panther talent. Recently graduated, career-established and hopeful Panthers alike mingled under a relaxed, yet excited aura of potential.
At this mixer, it's easy to relax in what would normally be a high-power, high-pressure event. Everyone in the room is connected by the common thread of a Chapman experience, and yet, not all are in the same field nor a degree in the same major. It's not the kind of crowd you'd expect to find at something like this.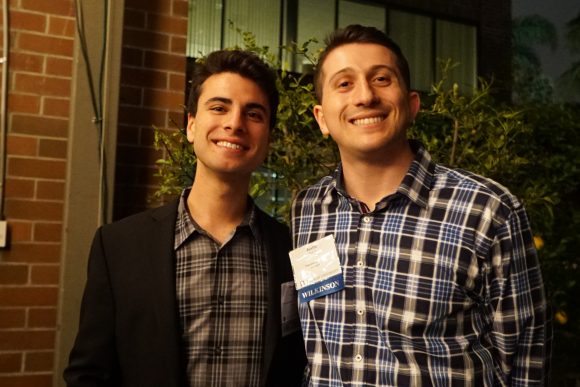 "It's really exciting—I've run into a bunch of old friends (tonight)," said Brandon Komet, B.S. business administration '16, after having shared some camera time with friends.
Organized by Chapman's career and industry team, director Jo Bandy and Haley Wragg, B.S. business administration '15, the mixer brings together an interdisciplinary crowd of alumni representing each of Chapman's schools and colleges: Argyros School of Business and Economics, College of Educational Studies,College of Performing Arts, Crean College of Health and Behavior Sciences, Dodge College of Film and Media Arts, Fowler School of Law, Schmid College of Science and Technology,  School of Communication, School of Pharmacy and Wilkinson College of Arts, Humanities and Social Sciences.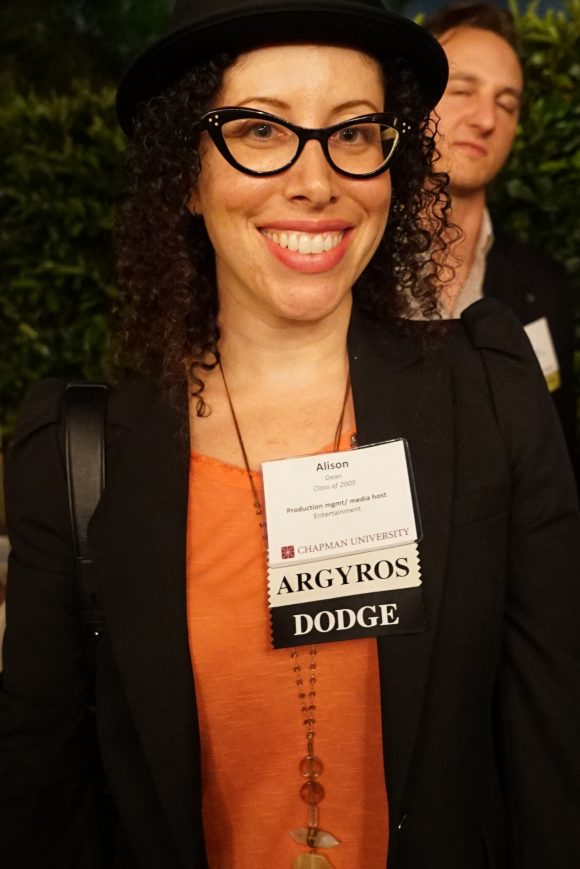 Everyone at the party, all at once? Sure—why not? 
Wimberley siblings Danielle, B.S. business administration '16; Mark, B.A. communications studies '16; Michael, B.A. communications studies '16 (JD '21); and James, B.S. mathematics '16 (M.S. computational and data sciences '18), graduated the same year, despite being different ages and in different programs.
Their Chapman connection is strong: Michael and James both work at Chapman while pursuing graduate degrees in law and science, respectively. All four siblings are consistent fixtures at Chapman events and alumni gatherings. As for that entertainment industry crossover, when not working in their day jobs, they tour as the Wimberley Bluegrass Band.
At the heart of the evening is the potential each Panther has for making connections. Student and alumni Panthers alike came seeking each other as resources—what better way to consider beginning a new chapter or pursuing a new project than among friends?
Alison Dean, BFA film and television, and B.S. business administration '05, utilized her cross-education between Dodge College and the Argyros school to first work in entertainment technology. Her first job out of college was from a fellow Chapman graduate's connection. She said she attended the mixer to explore the potential to switch careers into a more creative television path.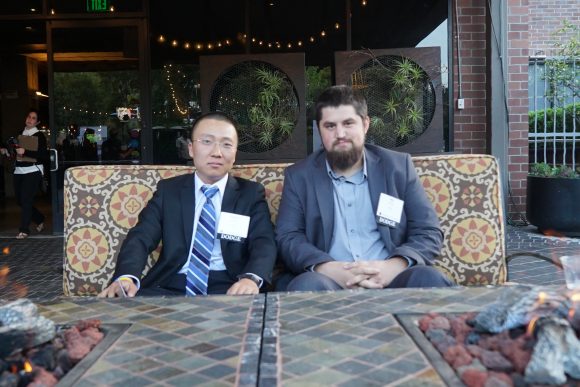 Dodge roommates Garfield Wang (MFA directing '18) and Mat Machin (MFA screenwriting '17) were some of the first to grace the venue.
"I'm all about telling stories and making them better," said Machin, who reads and helps edit Wang's work. "I'm a fan of his work."
"I'm a fan of his notes," laughed Wang, "It's a win-win situation."
Enthusiastic about making connections within the industry, their friendship is their first Chapman Connection story.
Wang posted an ad seeking an apartment when he moved to Orange from China, and Machin responded. Via a Skype tour, the roommate situation was solidified from across the Pacific.
Lexi Mathes, B.A. communications studies '14, came to the mixer looking to change career paths. She's interested in finding a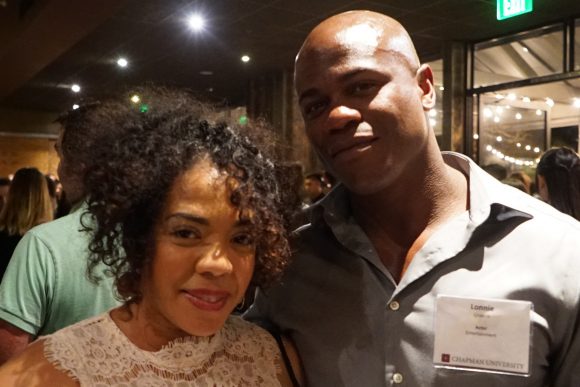 personalized experience in event planning. 
"I'm still incredibly connected to (Chapman)," said Mathes.
Tameka Cruel, B.A. theatre '09, who works at Disney and in theater, said that Chapman has been key in her performance success.
"People look at you differently when you say you're from Chapman—it's kind of like bragging rights."
In a night all about connecting the various functions across the entertainment industry, you might ask yourself — But how can the entertainment industry cross over with an area such as pharmacy?
Diana Siciliano, B.S. health sciences '92,  is the marketing director at Collidion,a pharmaceutical company. She and William Watson III, Collidion's vice president of global sales and business development, came to the mixer to meet and scout Panthers for creative work for the company as well as for pharmacy research.
"Being able to bring my experience from both sides of Chapman and be a part of the (pharmaceutical) industry is so exciting," Siciliano said.
Now, she wants to be sure that her fellow Panthers can enjoy similar success.
"We'd love to help (alumni) get work," said Watson, gesturing across the patio. "You've got the best (talent) in the country right here."