The Rodgers Center for Holocaust Education at Chapman University  presents An Evening of Holocaust Remembrance on Thursday, April 20, at 7 p.m., in Memorial Hall.  Now in its 18th year, this annual event includes reflections and tributes in words, music, dance, and documentary film. This year's ceremony will feature a lighting of memorial candles and a tribute to the late Elie Wiesel, Nobel Peace Prize laureate and Distinguished Presidential Fellow at Chapman from 2011 to 2015.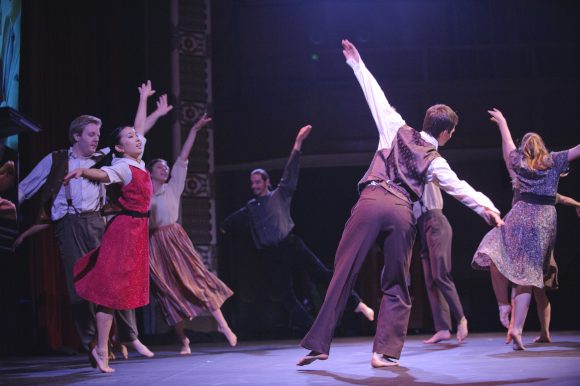 "Elie Wiesel believed strongly in the power of memory and in our obligation to witness to memory," said Marilyn Harran, Ph.D., director of Chapman University's Rodgers Center for Holocaust Education. "Over the years, at Chapman, we have been privileged to have many Holocaust survivors and witnesses participate in this special evening of remembrance, including Professor Wiesel in 2012. This year, the candle lighting will include survivors, members of the second and third generations, and Chapman students, symbolizing the continuation of memory into the future."
This year's event includes an originally choreographed dance by Chapman dance performance major Cristina McKeever, as well as music performed by Maestro Daniel Alfred Wachs, director of Orchestral Activities in Chapman's Hall-Musco Conservatory of Music, and violinist Iman Khosrowpour, artistic director and conductor, Symphony Orchestra, Irvine Valley College. Both musicians performed for Professor Wiesel when he spoke at Chapman. Reflections will be given by Rabbi Elie Spitz of the Congregation B'nai Israel in Tustin; Dr. Gail Sterns, dean of the Wallace All Faiths Chapel at Chapman; and Dr. Harran. The evening will include readings from Professor Wiesel's works and a screening of the 20-minute documentary Memory Keepers by Washington, D.C., based writer and director Molly Blank.  The documentary was filmed in Elie Wiesel's birthplace of Sighet, Romania.
An Evening of Holocaust Remembrance will take place Thursday, April 20, at 7 p.m., in Chapman University's Memorial Hall. The event is free and open to the public – no tickets or reservations are required. For more information, please visit: https://www.chapman.edu/research-and-institutions/holocaust-education/rodgers-center/holocaust-remembrance/index.aspx