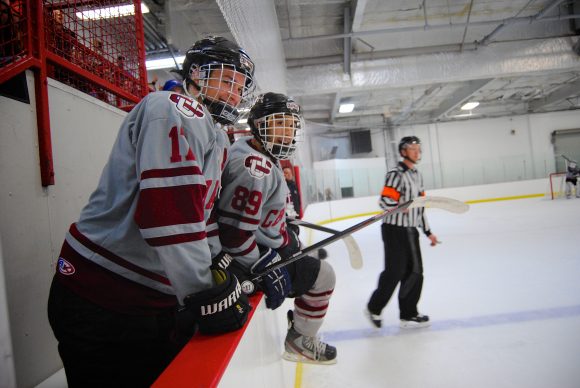 There are places where kids who begin playing hockey at age 4½ are called late bloomers. Southern California is typically not such a place.
But then Heikki Veharanta '15 (JD '18) isn't typical, and neither are his teammates on the Chapman University hockey team. They love a sport that was born on frozen Canadian lakes and still is more at home in northern climes. However, judging by the enthusiasm of Chapman fans at the KHS Ice Arena in Anaheim on a recent Friday night, the Panthers are helping to put SoCal college hockey on the map.
Veharanta grew up in La Verne, where his Finnish roots drew him to hockey while other kids in his neighborhood were playing T-ball or soccer.
"My family is close with a lot of NHL players, including Teemu Selanne, so we were going to a lot of (Anaheim) Ducks games," said Veharanta, the Panthers' team captain. "It was my dream to get on skates."
Now Veharanta dekes and checks, shoots and scores as a counterweight to his studies at the Fowler School of Law.
"Hockey keeps me sane," he says.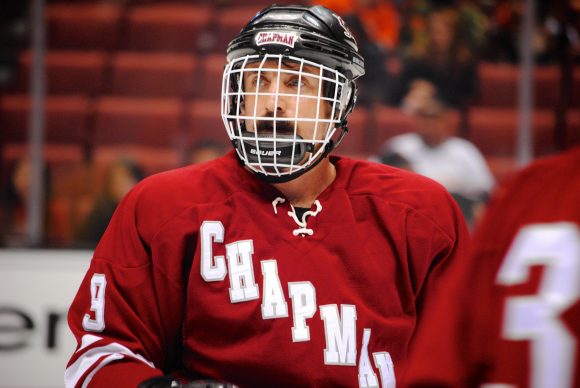 The Panthers are a club team that competes in the California Collegiate Hockey League against schools such as UC Santa Barbara, UC San Diego and Cal Lutheran. Chapman won the state championship a season ago, and this year began with "the strongest team in our history," Veharanta says. But a succession of injuries slowed them. When the Panthers hosted Santa Barbara recently, they were down to 14 healthy skaters.
Still, the mix of players from New York, Connecticut, Colorado, and, yes, California shares a special connection, Veharanta says.
"My favorite thing about hockey at Chapman is the brotherhood that develops," he says. "I've met some of my best friends on the ice, and that translates to an off-ice bond unlike any other."