Adventure loves company, as proved by the Panthers shown here. They met on the first day of freshman orientation in 2009, when happenstance placed them all in the West Wing of Henley Hall. The core group has been together ever since, moving as sophomores to Sandhu, as juniors to a house near Chapman, and now to the same neighborhood in Costa Mesa. That's Kristine Pan '13 holding the selfie stick on the trail to Skógafoss falls in Iceland last summer. Also pictured, clockwise from left: Brett McNevin '13, Phil McGuire '13, Tim Marks '13, Amy Logan '13 and Ashley Leeds, McNevin's girlfriend. The bond these Panthers share is a bit indefinable, Pan says. "We're so different as individuals. We're from different places, and we work in different industries." The friends embark on an outdoor adventure just about every year, and for their next journey they're thinking Machu Picchu, but it might not happen in 2017. You see, Logan and Marks are getting married, and "we wouldn't want to do that adventure without them," Pan says.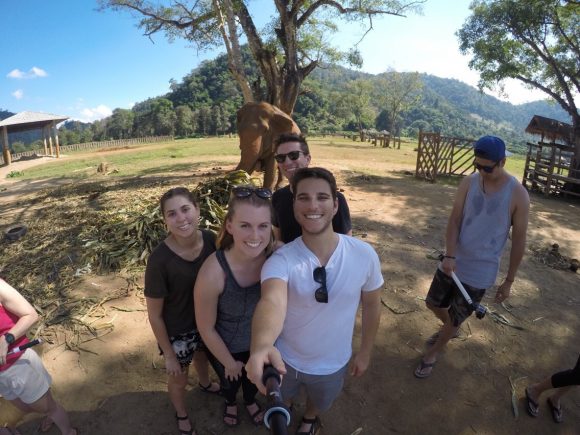 Gabbie Boyadjian, B.A. theatre '14; Justin Benitez, BFA creative producing '13; Ben Minsky, B.S. business administration '13; and Jennifer (Sharp) Minsky, B.A. public relations and advertising '13, traveled through Thailand together in November. Trip highlights include snorkeling at Ko Phi Phi Leh and playing with elephants. "Low points included getting chased by wild monkeys and eating McDonald's by day five," Gabby says.
Sarah Buckley, B.A. communication studies '14; Megan Forell, B.A. economics and B.S. business administration '14; and Amy Hammer, B.A. communication studies '14 (MBA '20), traversed Europe for three weeks in December and January. They visited Denmark and Prague together; Sarah went on to visit Stuttgart, Germany, while Amy and Megan explored Sweden. They ran into Chapman parent Kandace Pullin, BSBA business administration '92, in Prague.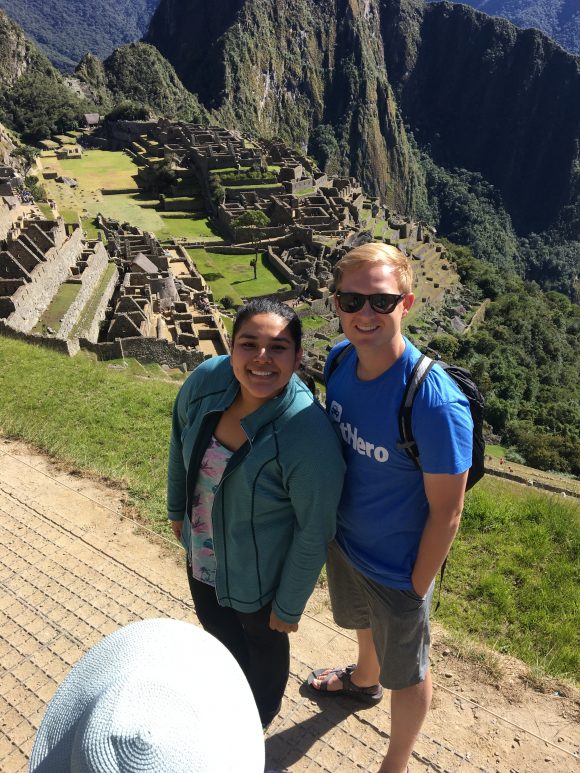 Sally Horna, B.A. sociology '13, and Anthony Jacobsmeyer, B.A. psychology '14, traveled together through Peru in May. Anthony planned a Southeast Asia trip they took together in 2014, so Sally returned the favor by planning their trip across her homeland. They visited her family in Lima, Trujillo and Cuyuchugo, where her dad grew up, and trekked Machu Picchu.
Display image at top: Sally Horna, B.A. sociology '13, and Anthony Jacobsmeyer, B.A. psychology '14 in Peru