Fall semester finals were just days away and the four Chapman University business majors holed up in one of the library's group study rooms had tests to prepare for, papers to write and projects to finish. With such a full plate of tasks, they probably never looked up to even take a break, right?
On the contrary. After the freshmen checked out keys to a study room at Leatherby Libraries one recent afternoon, they arrived at their second-floor destination to discover a surprise. Their quiet nook was a mini-museum of Sikh history.
"I was just looking at the plaque on the wall. This is great when you want to take a break," says Ziv Ellinger '20. Ellinger said he knew a bit about Sikh traditions, but just a few moments spent looking at the room's display of artifacts, books and photos had expanded his knowledge.
And that is the kind of educational serendipity librarians love to foster within their walls, says Charlene Baldwin, dean of Leatherby Libraries.
And there are cookies!

As is tradition during finals week, free cookies and healthy snacks are available 24 hours a day at Leatherby Libraries now through Friday, Dec. 16. Read more.

Study rooms can be booked online.
"It's part of that concept of stretch. The idea of being able to expose anyone who's using that room, or any other room, to a whole different view of the world," Baldwin says. "Anyone can be in there, and they can look up, take a break and have a different perspective."
At Leatherby, that mission extends to its 14 group study rooms and six media rooms. Among the most significant is the Mendez V. Westminster Study Room, which tells the story of the seminal court case that challenged racial segregation in Orange County schools and set the stage for the Supreme Court ruling on Brown vs. Board of Education. Among the most recently dedicated is the Sikhs and Sikhism in America Group Study Room, where students can learn about the community's culture, religion, artistry and long tradition of serving in the U.S. military.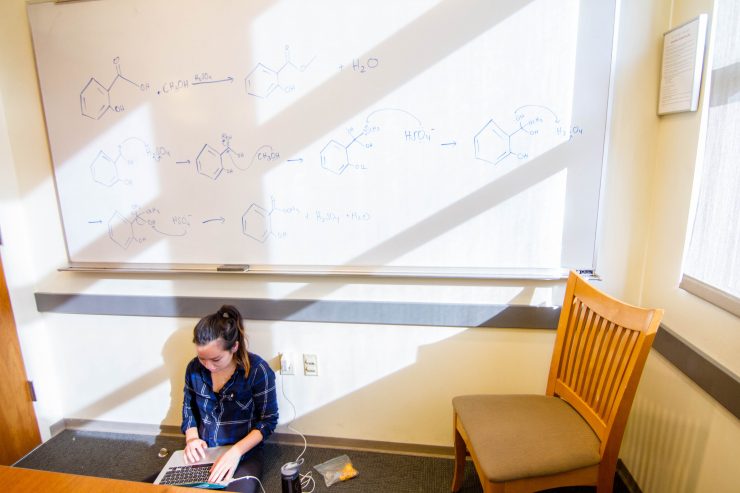 More whimsical are the two Jack and Belle Lindquist Dream Rooms that sit side by side on the library's third floor. The rooms feature artwork and mementos from the personal collection of Jack Lindquist, Disneyland's legendary first president.
With a marathon of finals just around the corner, Dale E. Fowler School of Law student Vanessa Romero said she welcomed the cheery presence of a Norman Rockwell portrait of Walt Disney as she hunkered down in one of the Dream Rooms for a civil procedure study session.
"It's uplifting," Romero said with a laugh. "We don't feel so miserable."
And just dedicated this month were first-floor study rooms honoring professors emeritus Virginia G. Carson, Ph.D., and Karl P. Reitz, Ph.D., made possible by alumni donors Dr. Richard Pitts '70 and Dr. Fred Ma '71.
No matter what homework or study tasks students bring to any of the rooms, Baldwin says those extra lessons and stories on the walls will always be waiting for them "whenever they are here, for whatever reason they are here."
Display image at top/Students Vanessa Romero, left, and Nicolette Iwan from Dale E. Fowler School of Law enjoy the Jack and Belle Lindquist Dream Room during a study session. (Photo: Nathalie Warner '17)