Everyone's definition of comfort food varies – a traditional stew, a certain rice dish, a special sweet — but a warm welcome translates in any language. Chapman University is home away from home to more than 500 international students from 66 countries, and about 60 new and returning students from around the world gathered at the home of Bicky and Gurpreet Singh in Orange on Oct. 7 for a party that has become a yearly tradition.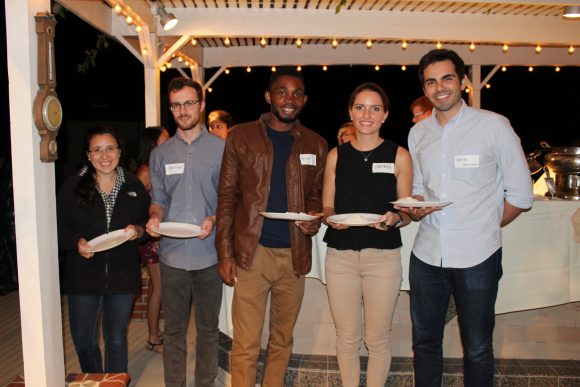 "The dinner was one of my best nights in Orange," said Ragini Bhasin (MFA '19), a student from India. "It was very kind and generous of them to host a dinner for students. We were very warmly welcomed, and being a Punjabi I know that they served the best and personally my favorite food. The butter chicken especially was mouth-watering. Thank you so much for having us and treating us like your children."
Others likewise extended their thanks to the Singhs, generous friends of Chapman who arrived in this country from India as students and are the parents of Anupreet Singh, a 2016 graduate of Chapman's
Argyros School of Business and Economics.
The Singhs' involvement with Chapman is reflected in the annual
Sikhlens festival celebrating Sikh films and arts that will be presented Nov. 17-20 by the Dodge College of Film and Media Arts, as well as the couple's collaboration with the Leatherby Libraries and the Fish Interfaith Center on other initiatives.
Speaking before a dinner gathering that included not only students but faculty, deans and other administrators, Leatherby Dean Charlene Baldwin noted three major campus exhibitions about Sikh Indian history that are currently in the special collections library. The upcoming Dr. Bhagat Singh Thind Archives exhibition opens Nov. 17 in the Doy and Dee Henley Reading Room in the Leatherby Libraries.
International students have a champion in the President's Office at Chapman: Daniele C. Struppa, Ph.D., inaugurated as the school's 13th president last month, came to the U.S. from Italy to earn his doctorate in mathematics at the University of Maryland, College Park. He wrote last year in the
Orange County Register of both the opportunity and anxiety international students encounter, as well as the richness they bring to campus in their languages, religious traditions and social customs.
"Chapman becomes therefore a microcosm of the American society, where people from different cultures come together, learning and sharing, becoming American, yet never forgetting their roots," Struppa wrote.
Chinweike Ezike (LL.M. '17), a student from Nigeria who attended last month's welcome party, called the dinner "an awesome experience" that provided fellowship with other international students.
"We were excited and talked free about our countries," Ezike said "I was happy to learn from them and to make new friends."
Display image above: Mrithula Arunkumar (MBA/MFA '19), a student from India, with host Gurpreet Singh.