A 37-year-old mural on the side of a Chapman University-owned apartment building on North Cypress Street — now restored under Chapman's auspices, and considered a masterwork by a revered local artist and a treasured record of local Latino heritage — will be part of
The Getty Institution's popular Pacific Standard Time: LA/LA
Southern-California-wide initiative next year. The mural, titled "El Proletariado de Aztlán" (The Proletariat of Aztlán) was created in 1979 by Emigdio Vasquez.

Emigdio Vasquez, who died at age 75 in 2014, graced the Orange County art scene for more than 50 years and helped to influence the local Chicana/o art movement.  He produced more than 400 oil paintings and 22 murals.  His paintings have been acclaimed by artists, art publications, and in scores of newspaper articles, and have been exhibited in many local galleries.  Although, like many wall murals of the era, they are endangered as new owners paint them over or tear down structures, Vasquez  murals can still be seen in Orange, Anaheim, Fullerton and Santa Ana.  It's hoped that, with the spotlight on the North Cypress Street mural by the Getty initiative, more attention will be given to the historic and cultural value of Vasquez's other murals and the need to save this fragile art form from destruction.  (
OC Weekly
editor and Chapman University alumnus Gustavo Arellano
has spoken out frequently
on
this topic
, as more and more Chicano murals are destroyed or threatened around the county.)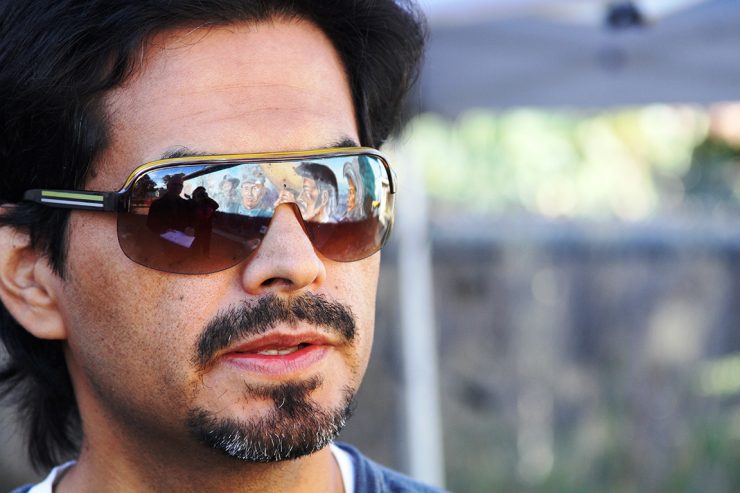 Emigdio's body of work includes portraits, landscapes and still life paintings.  However, he is best known for his depictions of scenes and characters from history – including Orange County history.  Among these works, he captured struggles of the everyday working class, including day laborers and the citrus industry in Orange County.  Such a work is "El Proletariado de Aztlán," says his son, Higgy Vasquez, also an artist.  "It tells a story of struggle, of history and of the daily lives of the people in the neighborhood."

Chapman purchased the property as campus housing, immediately recognized the value and heritage of the mural, and hired Higgy Vasquez to restore his father's masterwork.  The work was undertaken in the same spirit of historical stewardship that gave new life to the 1931 Cypress Street Schoolhouse a few blocks away. That site, carefully restored by Chapman, is the last remaining Mexican-American segregated schoolhouse in Southern California, and it now houses Chapman's Early Human and Lifespan Development Research Facility – along with a photo display of its history. The site "reminds us of where we started and how far we have all come," says Leo Castro, president of the
Orange Barrio Historical Society
.




Similarly, the Vasquez mural has an iconic presence in the neighborhood. It illustrates 450 years of  Mexican-American history, linking it to the local community — depicting an Aztec warrior, immigrant farmers, local barrio residents, the neighborhood store, the Chicana/o car culture, revolutionary leader Che Guevara and labor leader Cesar Chavez among its scenes. The mural has had some sketchy moments in its own history, as it fell into disrepair over the years and as local police once believed it to be a rallying location for gang members.  But that time is past, and now that Higgy Vasquez's painstaking restoration work of his father's art has been completed, the mural once again shines as a beacon of heritage for residents of the historic Orange Barrio District and all who visit it.

For Pacific Standard Time: LA/LA — with the initiative's focus on Latin-American and Latina/o art in 2017 — Chapman's Art Collections team will launch the first comprehensive investigation of Emigdio Vasquez's local murals and the communities they identify and depict.  Exhibitions on campus at the Guggenheim Gallery and in the Student Union are planned, highlighting the works of Emigdio and his fellow contemporary Chicana/o muralists, with displays including historical artifacts and photos.  A downloadable app will let users view an interactive map of mural sites for a self-guided tour that provides information on each work, including those that have been destroyed.   The project is organized and curated by Natalie Lawler, project director and curator of art collections; Wendy Salmond, professor of art history; Lindsay Shen, director of art collections; Denise M. Johnson, art history lecturer; and Marcus Herse, Guggenheim Gallery coordinator.

Pacific Standard Time: LA/LA, an initiative of The Getty, will run from September 2017 through January 2018.  The presenting sponsor is Bank of America.  Stay tuned for more updates as the exhibition opening nears.