Throughout his 25 years as president of Chapman University, President Jim Doti said he has had many partners in leadership as the University grew and changed in its path to national prominence.
But at his final Staff Appreciation Awards Ceremony as Chapman's president, Doti said none were more special than the staff and administrators who have been by his side day in and day out to make the University the special place it is.
"It takes great leaders – plural. That's you. … All of you have served not just as staff. You've served as leaders. I really mean that when I say that the transformation of Chapman – and that's how it's known out there, the transformation of Chapman – is all about change. To be a change agent means to be a leader," Doti told the assembled staff and administrators that packed Musco Center for the Arts on Thursday, June 9.
The audience responded with more than a few audible sniffles and a rousing standing ovation.
On behalf of the staff, Sheryl Bourgeois, executive vice president for University Advancement, presented Doti with a rocking chair, teasing him that he could relax in his new faculty office but still keep an eye on the campus.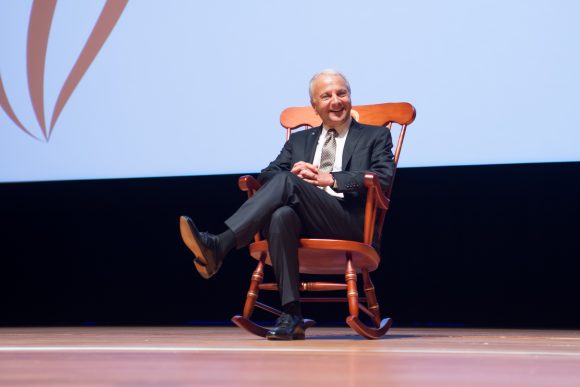 Doti presented the President's Award, which this year went to media services specialist Armando Diaz, a 23-year employee at Chapman. Nomination letters written on Diaz' behalf praised him as someone who has "never shied away from a challenge and often goes out of his way to find new and innovative ways of doing things." Most recently, Diaz was cited for his work in support of bringing on line the myriad media needs and services needed at the Harry and Diane Rinker Health Science campus in Irvine.
Also presented were the University Advancement Awards and the Four Pillars Award.
University Advancement Awards presented included:
In Operations & Development: Staff Member of the Year, Denise Vejar; Teamwork Award, Haley Wragg; Spirit Award, Melissa Hoon.
In Strategic Marketing & Communications: Staff Member of the Year, Jeff Brouwer; Teamwork Award, Michelle Leslie; Spirit Award, Sonya Hall.
Receiving the Four Pillars Award for outstanding service from the office of Harold Hewitt, executive vice president and chief operation officer, was David Quintana from the Office of Legal Affairs.
Numerous staff members were also congratulated for their years of service, including 35-year Chapman employee John Woodard, senior lab technician in the Schmid College of Science and Technology.
Other service awards went to:
Thirty Years
Veronica Alvarado, Frank Warren
Twenty-five Years           
Pam Gibbons, Julie Payn, Gloria Tapia
Twenty Years
Barbara Babcock, Briana Bohn, Eddie Carrillo, Kathleen Clark, Suk Bae Kim, Dennis Ploessel, Patrick Rausch, John Snyder, Jenni Swindell, Kim Talley
Fifteen Years
Crystal Barney, Jennifer Brady, Courtney Calderon, Smiley Calderon, Gloria Davis, Teresa Dolan, Greg Fisher, Phil Hall, Serena Healey, Daniel Hoyte, Kevin Ross, Andrew Valbuena, Pete Vander Pluym, Miguel Viveros
Ten Years
Terry Boesel, Annette Casas, John Cebula, Dana Dacier, Jacqueline Deats, Timothy Johnson, Michele Kennedy, Ponh King, Justin Koppelman, Daniel Leyva, Christina Marshall, Gregorio Martinez, Vincent Medina, Lauren Musser, Susilo Nugroho, Bob Owens, Tim Patton, Nick Peterson, Bryan Ploessel, Jesus Poot Hau, Laura Silva, Charles Stephenson, Daniele Struppa, Michelle Sypinero, Judy Taylor, Jason Zane
Five Years                 
Elizabeth (Wilson) Beck, Maria Belinsky, Jessica Bower, Patrick Cabrera, Yesenia Castillo, Monica Chen, Mackenzie Crigger, Laura Dart, Crystal De La Riva, Allison DeVries, Emmanuel Dinnat, Drew Farrington, Erika Gates, Sorrel Geddes, Vonna Hammerschmitt, Christopher Helvajian, Jodi Hicks, Mary Hood, Deanna Hunter, Ashley Kemp, Michael Keyser, Eunyoung Kim, Travis Knox, Melissa Kufner, Kristen Laakso, Sheri Ledbetter, Angela Mandas, Cristina Meyer, Bao Ngo, Hallie Nicholson, Carolyn Nih, Meagan O'Shea, Joanne Phillips, David Quintana, Lenae Reiter, Jordan Relevo, Justin Ringor, Rosa Rodriguez, Leti Romo, Florinda Sanchez, Katie Silberman, Andy Sison, Gail Stearns, Melissa Strain, Terri Swanson, Delite Travis, Wenling Tseng, Rick Turner, Yolanda Uzzell, John Van Buren, Jim Wayne, James Whitaker, Jillian Wood, Madison Yates
Featured image at top/Staff and administrators respond to President Doti's closing remarks with a rousing standing ovation. Photo/Bao Ngo