Chapman University continues its growth in the sciences with a groundbreaking this month for a new Center for Science and Technology. Scheduled to open in the fall of 2018, the Center for Science and Technology is the largest and most expensive building in the university's history. The $130 million, three-story building will cover 140,000 square feet, and be the new home for Chapman's Schmid College of Science and Technology.

"I consider the groundbreaking for the Center for Science and technology one of the most significant events in my 25 years as president and an exciting capstone to the leadership I have given Chapman," said James L. Doti, president of Chapman University. "This Center for Science and Technology will strengthen Chapman's position in key areas of science so critical to the future of Southern California, as well as stimulate the growth of a new, interdisciplinary learning ecosystem," he continued.

Chapman's Center for Science and Technology will be a place where undergraduates can pursue foundational sciences, such as biology, chemistry, biochemistry, earth sciences, mathematics, physics and computational sciences among other to set them on a pathway for pre-med, and other careers. In addition, the Center will provide a pipeline for graduate level degree programs in areas such as food science, and computational and data sciences.

The 2.25 acre complex will consist of two halls—the Hall of Science and the Hall of Technology and Engineering—and will feature a dramatic arch design in keeping with the Prairie-style architecture of Old Towne Orange. The Center will feature:
18 teaching labs and 22 research labs for a total of 40 labs,

a computational sciences lab with a supercomputing room,

research prep spaces and storage areas for long-term studies,

6 collaboration areas for students and faculty,

research and study suites, and seminar and conference rooms,

47 faculty offices and a lounge,

a dean's suite,

high-tech equipment to support molecular biology, microbiology, organic and physical chemistry, and biogeochemistry,

graduate student lounge,

and an outdoor amphitheater.

"This Center will allow Chapman University to become a nexus for exceptional students and outstanding scholars and thinkers, and will serve as the birthplace for generations of scientific innovation and advancements," said Daniele Struppa, Ph.D., chancellor of Chapman University and president-elect. "The creation of this Center is the logical next step in Chapman University taking its place among other great institutions."

The collaborative spaces are designed to encourage interdisciplinary problem-solving – a feature that is particularly important for Chapman's Ph.D. program in Computational Science of which few exist in the United States. Additionally, energy efficient design features and technologies will provide students with research and learning opportunities associated with energy, sustainability and efficiency. A unique aspect to the Center is it will reside immediately next to the Wilson athletic field, and as such the Center will contain bleachers on one side for viewing athletic games as well as for outdoor classroom use.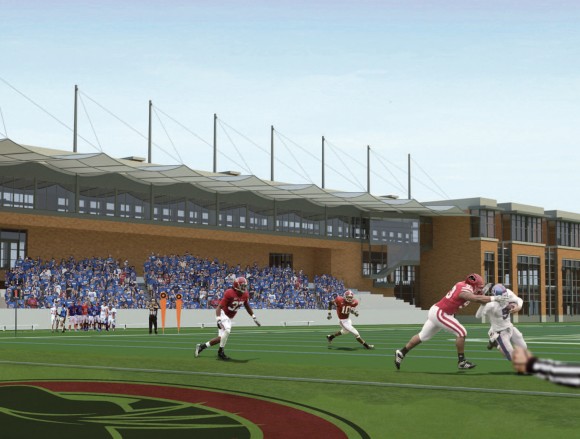 The groundbreaking for the new Center will take place on Wednesday, April 27, at 3:30 p.m. The location is on N. Center Street in Orange, which formally housed Chapman's tennis courts and Argyros Parking Lot. The architect is AC Martin.

This groundbreaking follows in the steps of other major announcements from Chapman in the past few years dedicated to growth in science. In 2014 Chapman opened a new campus in Irvine now known as the Harry and Diane Rinker Health Science campus, which houses graduate level programs for the Crean College of Health and Behavioral Sciences in addition to Chapman's School of Pharmacy—the first in Orange County. Chapman also has in the works the development of a Physician's Assistant program.