Soothing jazz music played and waiters passed plates of appetizers as hundreds of people waited patiently to be allowed inside the building. It wasn't the latest hot movie or concert — it was the grand opening of Chapman University's new Hilbert Museum of California Art, the University's first art museum, and the first museum in the nation devoted entirely to showcasing California Scene painting and painters.  Museum benefactor and art collector Mark Hilbert, whose collection fills the venue, looked out over the crowds and said, "I just can't believe this huge turnout.  It's so gratifying to me to see the interest people have in this style of art, and to hear their comments after they see it.  I'm so happy that these works from my collection have found a home here at Chapman."

An estimated 600 people attended the first day of the Hilbert Museum's two-day opening event, Friday and Saturday, Feb. 25 and 26.  The Saturday opening attracted more than 1,200 people over its four hours, according to Museum estimates.  Both events were open to the public, and the Saturday event also had an invited audience of arts writers and museum personnel from throughout Orange County and L.A.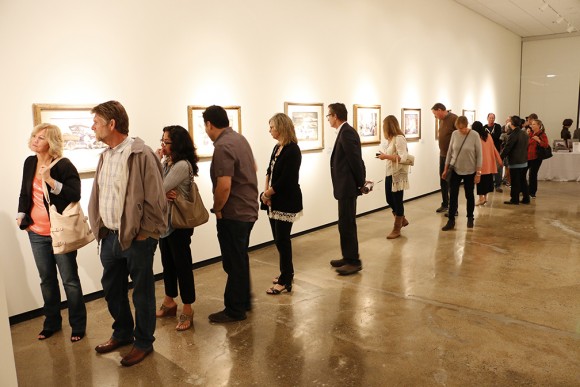 The Hilbert Museum, a 7,500-square-foot facility located at 167 N. Atchison St. in Orange, next to Chapman's Partridge Dance Center and across from Ruby's Diner, features the opening exhibition "Narrative Visions: 20th-Century California Art from the Hilbert Collection," curated by Gordon McClelland.  "We anticipate that this exhibition — which was conceived as an introduction to the style for patrons who may not be familiar with the California Scene genre — will stay up for about a year," said McClelland.  "We'll be switching out various paintings every three months or so to keep it all fresh."

The Hilbert Museum's collection of California Scene paintings capture the regional spirit of the Golden State by illustrating epic landscapes and expressive genre scenes that depict narratives of people's everyday lives. The genre, which arose in the early 1900s, went through a golden age in the 1930s, when it documented the catalysts of cultural change of the time: the aftermath of the Great Depression, the industrial development of the state in the years leading up to World War II, and the growth of Hollywood, which lured many outstanding artists to California to work in the fields of motion pictures and animation.




The Hilbert Museum now is open regularly, Tuesdays through Saturdays, from 11 a.m. to 5 p.m. (closed Sundays and Mondays).  Admission is free. For more information, visit
www.hilbertmuseum.org
.