"It doesn't matter what you are; Catholic, Muslim, Christian or a Jew — you must treat others the way you yourself want to be treated," imparts Gerda Seifer, a Holocaust survivor, to middle school student Hope Warren.

Then out came the cell phone — just last week, Seifer's granddaughter met President Barack Obama and got a picture. The crowd of preteens drew close for a better look.

Every year for the last 17 years, moments like this where wisdom is passed on and memories made are sewn into the fabric of the Chapman University Annual Holocaust Art and Writing Contest.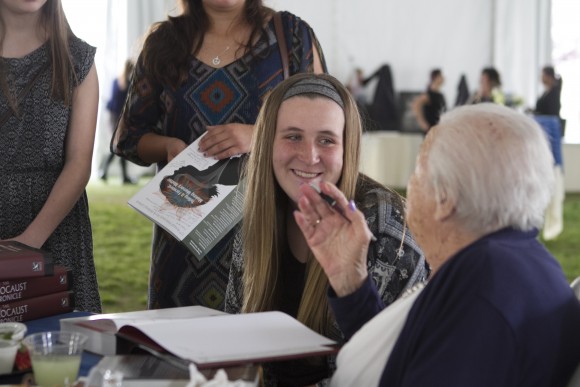 Roughly 120 middle and high schools from Southern California were represented in the 1,000 plus person crowd Friday when the winners of Chapman University's 17
th
 , this year themed, "Telling it Forward: Making Memory Matter," were announced. Presented by Chapman's
Rodgers Center for Holocaust Education
, the contest is the largest in the nation of its topic focus, reaching 19 other states in the U.S., as well as Canada, Poland and South Africa.

This year 5,700 students from public, private and parochial schools initially responded to submit essays, poems, films and artwork to the contest inspired by the stories of Holocaust survivors via video testimonies made available to students by the USC Shoah Foundation Institute and The 1939 Society. Three works per participating school were then chosen and sent on to be entered officially in the contest. Those works were judged by a panel of Holocaust survivors, local businesspeople, professionals, organization leaders and Chapman faculty and students.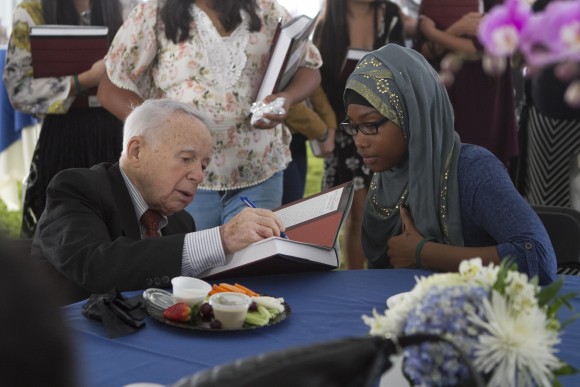 The contest is presented in partnership with The 1939 Society and sponsored by the Samueli Foundation; Yossie and Dana Hollander; in cooperation internationally with The Forum for Dialogue for entries from Poland; Johannesburg Holocaust & Genocide Centre for those from South Africa; and both the Sarah and Chaim Neuberger Holocaust Education Center and The Vancouver Holocaust Education Center for those from Canada.

Jim Doti, Chapman University's president for 25 years and a strong supporter of the contest since its inception ,was the keynote speaker, focusing on history as both a means of looking  backward and forward.

"I'll never forget when the director for the Rodgers Center for Holocaust Education, Dr. Marilyn Harran, first came to my office to first tell me her idea of creating a writing contest," Doti said.

"I want to take this moment, while I'm still president, to express my heartfelt gratitude to you, the members of the 1939 Society. I want to thank not only for all you've done to support and sustain Holocaust education at Chapman, but what you mean personally to me through your friendship. You are my heroes."

For each student, there is always one memory to which they especially connect, the memory they know they will never forget and that they want to share with others, says Marilyn J. Harran, Ph.D., director of the Rodgers Center for Holocaust Education and Stern Chair in Holocaust History.

"Those moments are truly magic … There is excitement, surprise, hugs, and often tears, as survivors and students meet — witnesses to the Holocaust and their witnesses to the future,"  Harran said.

However, with each passing year the opportunity for these deeply meaningful encounters becomes more rare as the number of Holocaust survivors in attendance decreases.

At the reception, students formed lines, grasping their new copies of 
The Holocaust Chronicle
, donated annually since the first year of the contest by Publications International. Waiting, patiently, nervously, by tokens shy or bold, they took their seats with octa- and nonagenarians. They leaned in to talk, share stories, and hug one another and of course, snap the occasional selfie.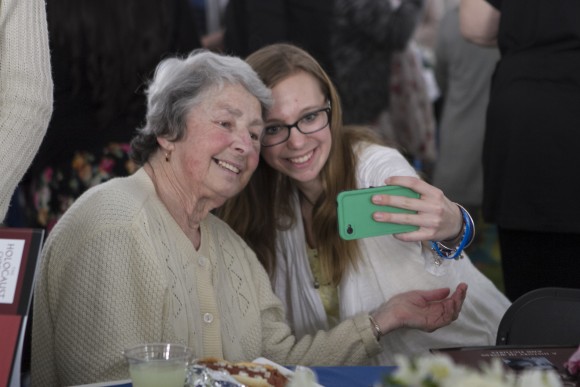 At top: Pete Coury (left) and Sam Silverberg meet and share a moment.

First Place

Writing:


Ordinary People
Daanesh Jamal, Grade 8
Kraemer Middle School, Placentia
Teacher: Cathy Smith
Survivor Testimony: Sam Goetz

Separation
Eunice Lee, Grade 10
Sunny Hills High School, Fullerton
Teacher: Christina Zubko
Survivor Testimony: Engelina Billauer

Poetry:


Your Story
Grace Aitken, Grade 8
St. Anne School, Laguna Niguel
Teacher: Chryssa Atkinson
Survivor Testimony: Selene Bruk

Brother
Gemma Davies, Grade 10
Redhill School, Johannesburg, South Africa
Teacher: Michelle Kalify
Survivor Testimony: Engelina Billauer

Art:


The Unknowing Goodbye
Sophia Scarsi, Grade 8
Tuffree Middle School, Placentia
Teacher: Kim Schultz
Survivor Testimony: Renée Firestone

The Will to Live
Hailey Shi, Grade 10
Diamond Bar High School, Diamond Bar
Teacher: Coleen Gee
Survivor Testimony: Sol Liber

Film:


Memory
Kenzington Martin, Grade 9
Aliso Niguel High School, Aliso Niguel
Teacher: Mrs. Mcginity
Survivor Testimony: Leon Leyson

Telling It Forward: Making Memory Matter
Amanda Gomez, Grade 6
James M. Guinn Elementary School, Anaheim
Teacher: Kelly Bluemel
Survivor Testimony: Leon Weinstein

Second Place

Writing:


I Promise
Sydney Issa, Grade 8
St. Junipero Serra Catholic School, Rancho Santa Margarita, CA
Teacher: Lynne Pantano
Survivor Testimony: Gerda Weissmann Klein

A Better Man
Tristan Lee, Grade 9
Canyon High School, Anaheim, CA
Teacher: Tannis Deloyola
Survivor Testimony: Joseph Aleksander

Poetry:


Remembering You
Tess Meier, Grade 8
Holy Family Cathedral School, Orange
Teacher: Staci Trout
Survivor Testimony: Leon Leyson

Showered
Dania Duran, Grade 10
Sierra Vista High School, Baldwin Park
Teacher: Edward T Meyer
Survivor Testimony: Renee Firestone

Art:


6 Million Reasons
Noelle Humphrey, Grade 8
Yorba Linda Middle School, Yorba Linda
Teacher: Cameron Castaneda
Survivor Testimony: Rosette Fischer

Isolation
Chris Nutter, Grade 11
Mater Dei High School, Santa Ana
Teacher: Kyle Roberts
Survivor Testimony: Henry Palmer

Film:


Acts of Kindness
Emily Ito, Grade 8
Bernardo Yorba Middle School, Yorba Linda
Teacher: Keith Kish
Survivor Testimony: Elly Kamm
In Her Shoes
Emily McPhie, Grade 10
University High School, Irvine
Teacher: Judy Richonne
Survivor Testimony: Elly Kamm