Growing up in the crime-riddled neighborhood of Pacoima in Los Angeles, California Secretary of State Alex Padilla remembers when there came a knock at the door of his family's home. It was the neighbors, and they were calling on fellow residents to fight for change.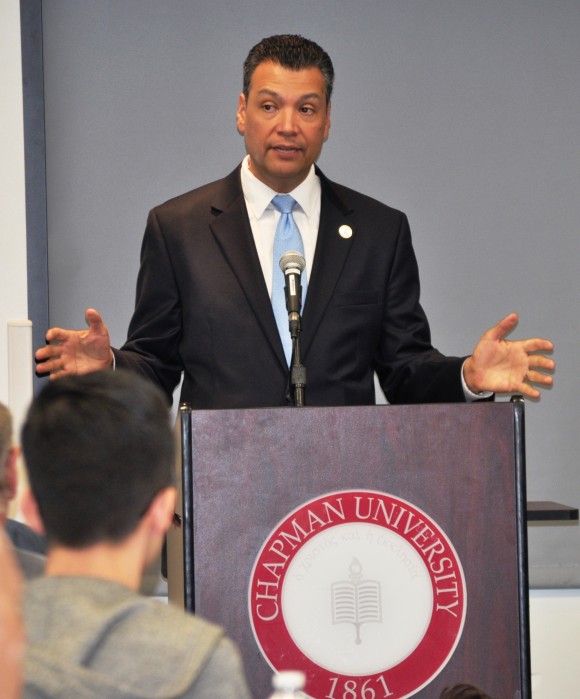 "Talking to my dad they were saying, 'How can we call ourselves fathers when we can't even protect our kids? This is our community and as much as we're trying to pay attention to what we need, the politicians are nowhere to be found and the police can only do so much,'" Padilla said. "So that became the beginning of organizing before I knew what organizing meant."
Padilla shared that story with a Chapman University audience of students and regional officials to underscore the power of local leadership in people's daily lives. Speaking at the conference "Reimagining Local Government: Strengthening Democracy in Our Communities," Padilla said national elections may be exciting, but change often starts regionally.
"A presidential election campaign and candidate can be very, very inspiring. But more often than not, the concerns that are at the core of what we care about day in and day out … are at a very, very, very local level," he said.
As examples, he pointed to the movement among municipalities to legislate a variety of concerns, from minimum-wage laws to plastic-bag prohibitions.
For himself, he said it was powerful to see his Pacoima neighbors rally and eventually attract the attention and help their community needed from the schools, city and state.
He said that years later it also helped shape his commitment to voter education and his campaign platform to update California's voter registration processes and improve voter turnout. Padilla was a strong supporter of the state's new Motor Voter Act, which allows Californians to register to vote when they use Department of Motor Vehicles services or renew their driver's license. Next, he hopes to expand voter registration education into the high schools.
"Reimagin ing Local Government" was the second annual government conference organized by Fred Smoller, Ph.D., professor of political science. The conference was presented by The Political Science Department and made possible thanks to a generous grant from Fieldstead and Company. The day included several panels and guest speakers, including Tim Draper, founder and CEO of Innovate Your State, a nonprofit encouraging public participation to improve government.
Featured image at top: Students who were members of Team Orange County at the U.S. Department of Energy Solar Decathlon describe their project to Secretary of State Alex Padilla following his luncheon remarks at the conference.