In 1944, Lorenzo Ramirez of El Modena, Calif., was stunned when he was turned away from the neighborhood elementary school where he wanted to enroll his two sons. He'd been away for some time, working on the sprawling Murphy Ranch in Whittier, but he'd grown up in El Modena when school segregation wasn't practiced. And his sons were accustomed to attending school alongside white children.
Things had changed in El Modena, the superintendent/principal told him. Ramirez said "the day will come" when they would change back. The administrator said he doubted that.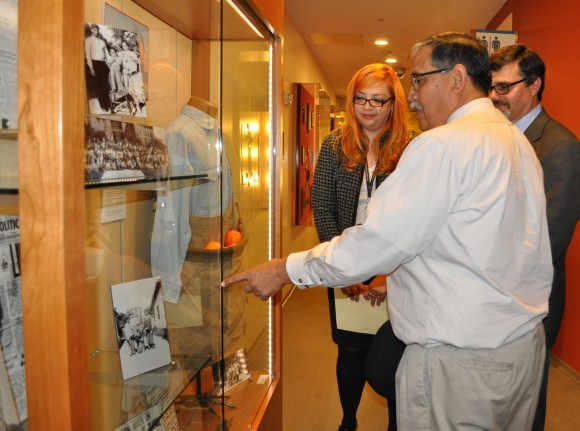 But on a recent evening at Chapman University's Leatherby Libraries, one of Ramirez's youngest children stood before a standing-room-only audience and described how his father became one of the people who ensured that day did come. Along with four other Orange County families, Ramirez joined the landmark 1946 class-action suit that ended segregation in California, Méndez et al vs. Westminster.
"I am only here because of Dad," said Mike Ramirez, at the opening of a library exhibit recounting that period of history and his family's role in it. The small but compelling display of news clippings and artifacts, Desegregation in California: Local Roots, was unveiled at a reception attended by several descendants of those families, as well as city officials and members of the Orange Barrio Historical Society.
Lizeth Ramirez, (no relation), archivist and reference librarian for the City of Orange Public Library and History Center, curated the exhibition in partnership with Leatherby Libraries. It's part of a series of programs supported by a grant the city received from the National Endowment for the Humanities. Ramirez said it was important to her to bring one of the programs to Chapman, so that students might better understand the community history.
"He believed that all children deserved equal access to education. His efforts helped desegregate schools in California in 1947," she said. "It is undeniable that his participation in this landmark case makes Lorenzo Ramirez a local hero."
The exhibit will continue through April 15. It is located in the display area near the entrance of the Frank Mt. Pleasant Library of Special Collections & Archives on the fourth floor of Leatherby Libraries and can be viewed during regular library hours.
Several events within the city project, Latino Americans: Shared Orange Heritage, continue into the spring. The next program will be a panel discussion featuring Latino military veterans on Monday, March 10, at 7 p.m. at the Orange Public Library & History Center. More information is available at the Orange Public Library website.