Dee Henley, wife of Chapman University Chairman Emeritus Doy Henley and a devoted University supporter, has passed away. Services are scheduled for Saturday, Feb. 27, at 11 a.m. at St. John's Lutheran Church, 185 S. Center St., in Orange.

In the following letter to the campus community, President Jim Doti remembers Henley as a friend and University supporter whose generosity touched many lives at Chapman.

Sadly, because of her long illness, many among our community never had the opportunity to know Dee Henley.  Those of us who had that privilege fondly remember a quiet, gentle woman with luminous pale blue eyes and a ready smile. When she attended Chapman events at Doy's side, their love and devotion for each other was clear to all and a beautiful thing to see.

Doy and Dee came from humble beginnings. They met and married in Springfield, Illinois.  It was the early 1950s and Doy was working two jobs when he saw a copy of the
L.A. Times
indicating that there were employment opportunities in California. So the Henleys pulled up stakes to seek a brighter future in Los Angeles. They relocated to Orange County several years later and raised their son and daughter here.  As a result of Dee's steadfast guidance and support, Doy became a successful entrepreneur, owning and operating several manufacturing companies.

That guidance and support on Dee's part grew out of her values and commitment to invest her humanity in service to others. Over the years, Dee touched the lives of many of us at Chapman directly and in very personal ways. Dee and Doy are the kind of people who don't seek recognition for their philanthropy, so few are aware of the magnitude of their far-reaching philanthropy that has advanced our academic programs and enriched student life at our University. Most visible is their generous support of our building projects, which is evidenced by facilities named in their honor throughout the campus — most notably our Doy and Dee Henley Residence Hall.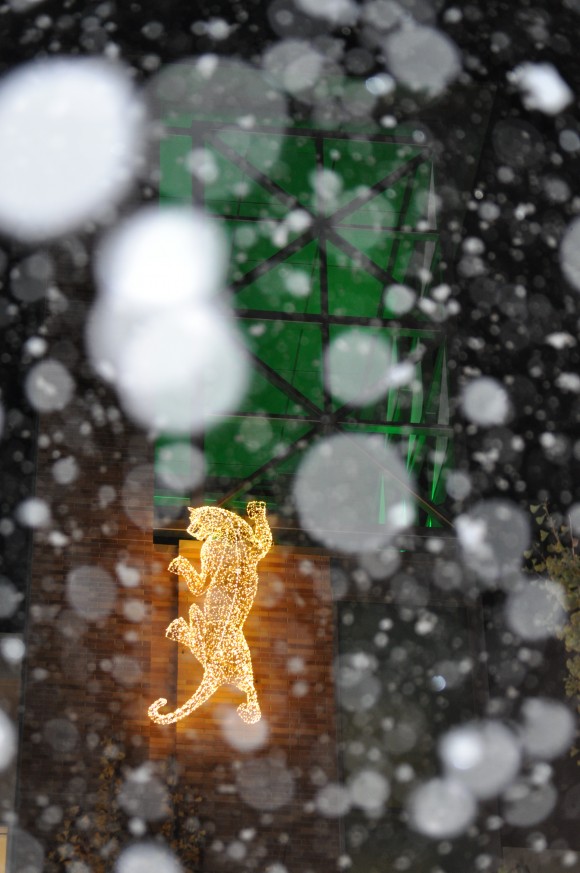 But knowing of the Henleys' strong spirituality, as well as Doy's enduring love for his wife, I believe the naming that is most meaningful to him is "Dee's Garden of the Senses" in our Fish Interfaith Center.  This tranquil enclave, which received an Award of Excellence from the American Institute of Architects, is described as a place to "refresh your spirit … and reflect on divine beauty revealed in nature."  I hope that in the coming days you will find a moment to visit Dee's Garden to refresh your spirit and, in doing so, pay homage to someone who helped our University become what it is today.

An everlasting memory of Dee for me is when we first lit "
Dee the Panther
" for our annual Winterfest Celebration. "Dee" is the Panther lit up in a vibrant green that can be seen climbing the wall of Beckman Hall's Alumni Tower during the December holiday season. As I pulled the switch and asked the audience to check out "Dee the Panther," I turned my eyes toward Dee. That may have been Dee's last public appearance, and she was not physically well. Yet the expression on her face as she gazed at her twinkling namesake revealed all the youthful spirit and gusto of a young girl. It was that spirit and gusto that I will always remember as defining this very special lady.

(Featured image at top/Dee and Trustee Doy Henley)