As an
Environmental Science and Policy
major at Chapman University, I've enjoyed many opportunities to sharpen my skills and build my knowledge. Earlier this year I took part in the U.S. Department of Energy Solar Decathlon, during which Chapman students helped Team Orange County build a net-zero solar-powered home.

However, last week I was involved in an effort to build something different – the political will to take on the global climate crisis. Thanks to a Student Government Association conference grant, I was able to attend the first week of the UN climate talks in Paris.

Aided by knowledge of the international policy process and carrying the warmest clothes I own, I landed in Paris and jumped right in.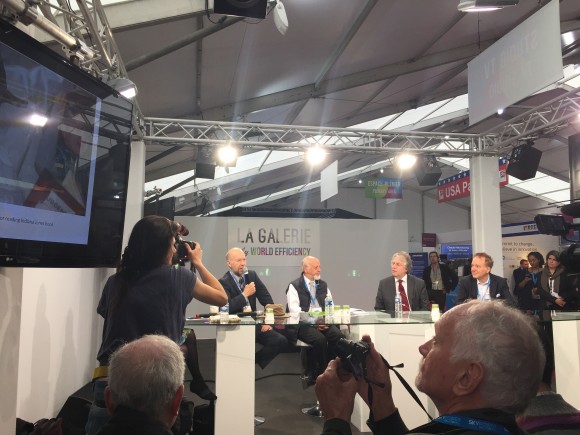 I'm a member of
Citizens' Climate Lobby
, an organization of volunteers trying to persuade Congress to take policy action targeting climate change. This summer, I joined the group's Pathway to Paris team to advocate for putting a price on carbon emissions within the international agreement coming out of Paris.  The effort to shape solutions also showcases citizen involvement within the UN climate process. To help with communication, I joined the Citizens Voice team to interview people at the conference – those involved in the negotiations and others – so people who weren't in Paris could get a sense of what was happening.

There was always something going on. Inside the conference and across the city, people were organizing and speaking out. Panel discussions led by top scientists and heads of state attracted crowds of activists, both young and old. A "green zone" was open to the public, filled with NGO booths, presentation pavilions and meeting spaces. There was considerable youth involvement, as side events, protests and lectures took place all over the city.

For me, the week of activities developed a rhythm. One day started with me heading to the Seine to watch a kayak flotilla of indigenous people from around the world as they sang and chanted. Then I headed to a YMCA in northern Paris to hear a panel discussion with renowned scientist Bill McKibben on engaging the next generation of climate heroes. There was also a chance to attend the Peoples Climate Summit in the streets of Montreuil, where street performers danced on the lawns surrounded by even more environmental groups and nonprofits. Later, I headed to central Paris to attend a mixer hosted by the Natural Resources Defense Council at a restaurant overlooking the Eiffel Tower.

I heard the former president of Ireland, Mary Robinson, speak about the connections between human rights and climate change. She emphasized the importance of aiding refugees already impacted by the crisis. Panelists noted that climate agreements must onsider the health of the oceans, since they are the world's largest carbon sink. Activists stressed the importance of inclusivity and accessibility in the process. Patti Smith sang
Imagine
in a crowded opera hall.

All of these experiences were unique and genuine – a true extension of what it means to study environmental science and policy. Overall, it was incredibly rewarding to learn how much an individual can influence international policy, and to embrace my own political power in a new, broader community, outside of Chapman, California and the United States.

Top image: Clayton Heard '16 in the conference center at the UN Climate Talks.