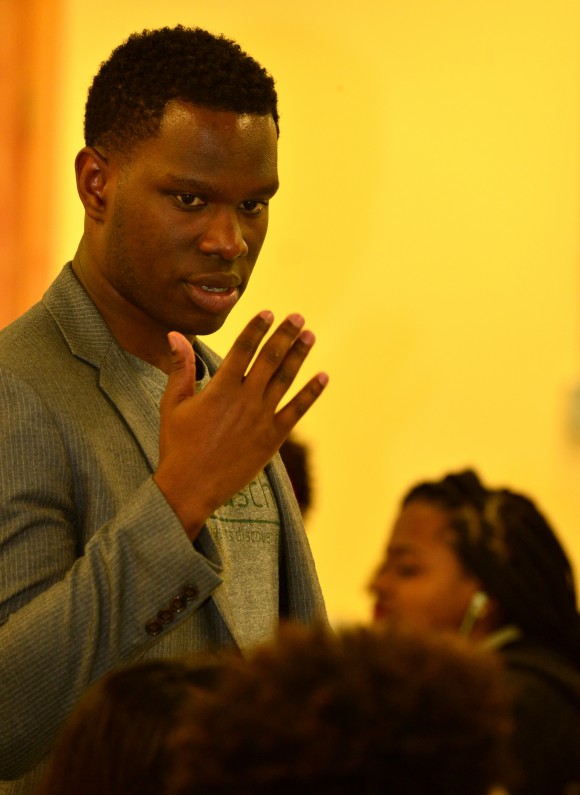 It begins on a mid-August Monday in a neighborhood of this revitalized city that's mostly sleeping out the heat. Fifteen high school students – nine girls and six boys, all African Americans – signed up for this educational experiment, and now they're chattering nervously as they file into a nondescript block-walled room at Algiers Technical Academy, host to a pilot project two years in the making.
One by one, the uniformed students select seats at wheeled metal tables arranged something like settlers used to position their wagons, bunched for protection or a sense of community or maybe for both. The chatter stops and the students open their shiny new laptops as the man they will call Mr. Johnson for the rest of the school year – heck, for the rest of their lives – launches into the inaugural lesson of Rooted School.
Jonathan Maurice Johnson '10 asks the class to read his two-page introduction to Rooted called "It's Our Turn." It offers some backstory on their new teacher, explaining that many days during his childhood he and his sisters got by on peanut butter sandwiches and cereal because that's all his family could afford, and how he bucked the statistics that said there was about a 10 percent chance he would even attend college, let alone graduate.
"But I never viewed my life through the lens of research," he writes.
Then, under the heading "Mr. Johnson's 'Why,'" there is this:
"I'm building a new school because I believe my students live in a society designed to see them fail. Our government uses fifth-grade test scores from our communities to know how many prisons to build for the future. Evidence enough that they don't expect many of us to change our lives for the better."
The time for reading is done, and Johnson's sharp voice instantly shifts things to discussion. He moves briskly from the student tables to the room's white board and back, filling the space with a focused confidence that doesn't give apathy a chance.
"Do you agree that our country wants to see you fail?" Johnson asks the students, who all qualify for free or reduced-price lunch at school. "Drum roll if you say no" – and there is silence. "Drum roll if you say yes" – and there's a steady rumble as the students tap their fingers on the tables.
After a pause, one student breaks from the group, saying over the reverberation that she's convinced some people are working to help them succeed. "Hold up, hold up – Airies, would you please explain?" Johnson says excitedly, quieting the rest of the class.
After Airies Brown shares her thoughts, Johnson responds with gratitude. "I appreciate you stepping out and saying that you think people do care," he says. "Two snaps for Airies and everyone else who spoke up."
Fifteen students snap their fingers in unison, the sound echoing with the precision of a new beginning.
REAL WORLD, REAL JOBS
Jonathan Johnson never intended to be a teacher. And he certainly didn't envision himself just five years out of college developing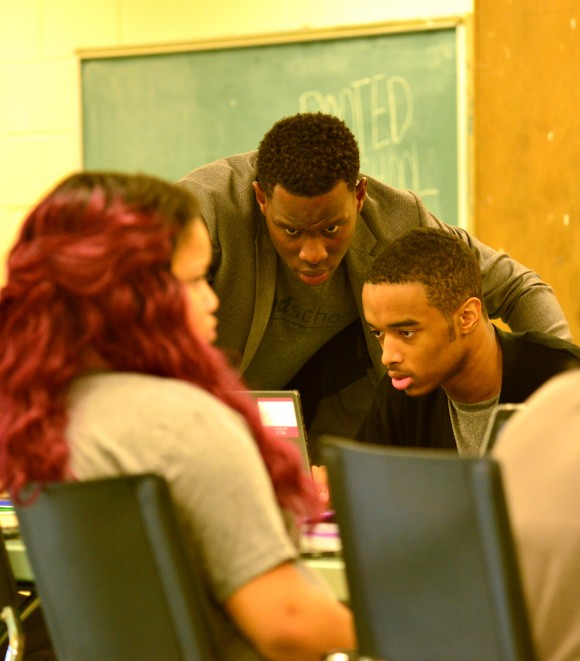 an innovative new model of school that's gaining national attention. Rooted mixes a digital curriculum with industry-focused lessons based in the real world, with real jobs attached.
"We project that over the next 10 years, more than 7,000 digital jobs will become available in New Orleans," Johnson said in a recent interview on National Public Radio. "Yet no school locally – and I would argue nationally – is placing within its mission the goal to connect kids to these opportunities that are right in front of them."
Johnson knows a thing or two about career planning at an early age. As a high school student in Riverside, Calif., he focused on the ministry and was a licensed pastor by the 10
th
grade. Then at Chapman he explored many academic options, from business to political science to philosophy to religious studies, and he took on more and more positions of leadership. The Black Student Union chose him as president when he was a sophomore, and the Student Government Association provided an opportunity to "bridge divides between the administration and students," he says. His SGA presidency opened doors to insights from people like Chapman President Jim Doti, Chancellor Daniele Struppa, Dean of Students Jerry Price, Trustee Paul Musco and then-Mayor of Orange Carolyn Cavecche, each of whom he lauds as a mentor.
"I recognized very early that to achieve my full potential I had to be coached by those who are at the top of their game," he says.
Struppa remembers Johnson showing great maturity and pursuing positions that were thoroughly nuanced. "He understood that true power comes from solving real problems," the chancellor says.
Johnson's experience with leadership and government seemed to nudge him toward law school, but as things progressed he targeted education instead, "because it had radically redefined the trajectory of my own life," he says. Teach for America recruited him, and he considered options in New York and Chicago. Then he looked harder at New Orleans, deciding it was where he was needed most.
'I AM RICKY'

Moments of trial and revelation pepper the young teaching career of Jonathan Johnson '10. But nothing has touched him quite so deeply as the death of Ricky Summers.

"I am Ricky," Johnson says of his student at KIPP Central City Academy in New Orleans. "Ricky's story is my story."

A street kid with a gang background, Summers came to Johnson's class four grade levels behind. Slowly, steadily he bought into the teacher's message of possibility and he committed to catching up. By the end of his high school journey, Summers qualified for college tuition assistance.

"It's remarkable how hard he worked," Johnson says. "He would say in a raspy voice that sounded a little like Louie Armstrong, 'I'm going to college!' His friends would laugh because they knew where he'd come from."

Johnson was at a teaching conference in Houston when he learned that Summers had been found dead about a half-mile from his school, a bullet in his back. Johnson sobbed as he hadn't in years. "Probably ever," he says.

"My life changed in a moment. I was thinking about which law school to apply to, but in that moment I decided to focus on kids like Ricky, those who are navigating between two galaxies."

Johnson re-upped for warrior teaching, and he still calls on Summers' memory as a source of inspiration.

"Every day it's 'What am I doing to capture the attention of the kids who need me most.'"
Before Hurricane Katrina, the city's public schools were widely recognized as among the worst in the nation, and the storm's devastation pretty much wiped out the "among." Many local officials viewed the disaster as a chance to start over. The school board and civic leaders hungered for new ideas.
"They were rebuilding from scratch," Johnson says. "It was like a big green field, with opportunities to lead and serve."
But the curious thing about ambition is that it tends to humble before it lifts up.
"I never failed at anything as badly as I did that first year of teaching," Johnson says.
THE TECHNOLOGY TIDE
If you think launching his own public charter school at 27 means that Johnson is in a powerful hurry, just try to keep up as he transports his students to meet with Rooted School's industry partners.
It's still not even lunch time on the first day of lessons and he's piloting a passenger van through the Central Business District on the way to three different tech startups in less than four hours. These business partners – 12 companies have signed on so far – are a linchpin of the Rooted School plan, and Johnson is eager to show his charges the possibilities that await. By the end of October, seven students already had landed internships, earning $16 an hour as 3D print specialists, photographers' assistants and business development interns.
Lucid, the first stop on launch day's whirlwind tour, is the kind of tech-industry partner Johnson envisioned when he pioneered the Rooted model. In just five years, the company has built a global platform for market research on a massive scale, doubling the size of its two business units last year alone and this fall opening a second office in London. Employees wear Converse Chuck Taylors, toss a football between their desks, work exceedingly long hours and, when there's a birthday, cut the cake with the office samurai sword.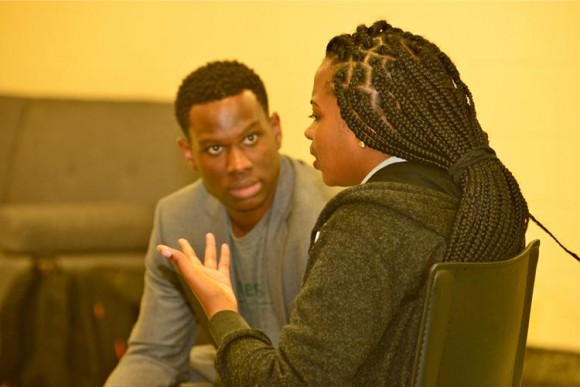 Besides the students visiting from across the river this day, there are decidedly few people of color in the office. But that's about to change, says Lucid Founder and CEO Patrick Comer.
"There are 15,000 opportunity youth in the city, and if we expect the entire community to rise with the technology tide, we have to support that process directly," he says. "To broaden the pool of those who are educated and actively engaged in technology is good for every tech business in New Orleans."
Impressed with what she hears, Rooted School student Shakeria Jackson raises her hand and asks a simple question: "I just want to know how much y'all make in a year."
Comer is far from offended.
"How much do you want to make?" he asks in return. "We hire people who are ambitious – people who want my desk someday. The hardest thing is to believe that our audacious goals are possible."
NEW PRIORITIES

Five years ago Johnson arrived in New Orleans to teach eighth-grade social science at KIPP Central City Academy eager to begin preparing his students for the transformative college experience he enjoyed. Almost immediately he added new priorities, including survival.
"I looked like the kids in my class, but I realized that my recent cultural experiences had been very different," Johnson says. "Central City New Orleans has the highest murder rate in what happens to be the murder capital of the country."
On his way home one day, Johnson heard gunfire, and from nowhere a man ran to his car asking for a ride to the hospital. He'd been shot. So Johnson sped him to Tulane Medical Center as blood pooled on his floor mat and the passenger pleaded for help with his hospital costs.
"I had to tell the cops, 'I don't know this guy; I just want him to get the care he needs,'" Johnson says.
Amid the violence, Johnson realized he was losing the fight. Even the students who resisted the pull of the streets weren't inspired to achieve academically. "That first year I literally got run over by the kids," he says.
He needed a new teaching strategy – and a new mentor, which he found in the classroom next door. "He was known across the city for being a sage – a math guru," Johnson says of Jamie Irish. "I became his shadow. I saw how he was able to get his students to invest in something bigger than themselves."
Johnson built a new approach around a war metaphor – fighting every day against the prevailing narrative of low expectations and the relentless impact of street life. He incorporated his own story into his message, constantly battling to get student buy-in. Along the way he earned the moniker "Warrior Teacher."
By his third year, his students' pass rate was 30 percent above the district average. In year four, Johnson was a finalist for the prestigious Fishman Prize, which honors the best public school teachers in the nation.
His teaching methodology continues to grow and evolve, but now as then he anchors his class around the poem
The Rose That Grew from Concrete
by Tupac Shakur. It ends with these lines:
"Funny it seems, but by keeping its dreams,
It learned to breathe fresh air.
Long live the rose that grew from concrete
When no one else ever cared."
The system has good intentions, Johnson says, "but it has been executed unfavorably for people who look like them and me and who share our story. That's the bias I paint for the kids. By design, I'm teaching that this is us against the system."
Then Johnson empowers the students to take their turn, telling them they can't afford to wait any longer. The lesson is "the single best thing that has made them trust me more," he says.
A PILOT AT TAKEOFF

Transforming a classroom is one thing. Reshaping the landscape of inner-city education is quite another. This pilot phase of Rooted School will help Johnson fine-tune his plan to get maximum results. If the pilot succeeds as he and others expect, he'll launch his own 240-student public charter school in fall 2016. The Orleans Parish School Board already has signed off on his plan, and he's also securing private funding. He'll search out nontraditional school space in downtown New Orleans to be near Rooted's business partners.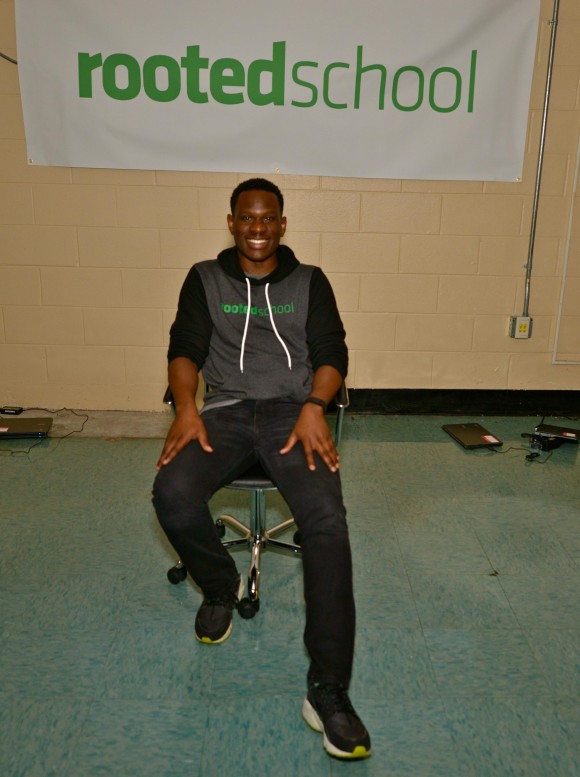 The planning doesn't stop there, however. Rooted's five-year blueprint includes a build-out to three similarly-sized schools in and around the city, with support also developing for Rooted Schools in Kansas City, Seattle and the New York metropolitan area. There have been talks with 10 cities in all.
At the same time, Johnson and his mentor, Rooted board chair Matt Candler, are focusing on the pilot first. "We're trying not to think about scale in the short term, while we're still trying to get our model more solid," Johnson says.
Candler is the founder and CEO of 4.0 Schools, a nonprofit incubator of education startups and new school designs. He's among the leaders of New Orleans school reform, a post-Katrina process manifested most directly in the charter movement. Public charter schools are credited with dramatically improving the quality of education in the city.
"I've been doing this for 20 years, and there's no question that New Orleans has the most potential to reimagine what public schools look like," he says.
The city has made huge strides, he allows. Now it needs leaps-and-bounds thinkers.
"If we were grading our schools, we'd say we're at a solid C," Candler says. "But what took us from an F to a C won't get us to an A."
Candler is convinced that Johnson and Rooted are sharpening the point of this revolutionary spear.
"What I love about Jonathan is that his vision is realistic," he says. "He knows that it takes to teach kids in this town. These are kids who have spent the bulk of their lives in a time of crisis. Jonathan says, let's not throw everything out, but let's connect kids to careers that are exciting and engaging – technology and game design can get them to those levels of engagement, in a medium they understand.
"People have been asking him to build a school based on designs we already have. He knew it would be better to go out and build a school we don't have yet."
Like Candler, Indrina Kanth of the nonprofit New Schools for New Orleans supports the launch and expansion of high-performing public schools. "I'm in awe of Jonathan," Kanth says, praising his mix of humility, adaptability and drive.
"Launching a program like this can be a lonely and isolating thing," she says. "Oh my gosh, there are so many obstacles. He wants his students to be exposed to a rigorous program for college readiness while also having industry partners help shape their professional success. All of that at once takes a crazy amount of work."
Good thing, then, that Johnson is crazy enough to take on the challenge – to want to follow "his deep desire to be the best leader possible," Kanth adds. "We're lucky to work with such an incredibly talented person."
A GROWING INFLUENCE

Back in the classroom at Algiers Academy, an incredibly full launch day is winding down. The students have been introduced to Rooted School, met Johnson and school co-director Ashley Bowen, logged in to online lectures and lessons, scarfed Jimmy John's sandwiches in a transit van to keep the day on schedule, toured three super cool companies that might be future employers, and now they're joining the hallway crush headed to bus rides home.
Savoring the quiet for just a moment, Johnson and Bowen briefly deconstruct the day, then finalize plans for the rest of the week. By Friday, the students will have leaped into computer coding, enjoying three uninterrupted hours with four professional software developers. In the days ahead, they'll also get hands-on training in computer languages and 3D printing.
Many charter schools have proved effective in building pathways to college. Rooted adds a more direct route to good jobs in a targeted growth industry so its students can get a leg up on financial independence. Nationally, low-income teenagers of color have one-fourth the employment rate enjoyed by their white, middle-class peers.
"The sooner we can loop them in and root them to the world of work, the better," Johnson says.
The role of capital as a game-changer is a concept Johnson embraces. In addition to teacher and administrator, he wears the hat of Rooted School fund-raiser.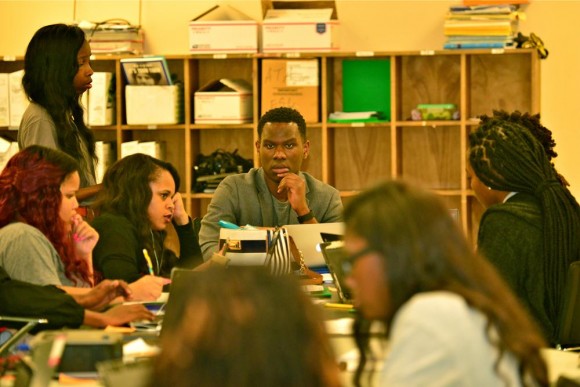 "One of the biggest contributors to my success is learning to influence the influencers – earning their trust so they invest in me and my ideas," he says.
Recently Johnson found himself inside the Indianapolis offices of the Lumina Foundation, the nation's largest private foundation investing in educational ventures. Its leaders oversee a billion-dollar endowment. "That's billion, with a B," Johnson emphasizes.
"Everyone was joking that I was probably the youngest person ever to pitch their executive team," he adds. "It's another experience that's affirming for me – that I'm enough as I am, that I don't have to come from a family with lots of laurels."
Though these are not yet salad days for Johnson and his educational creation, he no longer has to root himself in childhood memories of peanut butter dinners. And yet he does, so his students get a taste of shared beginnings as well as a sense of where their journeys might take them.
"This is what I believe about my students," Johnson writes in his Rooted School introduction. "Somewhere their destiny has been written by our country, but they can choose to write their own. The catch is that they need to be shown the path. They need to be motivated that the path is for them – that their dream is their destiny, not what society dreams for them. It's my job to show them the path and unlock their motivation to achieve their dreams."
Two snaps for Mr. Johnson and all his students who are taking their turn.