It's a rare feat for a Division III college player to get drafted by a Major League Baseball team. But the Washington Nationals selected Brian Rauh (Class of '13) after his junior season in 2012, and now he's traveling the long, hard road to the big leagues.
"I had quite a few people that I watched go through the professional ranks," says Rauh, 24, a three-time Division III All-American pitcher at Chapman University who was taken in the 11th round by the Nationals. "But nothing quite prepares you for it until you do it."
That was certainly the case when he advanced to the Hagerstown (Md.) Suns, the Single-A minor-league affiliate of the Nationals in the South Atlantic League, which stretches from New Jersey to Georgia. Once Rauh and his teammates made a bus ride from Hagerstown in western Maryland to Rome, Ga., that lasted 14 hours and ended right before a road series began.
"It was brutal," Rauh recalls.
Such are the dues to be paid by a minor-league prospect, but after four seasons Rauh has shown signs of major-league promise as a 6-foot-2 right-handed pitcher. He has also endured his share of challenges, which include spending six months away from his family and girlfriend on the West Coast.
He made it to the Double-A level for the first time for one game in 2013 — that alone beats the odds of the select few Division III players who even get drafted. In 2015, only 11 players were taken from Division III schools, which don't offer athletic scholarships. Just a handful of former Division III players are now in the major leagues.
Rauh benefits from a great work ethic, said Mark Scialabba, the director of player development for the Nationals. "He is very competitive," the team executive adds. "He has certainly done a good job from the background he has. It is a tough transition from Division III to professional baseball, but he has handled it well."
Rauh made four starts this year for Harrisburg in Double-A but then had to have surgery to remove bone chips out of his left knee in late May. After several weeks off he was sent to Florida to rehabilitate from his injury and pitch for Washington's affiliate in the Gulf Coast League in July.
Then came another step up the ladder to Hagerstown, and Rauh had a tidy earned-run average of 2.00 in two starts with the Suns and was then sent to high Single-A Potomac.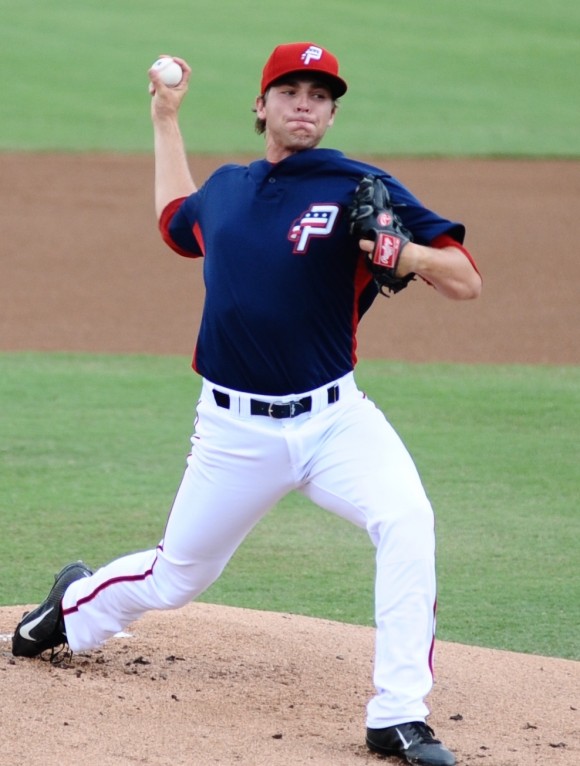 In his sixth start of the year with Potomac on Aug. 11 he pitched seven innings and allowed just one run and five hits with nine strikeouts — an impressive outing.
That left him with a record of 2–1 with an ERA of 2.21 with Potomac in 2015 and an overall mark of 3–4 with an ERA of 3.03 in his first 15 games, with 13 starts, during the season at several levels.
"He's 100 percent healthy now and he's pitching well," said Franklin Bravo, the pitching coach for Potomac. "He's still not afraid to throw the ball over the plate, and I think that's one of the biggest points that has made him successful since returning from the injury."
Rauh has already come a long way since high school, when he was about 5-feet-7 as a junior. Going to a big Division I school wasn't an option, he recalls. His Laguna Hills High coach suggested Chapman.
"I loved the campus, and they had one of the top Division III programs in the nation. They were losing a lot of senior pitchers so I would step in. I just wanted to pitch in college, with no intention of being drafted," notes Rauh, a solid student working toward a degree in business administration with an emphasis on marketing and entrepreneurship.
At Chapman, Rauh grew as a player and started throwing better than 90 mph, thanks in part to instruction from Chapman pitching coach Dave Edwards.
"You have to go out and compete every day. I am not a first-round pick so I don't have the luxury of a slow progression. I can't really afford to pitch badly and (still) be given an opportunity," he says.
Rauh knows he's bucking the odds as he chases his big-league dream. But so far he's making the most of his opportunity.