The Chapman University community is invited to attend a reception celebrating Dave Currey's career on Wednesday, May 13, from 4 to 6 p.m. in the Faculty Athenaeum, Argyros Forum, Room 309.
Before beginning his tenure as director of
Athletics at Chapman University
25 years ago, Dave Currey coached at the highest levels of college football, at universities such as Stanford, Cincinnati and UCLA. But in joining the team at Chapman, he was leaving behind the demands of recruiting and coaching Division I athletes.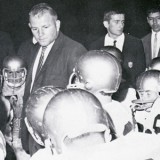 "I came to Chapman to see if I could stay away from football," Currey said.
Four years later, he got a call from President Jim Doti, who asked, "What do you think about starting a football team?"
Currey was ready with an answer.
"You're crazy," he told the president, smiling recently as he recalled the moment. "Of course we laughed, and set out to do it."
Reviving a varsity football program after 62 years is a huge task, but then such deeds characterize the life's work of the man known across the Chapman campus simply as Coach. In recent days, as Currey looked ahead to a retirement that began at the conclusion of this academic year, those who know him well expressed appreciation for Currey's accomplishments, friendship and leadership.
Those achievements include:
A remarkable partnership with Doti that has spanned a quarter-century.
A slew of athletic championships, including two national titles, in softball and baseball.
Administrative milestones such as the move to NCAA Division III in 1994 and the university gaining membership in the Southern California Intercollegiate Athletic Conference (SCIAC) in 2011.
But atop all of these triumphs are the relationships that endure and the positive spirit that prevails throughout the Department of Athletics.
"He's the architect really," football coach Bob Owens said of Currey. "He's been visionary about his goals for this program and where we are today. (Excellence) has to start some place, in somebody's mind."
Under Currey, Chapman Athletics has grown to include 20 intercollegiate teams, which have amassed 90 playoff appearances during his tenure. The Panthers now have also earned their first three SCIAC championships, in women's and men's basketball and in football.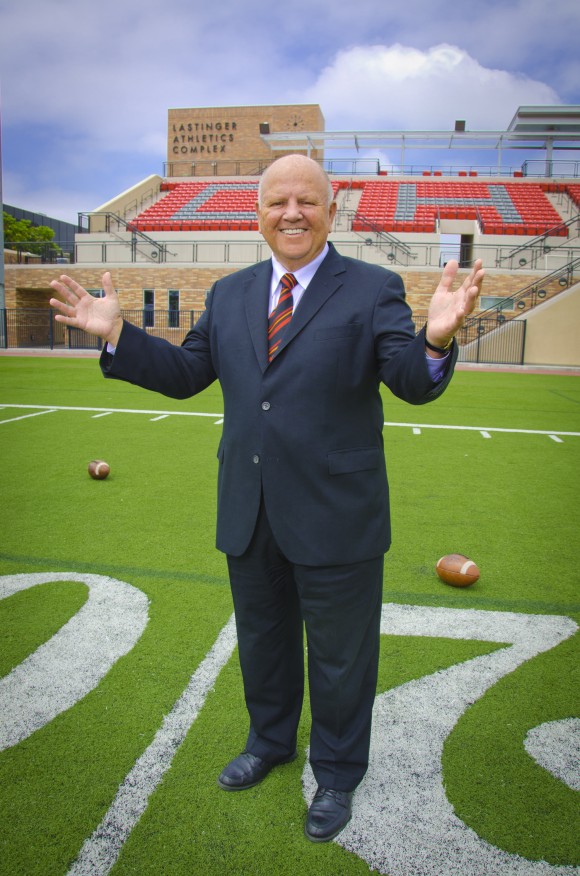 Currey's 52 years of coaching and administrative experience permeate Chapman's athletic programs and venues. He oversaw the construction of the Lastinger Athletic Complex in 2008 as well as the
Gray Rowing Center in Newport Beach
in 2003. He and his staff helped secure Tustin Ranch Golf Club as the Panthers' home course, as well as gaining a long-term lease with the City of Orange for the baseball team to play at Hart Park and the softball squad to play at El Camino Park. What's more, the coaches he has recruited are building their own legacies. Eight have been at Chapman for more than 15 seasons.
"He's a very easy-access athletic director," said Mary Cahill, senior women's athletic administrator and volleyball coach. "When he talks to the athletes in groups, he can relate to them because he's coached."
Both Owens and Currey have Division I coaching pedigrees, and their friendship has been a natural fit. In fact, they started sharing morning walks that were about more than just fitness.
"Sometimes those were walks of a thousand questions, and he was always kind enough to respond in a way that allowed me to reflect, or be challenged, by the situation I was dealing with," Owens said. "How good is that? It was an opportunity for me to grow as a head coach under his tutelage."
Throughout his career, trust and respect have been a big part of Currey's management style.
"He doesn't micromanage you," said Terry Boesel, associate director of athletics. "He'll give you something, if you do it and he trusts you, then he'll give you a little bit more."
Coaches certainly know that Currey lives and dies Chapman sports right alongside them and their athletes. Sometimes Boesel will stand alongside Currey at a nerve-wracking football game, then look over and the athletic director is gone. Once he found Currey up in his office.
"He goes, 'I couldn't take it anymore; I had to get away,'" Boesel said. "His passion…is just something that resonates down to all of us."
In Currey's office is a case that holds his two Rose Bowl rings, which flank another that signifies his college degree. Below the first ring is the word "pride," the second "poise," and the third "perfection." Together the three words form a motto Currey has carried with him since his days as a student-athlete.
"Chapman offers a tremendous sense of pride … and it teaches you great lessons about keeping your poise, about maturing," Currey said, "and that takes you into a time of your life that I say is perfection."
Across eras and athletic divisions, student-athletes are the product of their environments, Currey believes. The heart he has brought to Chapman Athletics sets an example others are eager to follow."Chapman's been my family, my home," Currey said. "Someone gave me a chance once as a young assistant at Stanford, and I've been able to share that with others in hiring our coaches here. I spent a lot of time building a staff and building a program that's reputable, and that's very satisfying."