PASS THE CANNEBERG, S'IL VOUS PLAIT

Students at the Chinese table loved the Jell-O. The Eggs Benedict were a hit with those speaking American Sign Language. And the folks bravely studying Latin were digging into — we kid you not — Caesar salads. Welcome to Language Tables, a program that brings Chapman faculty and students together to break bread and polish their skills in world languages. "Food is culture, culture is language. What better way to brush up your conversation skills than to do it over a meal with a professor?" says John Boitano, Ph.D., associate professor and chair of the Departmentof World Languages and Cultures at Chapman. The twice-a-month program in the Randall Dining Commons has been a hit since it launched last spring. It's a taste of the language immersion that students experience in a foreign setting. And there's nothing like informal conversations to introduce new vocabulary words. Like canneberge, the French word for cranberry, which Boitano's students asked about just before Thanksgiving. "It's not widely known in France," he said with a laugh.
POWERING UP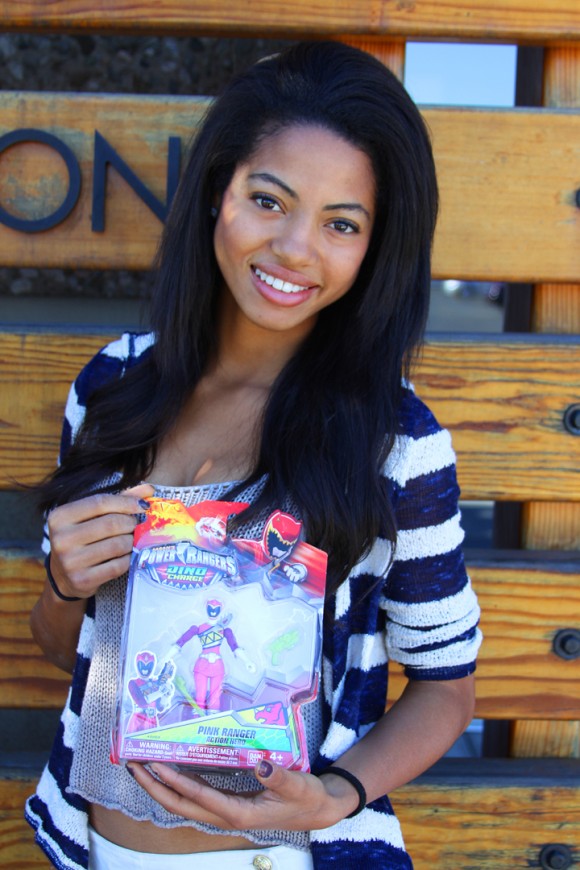 The senior year of Camille Hyde '15 just got more interesting. As the environmental science and policy major prepares to finish final classes, she's also battling to keep an intergalactic bounty hunter named Sledge from destroying the planet. Such is the life of a Power Ranger as Nickelodeon launches the 22nd season of the children's show. Hyde is part of the new cast of teen superheroes in Power Rangers Dino Charge. The native of Washington, D.C., is the first African- American to play Pink Ranger, a role for which more than 2,000 women of all races auditioned. Perhaps her greatest Ranger challenge will be completing this semester, much of which she will miss to shoot in New Zealand. But thanks to summer school and some online courses, she will walk with her graduating class in May. The production team promises to get her home on time. "They know how much I love Chapman," she says. "Let's hope a monster doesn't keep me from getting to where I need to be." Sledge, consider yourself warned.
MILESTONE MOMENTS

Two members of the Chapman Family previously profiled in
Chapman Magazine
were in the news recently:
Filmmaker Justin Simien '05, left, whose first feature,
Dear White People
, was released to critical acclaim last year, earned two Independent Spirit Award nominations — for best first feature and best first screenplay. Only one other filmmaker was nominated in both categories — Anja Marquardt for
She's Lost Control
. The awards were handed out in Santa Monica and televised by IFC on Feb. 21 — the day before the Oscars.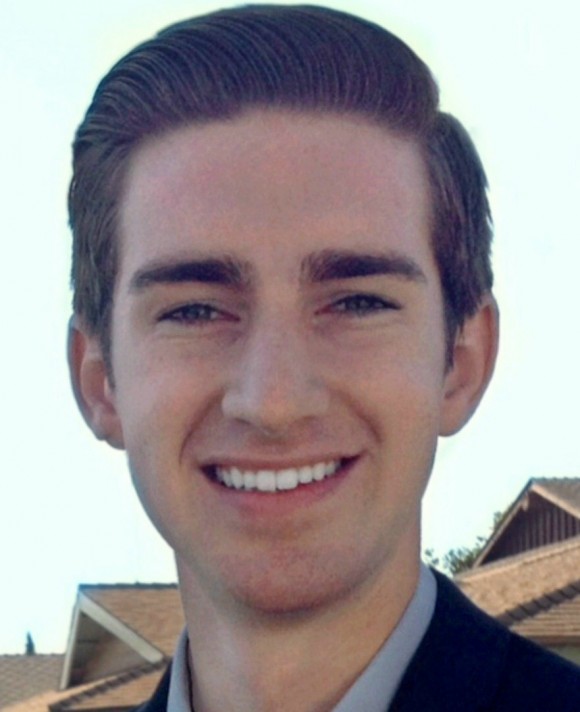 Junior political science major Connor Traut '16, right, was sworn in Dec. 9 as a newly elected member of the Board of Trustees for the Centralia Elementary School District in Orange County. Helping parents have a stronger voice in district policies and finding new ways to keep at-risk youngsters stay on track were two issues on which Traut ran. Previously, at age 18, he was elected to the Civic Council in Ladera Ranch, Calif.
FLOAT TRIP

On the morning of this year's Rose Parade, pretty much everyone involved was talking about one thing: the frigid weather. But by the end of the 5.5-mile route, all Harjus Sethi (MFA '15) remembered was the warmth. "I started out thinking this is going to be awkward," says Sethi, selected to ride on the parade's first-ever Sikh American float. "It was a feeling of 'I don't know you, you don't know me, and yet we're waving at each other.' But then I saw the reactions and I let the emotions sink in. As we're celebrating the new year, we're also celebrating our commonalities. As opposed to strangers, we're seeing each other as friends." That's the spirit behind the float, which depicted Sikh American values, history and contributors, including Sethi, identified as a rising star of film directing. The Dodge College student also showed his Chapman spirit, wearing a turban tie-dyed in cardinal and gray. Along the way, he realized that every greeting he was hearing began with "happy." "Through that lens, the parade became a once-in-alifetime experience," he says.