Archie is not a human. He's a cheerful little robot with a digital screen for a breastplate. But Archie exists thanks to the human ingenuity of Chapman University graphic design students – and a dash of human error.

Archie's the little fellow that helped win the hearts of a group of United Kingdom space entrepreneurs planning a private mission to the moon in 2024. Since returning from the summer study-abroad project, the Chapman team has heard from
Lunar Mission One
that several elements of their graphic design package for their moon project will be rolled out on the organization's website starting in 2016.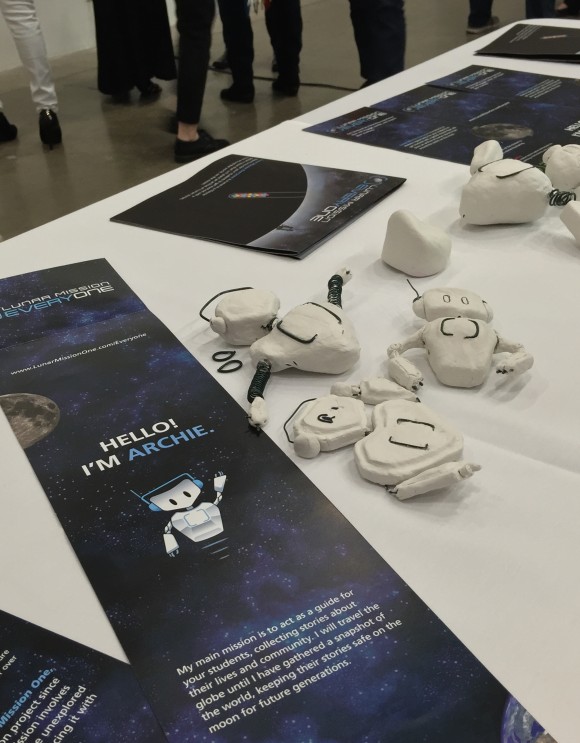 "Potentially that's very special," said Eric Chimenti, associate professor.  "They're not actually going to go to the moon until 2024, so our artwork is going to stay with them for decades. That's a huge feather in our cap to be able to have done this and provide this."

It all began this summer when students enrolled in the study-abroad course Art 393 Sustainable Design were asked to create a communications package for Lunar Mission One, a crowd-sourced private space mission that proposed to perform a robotic probe of the moon's south pole. Art 393 is an annual
Department of Art
course that takes students to London each summer to tackle significant design challenges, usually as an exhibition process. Student teams meet with the same clients as their professional counterparts, and over five weeks they create sophisticated branding and design packages. They work for a demanding real-world client and create high-caliber portfolio work to show potential employers.

This year they got something every pro loves – a request for more. Originally, Lunar Mission One had asked for just a branding touch-up for the imagery used on its successful Kickstarter campaign, but executives were so impressed by the early designs coming from the Chapman team that they asked the students to create a package that would communicate their goals to schoolkids across the UK, Chimenti said. The mission's goal is to extract a soil core from the moon and replace it with a digital archive of human history, along with stories, art and audio recordings from schoolchildren.

The process was a blast, graphic design major Dominique DiPilla '16 said during a reception in the Guggenheim Gallery to showcase the results, from clay prototypes of Archie to the final pieces of a promotional package.

"In the beginning it was just all free-idea drawing on tissue. Eric would just give us 40 minutes to draw on the wall. And then we'd talk it through and see what happens," she said.

One thing that happened in all that sketching and note-taking was a small but priceless human error. A typo in their brainstorming notes made "archive" look a bit like the name "Archie." That caught eyes, sparks flew and the notion and name for a little archive robot was born.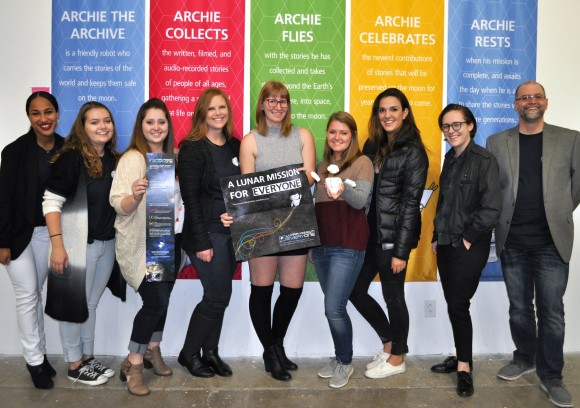 The happy accident required extra work on the ground in London because a character logo hadn't been part of the pre-planning discussions with the client. Mindful that hunks of clay and wire might be difficult to transport on an international flight, Chimenti trotted the students to a London shop shortly after arrival so they could buy what they needed to sculpt Archie prototypes.

Meanwhile, other students rolled up their sleeves and worked on ways to explain Archie's place in the project. Graphic design major Sophie Lerner '16 of Seattle helped develop the Web design and strategy to reach school-age kids, explaining how Archie would transport their art and stories to the moon. The entire experience was profound – she wants to live in London now, she said. But she's really hoping to see Archie come to life in school-outreach videos they proposed.

"I can't wait to see Archie animated," she says.

Here's hoping Archie makes a little room in the archive for his story, too.

Top image: A
Guggenheim Gallery wall
is lined with tissue paper the students used to work out ideas for their Lunar Mission One project.