When we think of the 30 teams in Major League Baseball, we typically consider the daily pitching match-ups, the heavy hitters we love to watch and the fielders likely to make that one saving play. Sometimes we also dream about the chance to get on those fields ourselves.
But what about the players off the field – the ones who help fill the seats, promote the team to its fans and reach out to the community to strengthen connections? Considering the amount of labor required to operate a team and its ballpark, it's promising to see a relationship build between Chapman University and the Los Angeles Angels of Anaheim, whose home is just two miles from campus.
From filling pivotal positions in the front office to playing part-time summer roles selling concessions during games, more and more Panthers are becoming Angels these days.
"Every day is a different adventure. You can never be bored here, because it's so dynamic, and I like that," says Angels senior corporate partnership account executive Nicole Provansal '07 (MBA '09). "Yes, the hours might be long, but the days feel short."
Provansal earned a B.A. in economics and then continued to focus on economics, entrepreneurship and finance during her MBA studies at Chapman. With the Angels, she began in corporate sponsorships and became a senior corporate account executive last November.
"I want Chapman to be known as a place where you can have a streamlined path to working with a professional sports team," Provansal says.
MAJOR-LEAGUE DREAMS
Growing up, Clint Blevins '02 imagined himself playing for the Angels, not necessarily working for them. "In fact, I was fairly certain that I would graduate from Chapman and go to work for my dad, who has a manufacturing company," adds Blevins, senior group sales account executive with the Angels.
As a student at Chapman, Blevins majored in business administration while he also played for the Panther baseball team. Through a connection with a Chapman teammate, he found his way to a career with the Angels
"The opportunity to work in sports, and for the Angels, was something that I felt passionate about pursuing," Blevins said. "I was able to catch a few breaks and land up in a dream spot."
You're invited to celebrate the growing Panther-Angel connection by attending Chapman Night at Angel Stadium. Just enter the promo code "PANTHERS" when you purchase tickets at angels.com/ChapmanNight, and you'll get discounted seats to see the Angels play the Seattle Mariners. You'll even get a Chapman-themed Angels cap, while supplies last.
Blevins believes Chapman's broad scope of class work and smaller class sizes helped him build relationships that led to professional success. Establishing strong relationships is a major part of his day-to-day work with the Angels.
"There hasn't been a single day that I haven't been excited about coming to work," Blevins says. "A lot of it has to do with my passion for the Angels and baseball in general, and the fact that I get to come to the ballpark every day.
He says the Angels have a great professional culture that makes the overall experience a pleasure, as does working with former Chapman baseball teammates.
A BASEBALL FAN FIRST
Client services manager Justin Hallenbeck '05 is one of those Panthers. He has a degree in business administration focusing on management and marketing. He began his Angels tenure with a six-month seasonal position in sales and has now built a career that spans 10 opening days.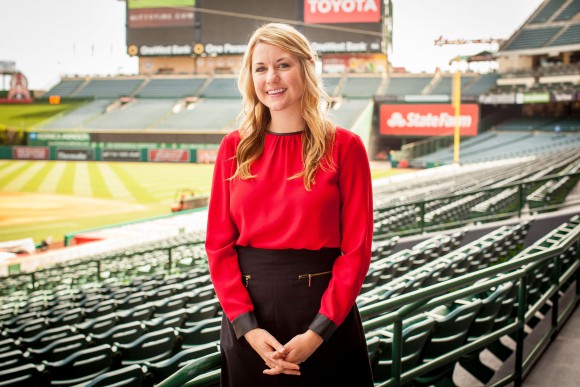 "I wasn't sure in what capacity, but I was telling myself if I cannot play for them I'd like to work for them," Hallenbeck says. "I still tell my clients today I am a baseball fan first, then I work here.
"The cherry on top is seeing that field every day and being responsible for putting fans like me in the seats," he adds. "I make sure to look at the field daily, and of course I stop what I am doing when (all-star player) Mike Trout is up."
Off the field, both Blevins and Hallenbeck hold thoughts of teamwork and service close to heart. For Blevins, a special moment came last May, when, through one of his group clients, he met a couple whose son, Jack, had been diagnosed with cancer in 2013. While celebrating Jack's completion of chemotherapy, Blevins was reminded of how impactful the Angels' organization can be.
"We were able to get Jack, his brothers and his parents down to the field during batting practice," Blevins recalls. "They had the opportunity to interact with players and go into the dugout to meet Mike Trout. Just seeing the love and excitement the family shared throughout the experience was extremely rewarding and humbling for me."
REAL-WORLD EXPERIENCE
Brian Sanders '03 also played baseball for Chapman, and he has been with the Angels since 2007. Now he's senior director of ballpark operations.
"I always wanted to work in sports, but I had no clue how passionate I would be about my role until I was a part of the organization," Sanders says.
At Chapman, Sanders' professors provided him with a great sense of real-world knowledge that translated into professional success, he says.
"Make contact with as many people as you can who are involved in an organization," advises Sanders, whose degree is in business administration. "You never know when putting a face to a name might come in handy in the future."
As one of the more recent Chapman alumni who have joined the Angels, social media coordinator Tara Nicodemo '13 didn't have an immediate affinity for the team. She grew up going to Philadelphia Phillies games, then tilted toward the Angels during her time at Chapman.
"It's been fabulous," says Nicodemo, who started on opening day last season. "I've learned so much. My personal experience at Chapman definitely helped me with this job, because it's so fast-paced and you have to be on top of everything 24 hours a day with social media. It's been the experience of a lifetime."
Chapman alumni now with the Angels say they are eager to help Panther undergraduates develop their own paths to rewarding experiences in professional sports.
"I would like to be a part of assisting Chapman students with getting into the sports industry," Hallenbeck says. "Having as many grads working here now as we do, I think we can really be a resource."