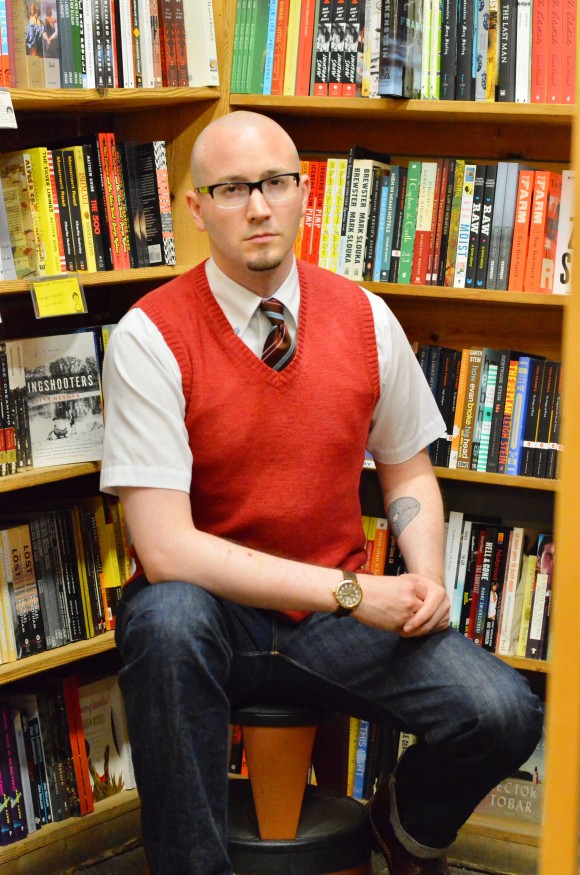 Ryan Gattis '01 had just gotten off the phone with his U.S. literary agent, who told him that she was unable to sell the 900-page novel he had been writing and rewriting for six years. Her voice joined those of other creative colleagues, who advised that it might be time to forgo the writing career that at one time had shown so much promise. "Well, you had your shot," was a common refrain. "Nice try," was another.
Gattis might have believed the chorus, if not for friend and artistic confidant Kevin Staniec '01. The pair began collaborating as freshmen at Chapman University, where Gattis studied creative writing and Staniec film and television production. The two have produced creative material together ever since.
"I think our friendship is a lot about challenging each other," Staniec said, "and trying to constantly make each other better."
Staniec sat down with Gattis and told him things he needed to hear. Like "You're a great writer," and "I want you to write for me."
"It was a very nice moment," Gattis recalled recently. "But it was also one that necessitated work."
Staniec co-founded Black Hill Press in 2013, and invited Gattis to get involved. Black Hill is a publishing collective that focuses on novellas and exploring what defines creative content today.
"My definition of novella has nothing to do with word count or size or feel of a book, Staniec said. "It's more about the author, more about whether he or she grabs you by the shirt and quickly pulls you into a story, and just as you're getting hooked, shoves you out again."
Gattis wrote two novellas for Black Hill, both set in Los Angeles, and along the way "this other idea" started percolating in his head. "I thought for certain it would be too dark, too violent," Gattis said. "I ran it by my wife, and she said, 'Trust me, it's good.'"
So he sent a chapter to his original agent in London — the one he'd met 14 years ago when he was studying in the U.K and who helped him publish his well-received early novels
Roo Kickkick & the Big Bad Blimp
and
Kung Fu High School
.
"She wrote back in a day, saying 'This is it. You were born to write this. Without a doubt, you have to write this,'" Gattis said. Those writings became All Involved, a fictional account of the Los Angeles riots of 1992, told from the perspective of 17 firstperson narrators. The novel was released in the U.S. in April by Ecco, an imprint of HarperCollins, and in the U.K. by Picador.
All Involved
is generating so much buzz that it will be translated into 11 languages.
After enduring what he calls "in many ways, the worst period of my life," triggered by "that failure of an overwritten book,"Gattis now stands on the brink of breakout success, with media interviews and a book tour spreading out before him. Even literary legend Joyce Carol Oates sent a tweet promoting the book.
"It's turning out to be much bigger than I expected," said Gattis, who has taken time off from his faculty role at Chapman. At a recent reading and book-signing at Skylight Books in Hollywood, the author was quick to credit Staniec for helping him regain his literary footing.
All Involved
is really a series of 20,000-word novellas separated into the six days of the L.A. riots.
Gattis' aim was to capture something truly authentic, to write the climate of the time exactly as it was, and in so doing to portray the hidden L.A. Gattis put in two years of research before writing a word of what the novel is today; however, the writing itself took a mere four months.
His research was mostly interviews and conversations with former gang members, L.A. firefighters, nurses and others who saw the riots from the inside. What began as conversation became a work of historical fiction.
"He started creating from nowhere, while pulling from everywhere," Staniec said. Most of the author's discoveries and research of multicultural L.A. came from working with the visual arts crew UGLARworks.
The Unified Group of Los Angeles Residents collaborates to create large-scale murals sanctioned by the city. Though Gattis is not a visual artist, the crew welcomed him by saying, "We see you in us and us in you." He began by carrying paint and cleaning up and grew into the member he is today.
"(UGLARworks) allowed me to learn the texture of L.A., and I would not have that type of understanding without them," Gattis said.
One way he gained the trust of those he interviewed was through his own authentic experience with pain, as well as his ability to empathize with those connected to lives of violence. As a high school student, Gattis suffered a devastating blow to the face in his hometown of Colorado Springs. He grew up in a family of Air Force Academy legacies and planned to follow suit, but then reconstructive surgery and recovery time after the blow changed the trajectory of his life.
"I understand violence from the inside out. As a result I write about the costs, consequences, how it changes you, how it can completely alter the course of one's life," Gattis said.
Because of this perspective, Gattis is able to translate the visceral but honest reactions to violence in his writing. With
All Involved
, he presents the theme as something that explicates humanity and undergirds events.
"That's what literature is all about," Gattis said. In many ways Gattis' journey with
All Involved
has just begun. Even in promoting the work, he feels the support of a creative community that includes Staniec, who joined him at the Hollywood reading.
As Gattis hits the book tour trail, Staniec has a special request. If the author ever is booked to appear on Charlie Rose, he wants to be there in the darkness of the talk show's New York set, much like he was there during the darkest moment of Gattis' writing career.
"
All Involved
is Charlie Rose material," Staniec said. "If that phone call happens, I want to sit in the background watching him being interviewed — watching him as his life changes."