Six years ago, Natalie Halfacre '08 traveled to Australia to cover a Grand Slam tennis tournament and ended up at the center of an "ain't love grand" experience. First came Gavin Wilkinson, then Aussie coffee, and both swept her off her feet.
"So much of our days revolved around going to coffee shops," recalls Natalie, then a production assistant for the Tennis Channel. "In Australia, coffee is social, part of the culture."
Now married, Gavin and Natalie Halfacre Wilkinson—no relation to the Wilkinson College Wilkinsons—have brought a slice of that coffee culture to the Chapman University campus in Orange.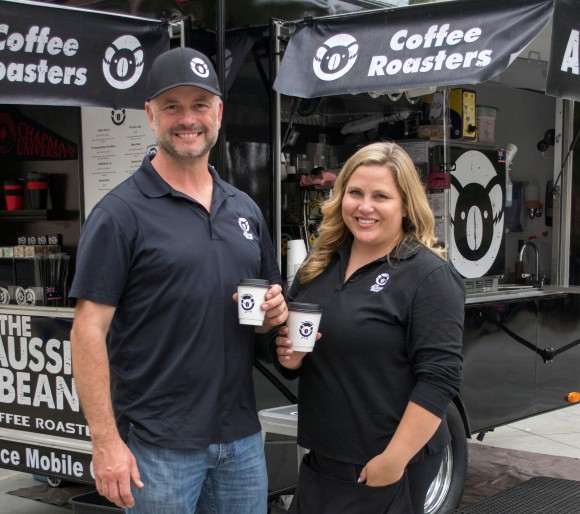 The Aussie Bean, their full-service mobile coffee bar, is building a following in the heart of Orange County.
Australian coffee has origins in Italy and is espresso-based, Natalie says. It's medium-roast, from high-quality beans and de-emphasizes sweeteners and flavorings. "No vanilla lattes," Natalie says. "With really good coffee, there's no need to cover it up with flavors."
When the two entrepreneurs decided to chase their dream, they knew they wanted to do it fully. So Gavin took a barista course in Melbourne, and Natalie the same in Sydney. Once they decided to start with a mobile business, they had an immediate first choice of where to park their custom-designed trailer.
"Chapman has a special place in my heart," says Natalie, a broadcast journalism graduate. "It largely shaped me into the person I am."
It's doubly special to work in the shadow of the Attallah Piazza fountain that bears the name of her late father, Marion Halfacre, a passionate Chapman supporter. "Even today when I took a break, I looked over at the fountain and enjoyed memories of my dad," she says. Along with the rich Aussie coffee, the love continues to flow.