Michael Wimberley '16 was so small that he had to stand on an apple box when he and his three siblings first performed at Riley's Apple Farm in
January 2008. They played one song,
Rabbit in the Log
, during the dinner show at the mile-high outdoor theatre in Oak Glen, Calif. Two of the Wimberleys sang lead and the other two provided backup vocals, although it all pretty much ended up a musical muddle.
"It was awful," Michael's brother, Mark '16 recalled recently with a smile.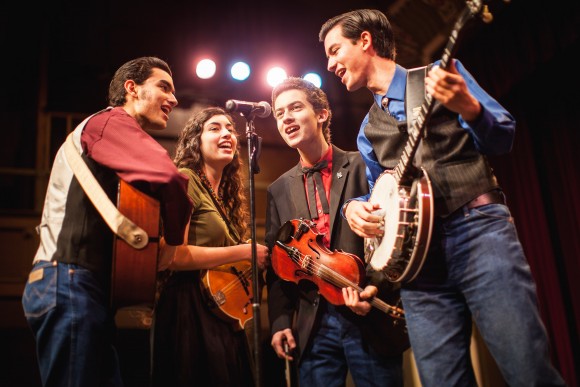 "Our musical knowledge was like this big," added Mark's twin, James '16, holding his thumb and forefinger about an inch apart.
But the Wimberleys' passion for bluegrass already was bushel-basket big, and thanks to daily practice at their home in Santa Ana, that first year of performance ended with them recording their debut album. The Wimberley Bluegrass Band wasn't yet bound for glory, but it was building a foundation for musical success.
"They're a beautiful family, they harmonize well and their technique is great," said Dennis Riley, a 35-year performer of bluegrass music who gave the Wimberleys that first gig at his family farm, and many more since. "People love them. They just killed at our Gospel Night."
ALL IN THE FAMILY
Siblings Danielle, 21, James and Mark, 19, and youngest brother Michael, 16, now play professionally at numerous California bluegrass festivals, including jamborees in Oak Glen. They also tour the South every summer and have recorded four CDs of traditional bluegrass music.
Their fascination with bluegrass began when they discovered the Nitty Gritty Dirt Band's recording of Foggy Mountain Breakdown. After each received a different instrument for Christmas in 2006, they taught themselves to play.
"That was the best Christmas ever," James recalled. Riley thinks the band's future is unlimited. "They're enthusiastic and dedicated to their art," he said. "They let their music speak for them." Best of all, he added, they take the necessary time to practice and learn new songs all the time.
Riley thinks the band's future is unlimited. "They're enthusiastic and dedicated to their art," he said. "They let their music speak for them." Best of all, he added,
they take the necessary time to practice and learn new songs all the time.
Siblings playing bluegrass together is an American folk custom, noted John Lawless, primary author and editor of BluegrassToday.com. The family band is a tradition that began in the '20s and '30s, he explained.
The music's roots in family values appealed to the Wimberleys, who do everything together and are each other's best friends — attributes they say come from being home-schooled by their mother, Tina, a registered nurse.
"We grew up thinking that it was normal to be close," Michael explained. "We each have outside friends, but most of them know all four of us."
When they're not busy performing or studying, the siblings enjoy hiking, fishing and traveling.
They are members of the Chapman Republicans club.
"Music is our life, and all our other interests coordinate with that," Danielle noted. "Bluegrass music was our teenage rebellion," Mark quipped.
OLD-TIME ADVANCEMENT
In the 2000s, a segment of popular music trended away from an electronic sound and toward natural, more organic back-to-the-roots music emphasizing instrumentation, noted Chris Langdon, promotions director of the International Bluegrass Museum in Owensboro, Ky. He cited bands like Mumford & Sons as examples.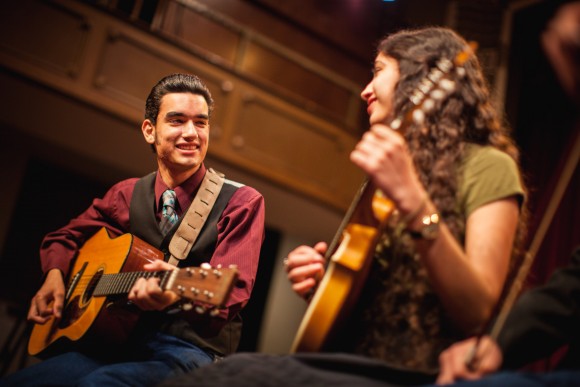 "Now you see more and more worldwide prominence for this type of music," Langdon added.
As part of that trend, the Wimberleys have developed a keen knowledge of the bluegrass genre and are considered California bluegrass music experts. They share that knowledge via their weekly show on Chapman Radio, during which they play other musicians' recordings as well as live numbers of their own. Because
the show streams online, listeners log in from around the country, and occasionally even as far away as Dubai.
Distance has never been part of the Wimberley family dynamic. The four siblings' academic paths have intertwined and overlapped so that they're all Chapman juniors this year.
"We didn't intend it; it just kind of happened," Danielle said. "James and Mark were able to finish their last two years of high school and do their first two
years of college at the same time. Michael accelerated his high school studies, graduated early and took college classes concurrently. When we realized we could do it at the same time, we went for it."
They intend to graduate together in spring 2016 and pursue bluegrass music full-time. They selected different majors to develop specific knowledge and expertise that benefits the band. Danielle is majoring in business, James in mathematics, Mark computer information systems and Michael strategic and corporate communications. Between them they have 10 associate degrees. When they were ready to transfer from Santiago Canyon College, Chapman was the logical
choice.
"It's got a good reputation for community involvement and academics, it is close to home and it's prestigious," James said.
The siblings' ultimate dream is to play the Grand Ole Opry. They'll be the featured musicians at this year's TEDxChapmanU in August, and they plan to tour for six weeks this summer in their family RV. The country road is calling, and the Wimberleys are ready to enjoy the journey as a family. "We love being together, and we love to travel around and make music," Michael said. "We want to spend the rest of our lives doing this."