The year was 2005, and up in room 307 of Glass Hall, I sat by the window, feeling the California sun on my pale skin as I nervously awaited the arrival of my soon-to-be roommates, Karla and Kelsey. With a rush of enthusiasm, in they came, their parents in tow. Karla, her kind nature already apparent, filled the room with a glowing energy. Kelsey, cool as a cucumber, exuded the poise and grace one could only hope for. I was immediately enamored by their wit and their warmth as they welcomed me, an awkward girl from rural New Hampshire who had never so much as seen a palm tree.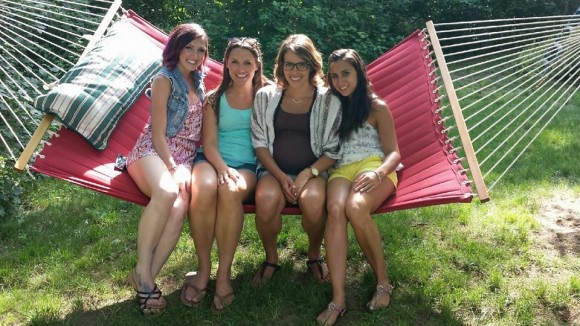 Those first weeks of college passed quickly, and by the end of our first semester — somewhere between cafeteria tater tots and all-night girl talk — we had forged an unbreakable bond. We had even recruited a fourth amiga, Gabby, from a few doors down. She was 5-footnothing and 90 pounds, with the biggest heart imaginable and enough brainpower to help us all get through statistics class.
We became inseparable. When junior year rolled around, the four of us moved off campus together, and by the end of senior year we had seen each other through endless studying, countless bad dates and the acquisition of a mix of second-hand furniture that was, by all accounts, as ready for Commencement as we were. During the years that have followed, grad school and careers have taken us in different directions, but we've never been more than a phone call or funny text message apart.
Had you told me on that very first day of college that Karla, Kelsey and Gabby would stand with me on my wedding day nearly a decade later, I probably would have laughed. Who gets that lucky? But they were all there last June, having flown to New Hampshire from across the country to fluff my veil and help me into my dress. Karla was seven months pregnant with her first child, and she still didn't miss a beat, even on the dance floor.
No one gets that lucky — but somehow we did. And the only way to do that luck any justice at all is to never take these friendships for granted.
Two months later she went into labor while my husband and I attended a wedding in Detroit. I whispered to anyone who would listen, "My best friend is in labor, so if I sneak out it's because her husband is calling with the news!"
There I was, in the middle of a proper Catholic wedding, explaining my exit strategy to complete strangers while my husband served as a groomsman.
By the time "You may kiss the bride" was announced, I had slipped out the side door for the seventh time and was profusely shedding tears of baby-boy joy. What a wonderful day.
But that's life, beautiful and intoxicating, propelling the four of us into brand new chapters.
Though separated by miles, we are still every bit as together as we were those first days in Glass Hall. I have no formula for such enduring friendships beyond one part love and another part admiration, one part past and another part future. No one gets that lucky — but somehow we did. And the only way to do that luck any justice at all is to never take these friendships for granted. To think of them every time the sun hits my face; to let the memories of endless college laughter take me back whenever possible.