Peace Studies
major Marissa Wong '15 has been named Chapman University's 2015 Cheverton Award winner. The announcement was made Friday afternoon at annual Campus Leadership Awards.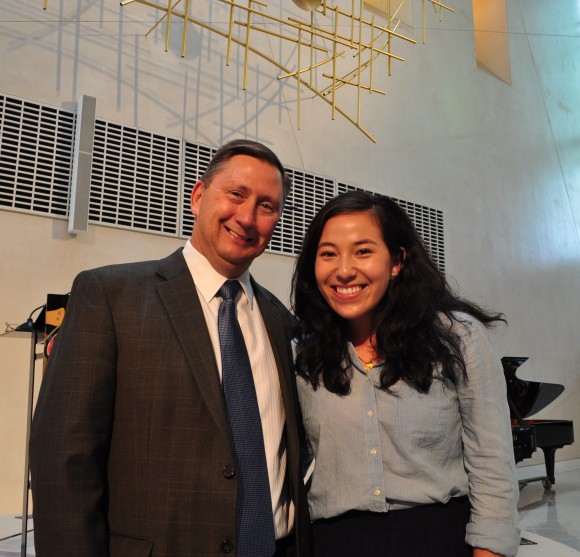 One of the oldest awards presented by Chapman, the Cheverton Award was established in 1929. The original bronze cup awarded to recipients was a gift of the Class of 1929 and remains on exhibit in Argyros Forum on campus, along with its successor, a silver bowl. Upon the trophies are engraved the names of all Cheverton awardees since 1929.

"This award for me personally is a great testament to the mentorship that Chapman University offers. I have no idea where I'd be if it weren't for the many professors who took care of me from day one," Wong said.

Wong is a Presidential Scholar, a member of the
University Honors Program
and an active participant in the Interfaith Council at the Fish Interfaith Center and past president of Soka Gakkai International club at Chapman.

Also receiving leadership awards were:
Ronald M. Huntington Award for Outstanding Scholarship

Dor Shoshan '15
Outstanding Diversity Leadership Award

Lisette Martinez '15
Paul S. Delp Outstanding Service Award

Samantha Cressey '15
Gloria and Julian Peterson Award

Jennifer Bowen '15 and Wendy Acquazzino '15
Outstanding Seniors

Allison Schneider, Andrew Cox, Anna Price, Arielle Marie Magpoc, Ashley Kaplan, Courtney Bramstedt, Devon Gray, Graeme Aegerter, Jennifer Bowen, Kirsten Spicer, Lana Barendse, Marilyn Love, Miranda Wall, Nicole Goehring, Taylor Stephens, Wendy Acquazzino and Wick Kaminski.
Outstanding Juniors

Annaliese Baker, Carmina Portea, Emily Frisch, Jhosselyn Tostado-Hernandez, Julia White, Katerina Ioannides, Kelley Moody, Michael Nelson, Negeen Lotfi and Olivia Del Rio.
Outstanding Sophomores

Alice Tsui, Christopher Zermeno Sandoval, Elise Levesque, Jamie Moseley, Nicole Renard, Samuel Wall, Sonia Djafri, Tonicia Williams and Victoria Edgar.
Outstanding Freshmen

Aidan Wood, Andrew Erickson, Eytan Wallace, Imani Woodley, Jessica Rush, Kara Ojebuoboh, Kendall Devries, Landyn Pan, Nilsha Khurana and Rebecca Rost.