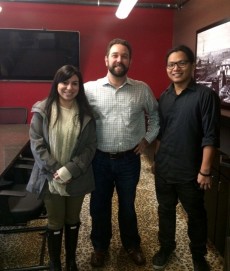 When Todd Koren '00 calls
Absolute Exhibits
a family business, it's clear that he includes Chapman University in his description.
Koren founded the corporation with his parents after he graduated from the Argyros School of Business and Economics in 2000. Absolute Exhibits designs and fabricates custom exhibit environments for a range of clients, and since its launch it has grown from 10 employees to more than 80.
"After my own success in building a million-dollar corporation, I realized that other Chapman graduates would be similarly prepared to take on the real world and prosper," Koren says. "I not only wanted to create a strong company structure, but also a work family. What better way to do this than by hiring my fellow Chapman alumni?"
He adds that by "keeping it in the family," the company fosters employee loyalty. "Chapman has been a great help in finding many of our employees who not only came to us with a great depth of knowledge but are also well versed in many fields," Koren says. The team includes Duy Nguyen '14, who works in IT and marketing; Nicholas Teramura '12, who leads the project management team; and Christina Corbin '13, who is assistant marketing director.
"The knowledge and expertise of these Chapman alumni have allowed our company to grow exponentially," Koren says. "We feel that we have the edge we need in this competitive marketplace."